DIET KETOGENIK: STRATEGI BARU PENANGANAN PENDERITA SKIZOFRENIA
Sugeng Mashudi

Universitas Muhammadiyah Ponorogo
Abstract
Penggunaan antipsikotik dalam jangka waktu lama > 20 tahun memberikan efek negatif pada penderita Skizofrenia. Selain gejala skizofrenia munculnya sindrom metabolik perlu untuk diperhatikan. Sindrom metabolik sebagai efek negatif antipsikotik akan memberikan dampak pada gangguan jantung serta Diabetes Melitus (DM). Berbagai pendekatan dilakukan untuk mengurangi sindrom metabolik mulai dari diet mideteran, rendah gluten, dan diet ketogenik. Tujuan penelitian ini adalah untuk mengetahui diet ketogenik sebagai strategi baru penanganan penderita skizofrenia. Penelitiana ini merupakan literature review dengan menggunakan mesin pencari Pubmed dan Science direct. Karta kunci yang digunakan adalah diet ketogenic dan schizophrenia. Sebanyak 3 artikel dianalisis berdasarkan protokol PRISMA. Diperlukan penelitian pengaruh diet ketogenik terhadap perbaikan kondisi penderita skizofrenia.
Keywords:
antipsikotik, sindrom metabolik, skizofrenia, diet ketogenik
References
[1] D. T. Ah Yusuf, Rizki F, Hanik EN, Kesehatan Jiwa Pendekatan Holistik dalam Asuhan Keperawatan, 1st ed. Jakarta: Mitra Wacana Media, 2019.
[2] T. Pillinger, E. D'Ambrosio, R. McCutcheon, and O. D. Howes, "Is psychosis a multisystem disorder? A meta-review of central nervous system, immune, cardiometabolic, and endocrine alterations in first-episode psychosis and perspective on potential models," Mol. Psychiatry, vol. 24, no. 6, pp. 776–794, 2019, doi: 10.1038/s41380-018-0058-9.
[3] J. van Os and S. Kapur, "Schizophrenia," Lancet, vol. 374, no. 9690, pp. 635–645, 2009, doi: 10.1016/S0140-6736(09)60995-8.
[4] R. S. T. Sugeng Mashudi, Ah. Yusuf, "Family Burden Mental illness," Int. J. Public Heal. Res. Dev., vol. 11, no. 2, 2020.
[5] Z. Sarnyai, A. K. Kraeuter, and C. M. Palmer, "Ketogenic diet for schizophrenia: Clinical implication," Curr. Opin. Psychiatry, vol. 32, no. 5, pp. 394–401, 2019, doi: 10.1097/YCO.0000000000000535.
[6] E. H. X. Thomas, K. Bozaoglu, S. L. Rossell, and C. Gurvich, "The influence of the glutamatergic system on cognition in schizophrenia: A systematic review," Neurosci. Biobehav. Rev., vol. 77, pp. 369–387, 2017, doi: 10.1016/j.neubiorev.2017.04.005.
[7] G. S. Zuccoli, V. M. Saia-Cereda, J. M. Nascimento, and D. Martins-de-Souza, "The energy metabolism dysfunction in psychiatric disorders postmortem brains: Focus on proteomic evidence," Front. Neurosci., vol. 11, no. SEP, pp. 1–14, 2017, doi: 10.3389/fnins.2017.00493.
[8] J. Gilbert-Jaramillo et al., "The effects of the ketogenic diet on psychiatric symptomatology, weight and metabolic dysfunction in schizophrenia patients," Clin. Nutr. Metab., vol. 1, no. 1, pp. 1–5, 2018, doi: 10.15761/cnm.1000105.
[9] C. M. Palmer, J. Gilbert-Jaramillo, and E. C. Westman, "The ketogenic diet and remission of psychotic symptoms in schizophrenia: Two case studies," Schizophr. Res., vol. 208, no. xxxx, pp. 439–440, 2019, doi: 10.1016/j.schres.2019.03.019.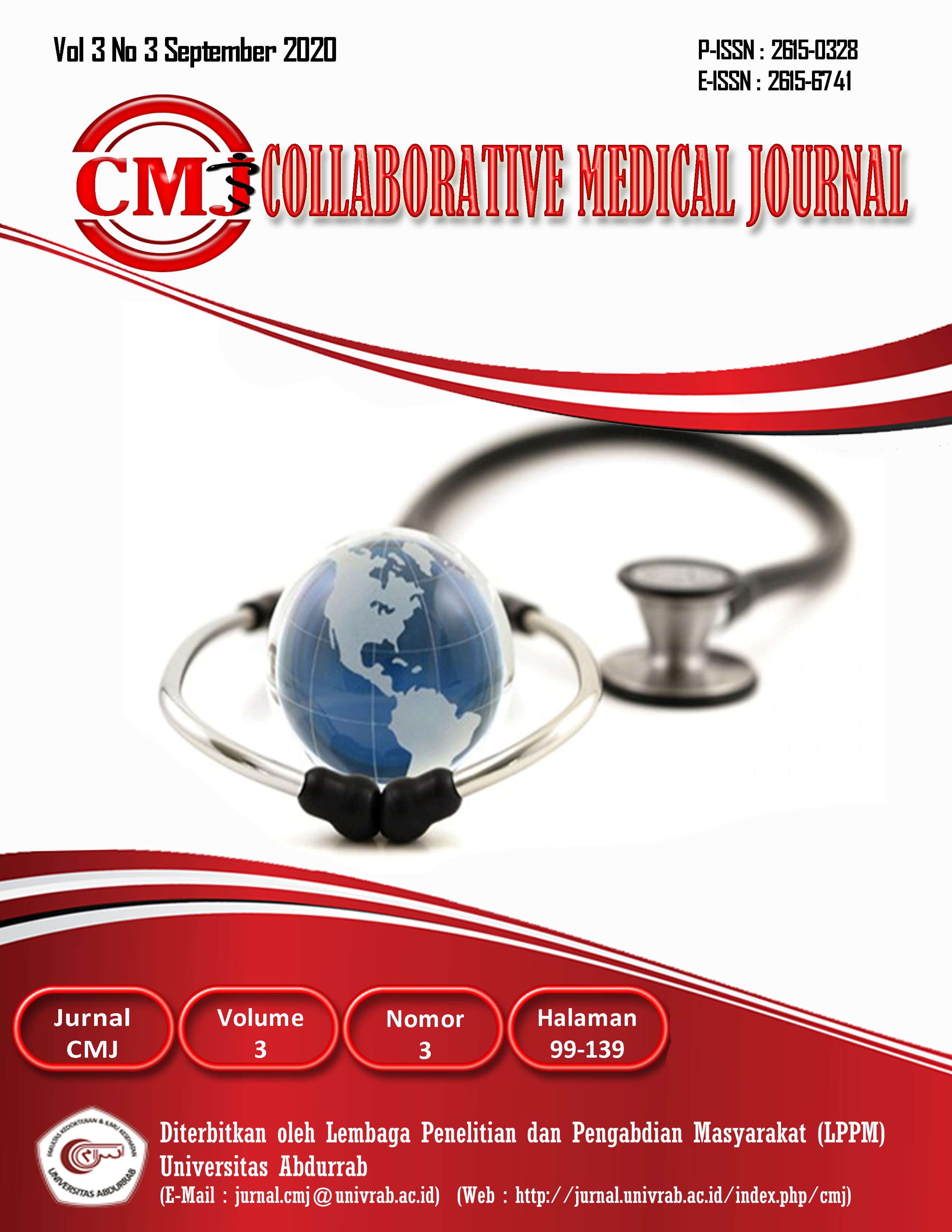 Copyright (c) 2021 Collaborative Medical Journal (CMJ)
This work is licensed under a Creative Commons Attribution-NonCommercial-ShareAlike 4.0 International License.
1. Copyright of all journal manuscripts is held by the Collaborative Medical Journal (CMJ)
2. Formal legal provisions to access digital articles of electronic journal are subject to the provision of the Creative Commons Attribution-ShareAlike license (CC BY-NC-SA), which means that Collaborative Medical Journal (CMJ) is rightful to keep, transfer media/format, manage in the form of databases, maintain, and publish articles.
3. Published manuscripts both printed and electronic are open access for educational, research, and library purposes. Additionally, the editorial board is not responsible for any violations of copyright law.
licensed under a Creative Commons Attribution-ShareAlike 4.0 International License.

PDF

Abstract views: 123

downloads: 116