APLIKASI JAIM (JIWASRAYA AGENCY INFORMATIONS MANAGEMENT) SEBAGAI MEDIA INFORMASI AGEN DI PT. ASURANSI JIWASRAYA (persero) PEKANBARU
Rosmala Rosmala

STISIP Persada Bunda
Abstract
This study aims to determine the effectiveness of JAIM application communication (Jiwasraya Agency Information Management) as a medium of information for daily activities. And can be in order to realize the potential of JAIM applications according to the needs The effectiveness of JAIM application communication brings changes to agents. This research methodology uses qualitative descriptive. Interview data collection techniques, observation and documentation, internet searching. informants are senior agency managers, agents, customers.The results of application research as the effectiveness of JAIM application communication as a media information agent have not been effective because based on three effects, namely: 1) cognitive effects: JAIM application used is still less effective because there are still some agents who do not understand the JAIM application. 2) affective effect: JAIM application brings the effect of change on agents in the digital age, online media to be able to apply JAIM. 3) behavioral effect: provides the effectiveness of agent communication on the skills created and the learning process of the JAIM application. The JAIM application that is intended for partners of psychiatric agents is still an error system. JAIM application, which is an information media, has several menus such as the homepage, achievements, contest achievements, workbooks, making proposals, learning, espaj, exp. JAIM application that has been provided by PT. Jiwasraya (Persero) insurance is expected to help agents be able to apply JAIM effectively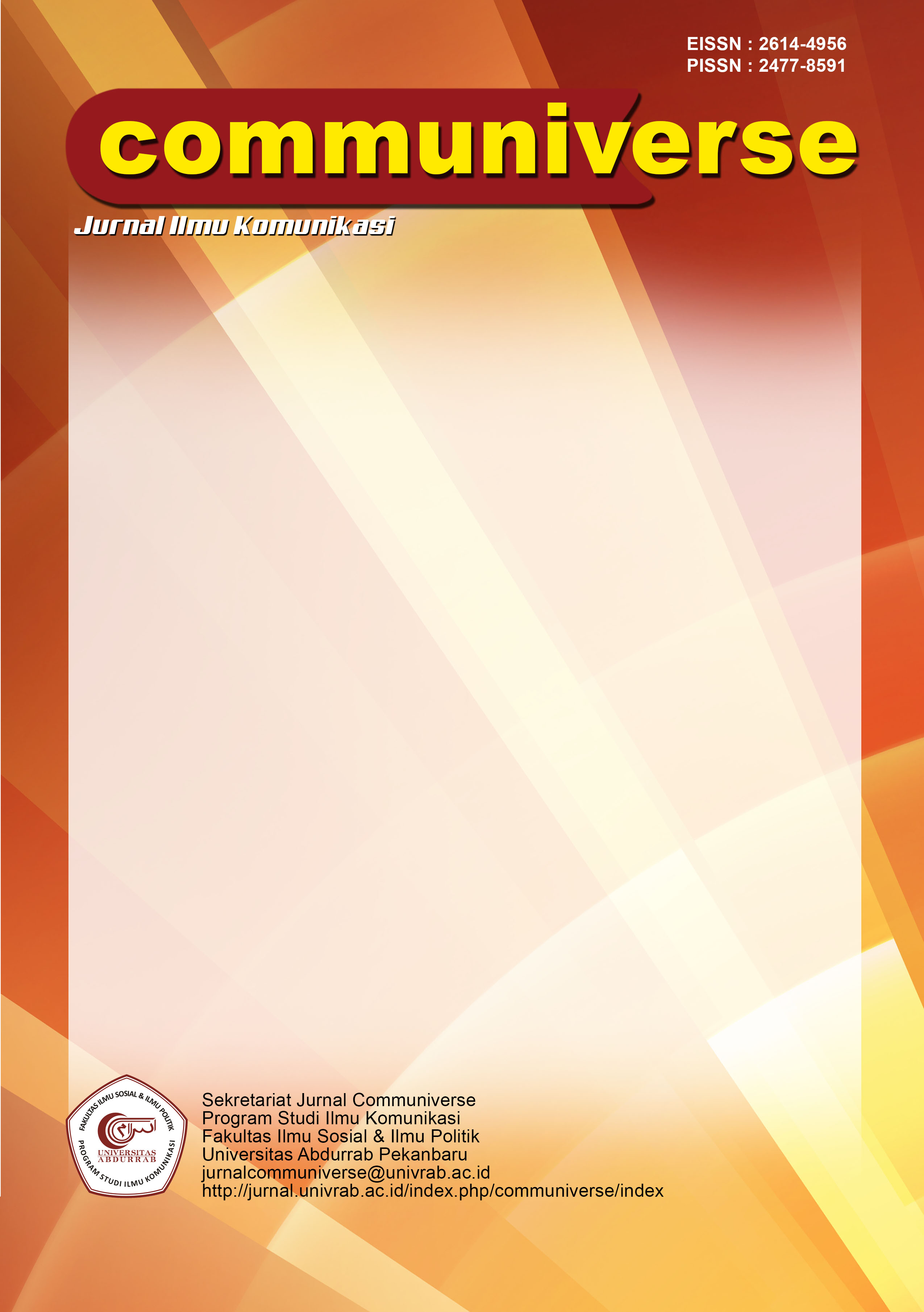 1. Copyright of all journal manuscripts is held by the Communiverse : Jurnal Ilmu Komunikasi
2. Formal legal provisions to access digital articles of electronic journal are subject to the provision of the Creative Commons Attribution-ShareAlike license (CC BY-NC-SA), which means that Communiverse : Jurnal Ilmu Komunikasi is rightful to keep, transfer media/format, manage in the form of databases, maintain, and publish articles.
3. Published manuscripts both printed and electronic are open access for educational, research, and library purposes. Additionally, the editorial board is not responsible for any violations of copyright law.
licensed under a Creative Commons Attribution-ShareAlike 4.0 International License.

pdf (Bahasa Indonesia)

Abstract views: 930

downloads: 438