DAMPAK PEMANFAATAN MEDIA SOSIAL DALAM INTERAKSI PEMBELAJARAN
Riyanto Riyanto

Sekolah Tinggi Ilmu Komunikasi InterStudi
Abstract
The internet is a product of human engineering that provides benefits, responds to things that are not metrically reached. As a technology product, the internet is able to answer every development of communication and information with different social interactions with their previous social interactions. As can be known together that humans have interacted in cyberspace online, so that the development of technology has alternatives for social interaction. The internet connects people from different parts of the world who did not know each other before by connecting computer networks. Interaction between humans is actually to meet the needs of physical life and rokhani, one of which is the need for information, as the demands of life and supporting its activities. The use of social media is increasing and adapting to daily use as developments in science and technology are increasingly global. With a descriptive approach this study seeks to describe the social interaction behavior among Facebookers, with 31 respondents, following the Slovin sampling technique, the Rsquare determinant coefficient = 0.998 means that the satisfaction performance of media use is influenced by 98.8% and the remaining 1 , 2% is influenced by other factors that have not been revealed in this study.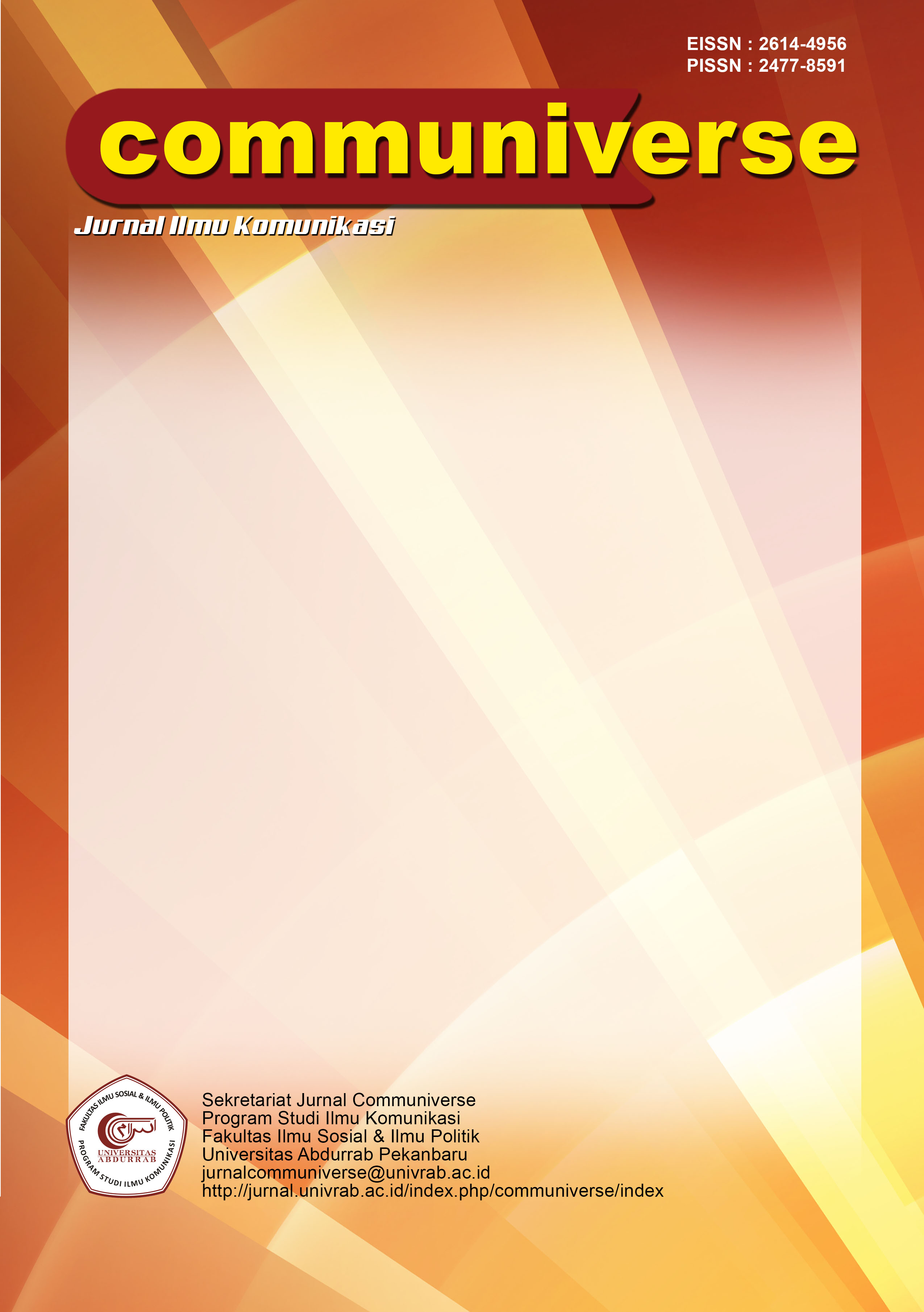 1. Copyright of all journal manuscripts is held by the Communiverse : Jurnal Ilmu Komunikasi
2. Formal legal provisions to access digital articles of electronic journal are subject to the provision of the Creative Commons Attribution-ShareAlike license (CC BY-NC-SA), which means that Communiverse : Jurnal Ilmu Komunikasi is rightful to keep, transfer media/format, manage in the form of databases, maintain, and publish articles.
3. Published manuscripts both printed and electronic are open access for educational, research, and library purposes. Additionally, the editorial board is not responsible for any violations of copyright law.
licensed under a Creative Commons Attribution-ShareAlike 4.0 International License.

pdf (Bahasa Indonesia)

Abstract views: 252

downloads: 189