STRATEGI MANAJEMEN KRISIS HUMAS PLN UID JABAR DALAM MENANGANI BLACKOUT JARINGAN JAWA BAGIAN TENGAH
Siti Choerunnisa

Universitas Padjadjaran

Aat Ruchiat Nugraha

Universitas Padjadjaran
Abstract
The National Electricity Company (PLN) as the only company that supplies electricity in Indonesia continues to develop to realize that it can deliver electricity to the entire community from cities to remote villages. However, in August 2019, PT. PLN experienced an event that occurred beyond the expectations of all parties, namely a simultaneous blackout or blackout caused by a disruption in the transmission network on the Ungaran-Pemalang line. The phenomenon of power outages has a tremendous impact on aspects of vital objects in the area of ​​DKI Jakarta, Banten, West Java, and parts of Central Java and resulted in the company's image gets worse. This study uses a qualitative approach to find out and explain the blackout phenomenon that can reduce the company's negative image in public. The data collection method is done by interviewing and observing with several parties directly involved in the completion of the blackout. The results of the study indicate that there is a need for participation from the Public Relations department to be able to restore the negative image situation regarding the impact of blackouts in the community through adaptive crisis management strategies using operational modification, compromise, and transfer of facilities contained in the public relations work program. The conclusion of the research shows that the handling of adaptive strategies by the Public Relations of PT. PLN in dealing with a blackout crisis can be handled well and produce the value that is quite effectively felt by the public.
Keywords:
Strategy, Crisis Management, Public Relations, PLN, Blackout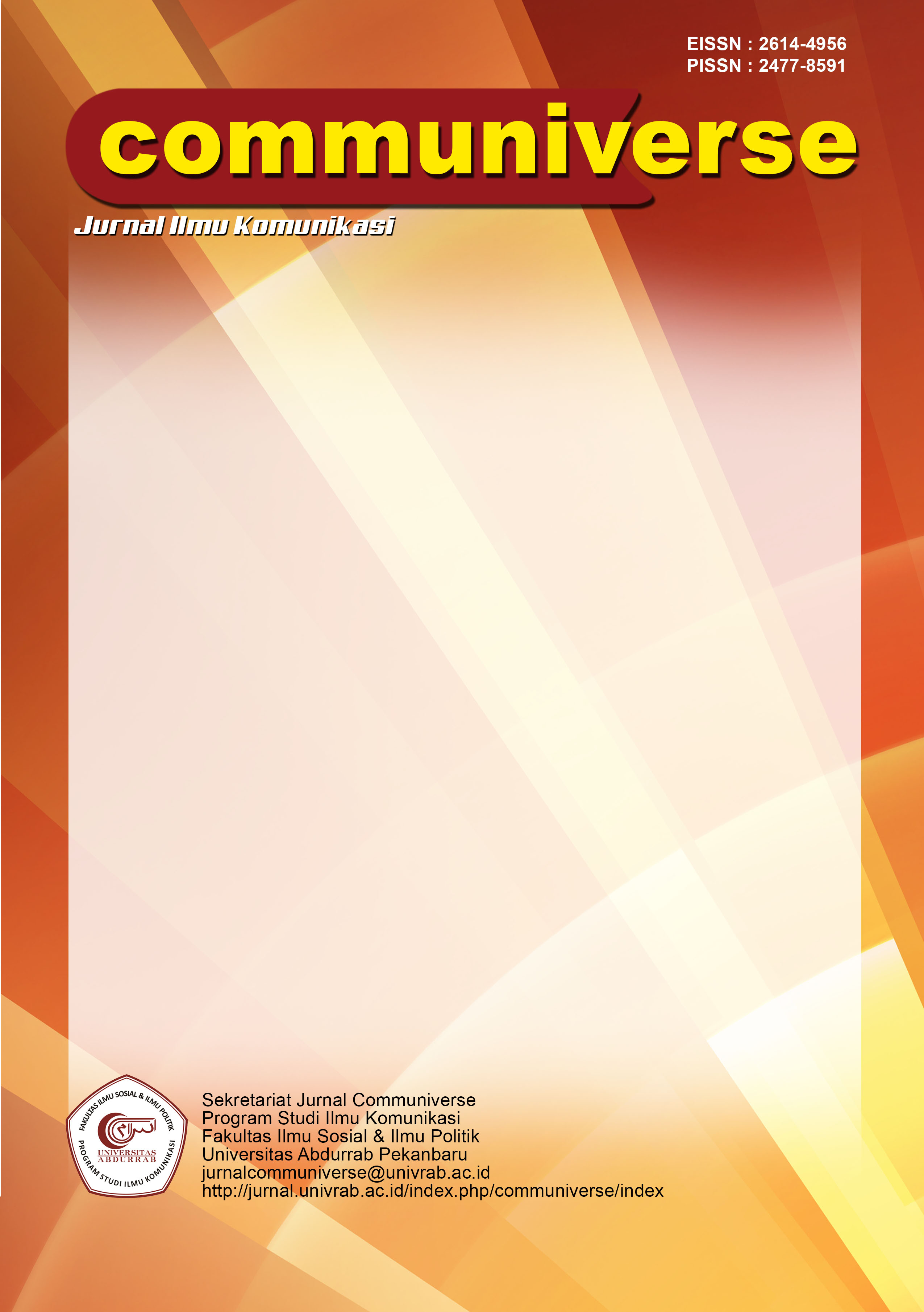 Copyright (c) 2020 Communiverse : Jurnal Ilmu Komunikasi
This work is licensed under a Creative Commons Attribution-NonCommercial-ShareAlike 4.0 International License.
1. Copyright of all journal manuscripts is held by the Communiverse : Jurnal Ilmu Komunikasi
2. Formal legal provisions to access digital articles of electronic journal are subject to the provision of the Creative Commons Attribution-ShareAlike license (CC BY-NC-SA), which means that Communiverse : Jurnal Ilmu Komunikasi is rightful to keep, transfer media/format, manage in the form of databases, maintain, and publish articles.
3. Published manuscripts both printed and electronic are open access for educational, research, and library purposes. Additionally, the editorial board is not responsible for any violations of copyright law.
licensed under a Creative Commons Attribution-ShareAlike 4.0 International License.

pdf (Bahasa Indonesia)

Abstract views: 869

downloads: 616