PERUBAHAN POLITIK LUAR NEGERI RUSIA TERHADAP SURIAH DALAM KONFLIK INTERNAL SURIAH (2011 – 2017)
Fatmawati Fatmawati

Universitas Abdurrab
Abstract
Since the beginning of Syrian conflict in 2011, Russia as an important ally for Syria had supported the Assad's government in order to defend Assad's regime. Russia acted as a direct supporter to Assad's regime through non-military support, deploying economic assistance, and military support in the form of military cooperation. However, after the fall of the city of Aleppo, which represented a major coalition of forces supporting the regime since Russian military intervention in September 2015, Russia has changed its foreign policy in Syrian conflict. Russia hastened to hold a tripartite meeting in Moscow that involved Turkey and Iran to agree on the principles of peace in Syria which was known as Moskow Declaration. From military aspect, Russia reduced a large number of equipments and military forces in Syria. This research will discuss an overview form of Russia's foreign policy changes to Syria in the Syrian internal conflict between 2011 and 2017 through the concept of non-military support, military cooperation, mediation, negotiation, and peace making. This research applied qualitative research approach with descriptive research type and collected secondary data from various sources that have been published. The finding of this research showed that there was a pattern of form of Russia's foreign policy changes from direct supporter of Assad's regime to mediator in the Syrian internal conflict between 2011 and 2017.
Keywords: Syrian Conflict, Foreign Policy, Direct Supporter, and Mediator.
References
Aliyeva, Kamila. 2017. Russia to Reduce Military Presence in Syria. https://www.azernews.az/region/122801.html.
Aljazeera. 2015. How Is Russia Financing Its War in Syria?
Austin, Jon. 2017. US and NATO Want Syria to Be next Libya-Claims Assad and Putin "GOOD Guys" of Conflict. https://www.express.co.uk/news/weird/836154/Syria-War-Vladimir-Putin-Russia-President-Assad-good-guys-Nato.
Baczynska, Gabriela and Darya Korsunskaya. 2015. Syria Gets Russian Arms under Deals Signed since Conflict
Began: Assad. https://www.reuters.com/article/us-syria-crisis-russia-arms/syria-gets-russian-arms-under-deals-signed-since-conflict-began-assad-idUSKBN0MQ0RK20150330.
Barry, Anya. 2012. "Adding Fuel to Syria's Fire." https://fpif.org/adding_fuel_to_syrias_fire/.
Bbc news. 2017. Syria Conflict: Rebels Agree to Attend Astana Peace Talks. https://www.bbc.com/news/world-middle-east-38636224.
BBC News. 2016. Syria Conflict: Ceasefire Agreed, Backed by Russia and Turkey. http://www.bbc.com/news/world-middle-east-38460127.
Black, Ian. 2014. Russia and China Veto UN Move to Refer Syria to International Criminal Court. https://www.theguardian.com/world/2014/may/22/russia-china-veto-un-draft-resolution-refer-syria-international-criminal-court.
Blair, David and Tom Whitehead. 2015. Russian Jets in Syria Mean No-Fly Zone Is "out of the Question", Warn Experts. https://www.telegraph.co.uk/news/worldnews/middleeast/syria/11883107/Russian-jets-in-Syria-mean-no-fly-zone-is-out-of-the-question-warn-experts.html.
Cenciotti, David. 2015. New Satellite Image Unveils an Impressive Line-up of 12 Russian Su-25 Frogfoot Attack Jets in Syria!
CNN Indonesia. 2017. Misi Berhasil, Putin Tarik Pasukan Dari Suriah. https://www.cnnindonesia.com/internasional/20171212083205-120-261741/misi-berhasil-putin-tarik-pasukan-dari-suriah.
Filipov, David, Erin Cunningham and Kareem Fahim. 2016. Russia, Turkey Issue "Moscow Declaration", Say They Plan to Halt Syrian War. https://www.smh.com.au/world/russia-turkey-issue-moscow-declaration-say-they-plan-to-halt-syrian-war-20161221-gtfndj.html.
Folberg, Jay and Alison Taylor. 1984. Mediation. San Francisco: Jossey-Bass.
Friedman, Brandon. 2017. "Russia, Turkey, and Iran: Cooperation and Competition in Syria." Tel Aviv University 11(2): 5.
Gabbatt, Adam. 2012. Russia and China Veto of Syria Sanctions Condemned as "Indefensible." https://www.theguardian.com/world/2012/jul/19/russia-china-syria-sanction-veto.
Galpin, Richard. 2012. Russian Arms Shipments Bolster Syria's Embattled Assad. https://www.bbc.com/news/world-middle-east-16797818.
Galtung, Johan. 1996. Peace By Peaceful Means: Peace and Conflict, Development and Civilization. Oslo: International Peace Research Institute.
Goldstein, Joshua S. 1994. International Relations. Washington: Harper Collin College and Publisher.
Grove, Thomas. 2013. Insight: Syria Pays for Russian Weapons to Boost Ties with Moscow. https://www.reuters.com/article/us-usa-immigration-melaniatrump/melania-trump-visits-arizona-migrant-shelter-as-protests-mount-idUSKBN1JO2NA.
Guardian. 2011. Russia and China Veto UN Resolution against Syrian Regime. https://www.theguardian.com/world/2011/oct/05/russia-china-veto-syria-resolution.
———. 2017. Russia-Syria Talks Astana Kazakhstan. https://www.theguardian.com/world/2017/jan/22/russia-syria-talks-astana-kazakhstan-&prev=search.
Harris Paul, Martin Chulov, David Batty and Damien Pearse. 2012. Syria Resolution Vetoed by Russia and China at United Nations. https://www.theguardian.com/world/2012/feb/04/assad-obama-resign-un-resolution.
Hearst, David. 2012. Why Russia Is Backing Syria. https://www.theguardian.com/commentisfree/2011/dec/02/russia-syria-civil-war-dagestan.
Hubbard, Ben and David E. Sanger. 2016. Russia, Iran and Turkey Meet for Syria Talks, Excluding U.S. https://www.nytimes.com/2016/12/20/world/middleeast/russia-iran-and-turkey-meet-for-syria-talks-excluding-us.html.
Iaconangelo, David. 2016. "Moscow Declaration" Lays out Vision for Syrian Peace Deal, with US on Sidelines. https://www.csmonitor.com/World/2016/1221/Moscow-Declaration-lays-out-vision-for-Syrian-peace-deal-with-US-on-sidelines.
Jorisch, Avi. 2013. In Syria, Go after Banks before Bombs: Column.
Kenner, David. 2012. What Russia Gave Syria. https://foreignpolicy.com/2012/06/21/what-russia-gave-syria/.
Kreutz, Andrej. 2010. Syria: Russia's Best Asset in the Middle East. Paris: Russia/NIS Center.
Kuncahyono, Trias. 2012. Musim Semi Di Suriah: Anak-Anak Penyulut Revolusi. Jakarta: Kompas Nusantara.
Lee, Dmitry dan Galiaskar Seitzhan. 2017. Latest Astana Process Talks Establish De-Escalation Zones In War Torn Syria. http://astanatimes.com/2017/05/latest-astana-process-talks-establish-de-escalation-zones-in-war-torn-syria/.
Leidhoidt, Ulrich dan Saloh, Christa (Editor: Ayu Purwaningsih). 2012. Liga Arab Sepakati Sanksi Terhadap Suriah. http://www.dw.de/liga-arab-sepakati-sanksi-terhadap-suriah/a-15561080.
Mark R. Amstutz. 1999. International Conflict and Cooperation: An Introduction to World Politics. McGraw-Hill.
Menon, Rajan. 2012. What's Russia Doing in Syria and Why. https://www.huffingtonpost.com/rajan-menon/whats-russia-doing-in-syr_b_3375715.html.
Middle East Eye. 2015. Syria's Assad Depending on Iran Financial Aid. https://www.middleeasteye.net/news/syrias-assad-depending-iran-financial-aid-392275455.
Nichols, Michelle. 2017. U.S. Priority on Syria No Longer Focused on "Getting Assad out": Haley. https://www.reuters.com/article/us-mideast-crisis-syria-usa-haley/u-s-priority-on-syria-no-longer-focused-on-getting-assad-out-haley-idUSKBN1712QL.
Orazgaliyeva, Malika. 2017. Kazakhstan Welcomes Results of Syria Meeting in Astana, as Russia, Iran and Turkey Issue Joint Statement. http://astanatimes.com/2017/03/kazakhstan-welcomes-results-of-syria-meeting-in-astana-as-russia-iran-and-turkey-issue-joint-statement/.
Osborn, Andrew. 2016. Russia Says Drafting Document to Resolve Syria Conflict with Turkey, Iran. https://www.reuters.com/article/us-mideast-crisis-syria-russia-declarati/russia-says-drafting-document-to-resolve-syria-conflict-with-turkey-iran-idUSKBN1491JS.
Parstoday. 2016. Dukungan PBB Untuk Deklarasi Moskow. http://parstoday.com/id/news/middle_east-i29494-dukungan_pbb_untuk_deklarasi_moskow.
Reuters. 2017a. Russia Plans to Significantly Reduce Its Troops in Syria by the End of 2017.
———. 2017b. Russia Says Has Begun Reducing Forces in Syria. https://www.reuters.com/article/us-mideast-crisis-syria-russia-military-idUSKBN14Q0USl.
Rosenberg, Steven. 2012. Why Russia Sells Syria Arms. http://www.bbc.com/news/world-europe-18642032.
———. 2017. Syria War: Putin's Russian Mission Accomplished. http://www.bbc.com/news/world-europe-42330551.
Russia Beyond. 2017. Ingin Damaikan Suriah, Rusia Berupaya Keras Jadi Penjamin Solusi Konflik. https://indonesia.rbth.com/politics/2017/01/27/ingin-damaikan-suriah-rusia-berupaya-keras-jadi-penjamin-solusi-konflik_wyx689801.
Sadjimo, Sawitri. 2017. Kurangi Kehadiran Militer Di Suriah, Rusia Ingin Capai Kesuksesan Politik.
Sarafindo, Edwar P. 1997. Health Psychology, Biopsychological Interactions. New York: Hohn Wiley & Sons.
Saul, Jonathan. 2014. Exclusive: Russia Steps up Military Lifeline to Syria's Assad - Sources. https://www.reuters.com/article/us-syria-russia-arms-idUSBREA0G0MN20140117.
SBS News. 2013. Timeline: Syria's Relations with Russian'. https://www.sbs.com.au/news/timeline-syria-s-relations-with-russia.
Schmitt, Eric and Neil MacFarquhar. 2015. Russia Expands Fleet in Syria With Jets That Can Attack Targets on Ground. https://www.nytimes.com/2015/09/22/world/middleeast/russia-deploys-ground-attack-aircraft-to-syrian-base.html.
Shaheen, Kareem, Torpey, Paul, Gutiérrez, Pablo, Levett, Cath. 2015. Who Backs Whom in the Syrian Conflict. https://www.theguardian.com/world/ng-interactive/2015/oct/09/who-backs-whom-in-the-syrian-conflict.
Sharnoff, Michael. 2009. "The Syria-Soviet Alliance." http://www.jewishpolicycenter.org/833/the-syria-soviet-alliance.
SIPRI. 2013. "SIPRI Arms Transfers Database." http://armstrade.sipri.org/armstrade/page/values.php.
Sly, Liz and Suzan Haidamous. 2017. At Russia-Led Talks, Syrian Rebels and Government Meet for the First Time. https://www.washingtonpost.com/world/at-russia-led-talks-syrian-rebels-and-government-meet-for-the-first-time/2017/01/23/e6373d5e-df65-11e6-8902-610fe486791c_story.html?utm_term=.1e89421db22e.
Spark, Laura Smith and Frederik Pleitgen. 2017. Russia "Starts to Withdraw" Forces from Syria.
Stott, Michael, Nakhoul Samia. 2013. Syria Expects More Financial Aid from Russia, Iran.
Tamburaka, Apriadi. 2011. Revolusi Timur Tengah: Kejatuhan Para Penguasa Otoriter Di Negara-Negara Timur Tengah. Yogyakarta: Narasi.
The Associated Press. 2015. Syria Group: Russia Expanding Major Syrian Airport. https://www.militarytimes.com/news/your-military/2015/09/13/syria-group-russia-expanding-major-syrian-airport/.
The Moscow Times. 2011. News Analysis: Russia Damages Image in Arab Spring. https://themoscowtimes.com/articles/news-analysis-russia-damages-image-in-arab-spring-9152.
The scotsman. 2012. Syria: Moscow Sends Navy Vessels to Syrian Port. https://www.scotsman.com/news/world/syria-moscow-sends-navy-vessels-to-syrian-port-1-2362099.
Tucker, Joshua. 2013. Why Is Syria So Important to Russia and Putin? http://themonkeycage.org/2013/09/why-is-syria-so-important-to-russia-and-putin/.
Wilson, Nigel. 2014. Syria: Russia Boosts Financial Aid to Bashar Al-Assad Regime.
Wintour, Patrick. 2017. Russia Begins Military Withdrawal from Syria. https://www.theguardian.com/world/2017/jan/06/russia-aircraft-carrier-mediterranean-syria-admiral-kuznetsov.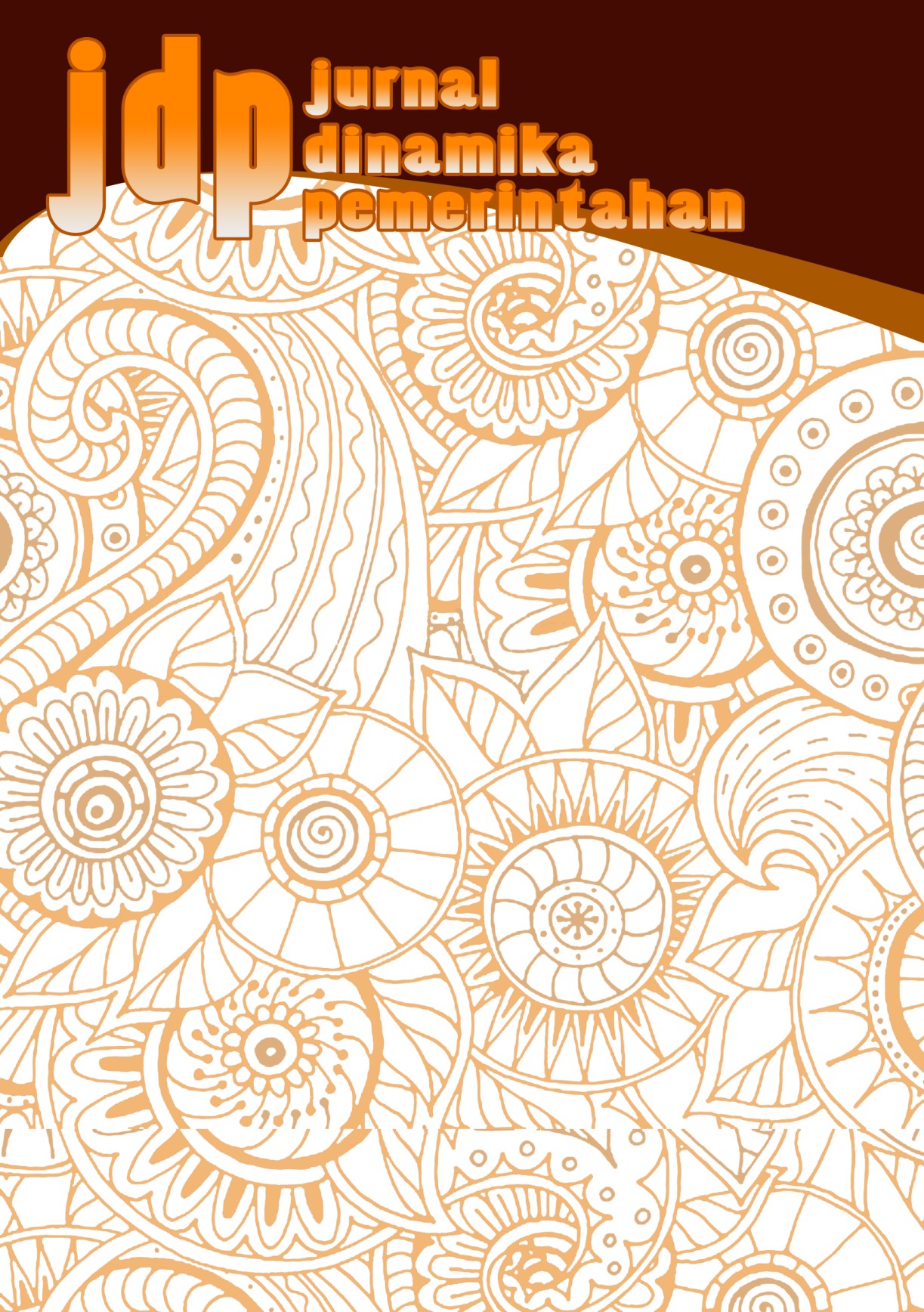 Copyright (c) 2020 JURNAL DINAMIKA PEMERINTAHAN
This work is licensed under a Creative Commons Attribution-NonCommercial-ShareAlike 4.0 International License.
1. Copyright of all journal manuscripts is held by the JDP (Jurnal Dinamika Pemerintahan)
2. Formal legal provisions to access digital articles of electronic journal are subject to the provision of the Creative Commons Attribution-ShareAlike license (CC BY-NC-SA), which means that JDP (Jurnal Dinamika Pemerintahan) is rightful to keep, transfer media/format, manage in the form of databases, maintain, and publish articles.
3. Published manuscripts both printed and electronic are open access for educational, research, and library purposes. Additionally, the editorial board is not responsible for any violations of copyright law.
licensed under a Creative Commons Attribution-ShareAlike 4.0 International License.

pdf (Bahasa Indonesia)

Abstract views: 443

downloads: 288