Goniometer Pintar Untuk Observasi Gerak Lutut Pasien Pasca Tindakan Fiksasi
Ego Octabery

Universitas Islam "45" Bekasi

Putra Wisnu Agung Sucipto

Universitas Islam "45" Bekasi

Abdul Hafid Paronda

Universitas Islam "45" Bekasi
Abstract
Goniometers are made of a material shaped like a curved ruler. The indentation of this goniometer marks the degree of opening of the knee joint. This degree of knee opening gives a large RoM value. This goniometer with a ruler-like shape has drawbacks, the drawback lies in the accuracy of repeated measurements when performing knee openings, recording the patient's knee openings on a regular basis, the patient cannot perform therapy independently. To be able to overcome this situation, alternative technology can help, namely making a goniometer with three main features, namely measuring the orientation of the knee movement direction, measuring the orientation of the knee movement direction based on the MPU-6050 sensors and Arduino Nano. The MPU-6050 sensor is a sensor that is used as the main tool for measuring the Range of Motion (RoM) of the knee joint. exercise guide interface, which is a feature with a function as a virtual physiotherapist who will guide patients to perform exercise movements independently. And a data bank system, where this feature is used to store all medical history data in this physiotherapy process. The test results show that an electronic goniometer can be designed and built that can measure the angle of achievement of leg extension in Range of Motion (RoM) exercises without the need to measure manually using a goniometer ruler with a fairly good accuracy with an overall tool error value of 1.774%. and the biggest error is 2.75%. The exercise guide interface, especially on the knee motion picture, experienced an error when the angle opening exceeded 95° and the data bank managed to save the patient's angle opening data.
Keywords:
Goniometer, RoM, Knee Movement Orientaion Measurement, Database System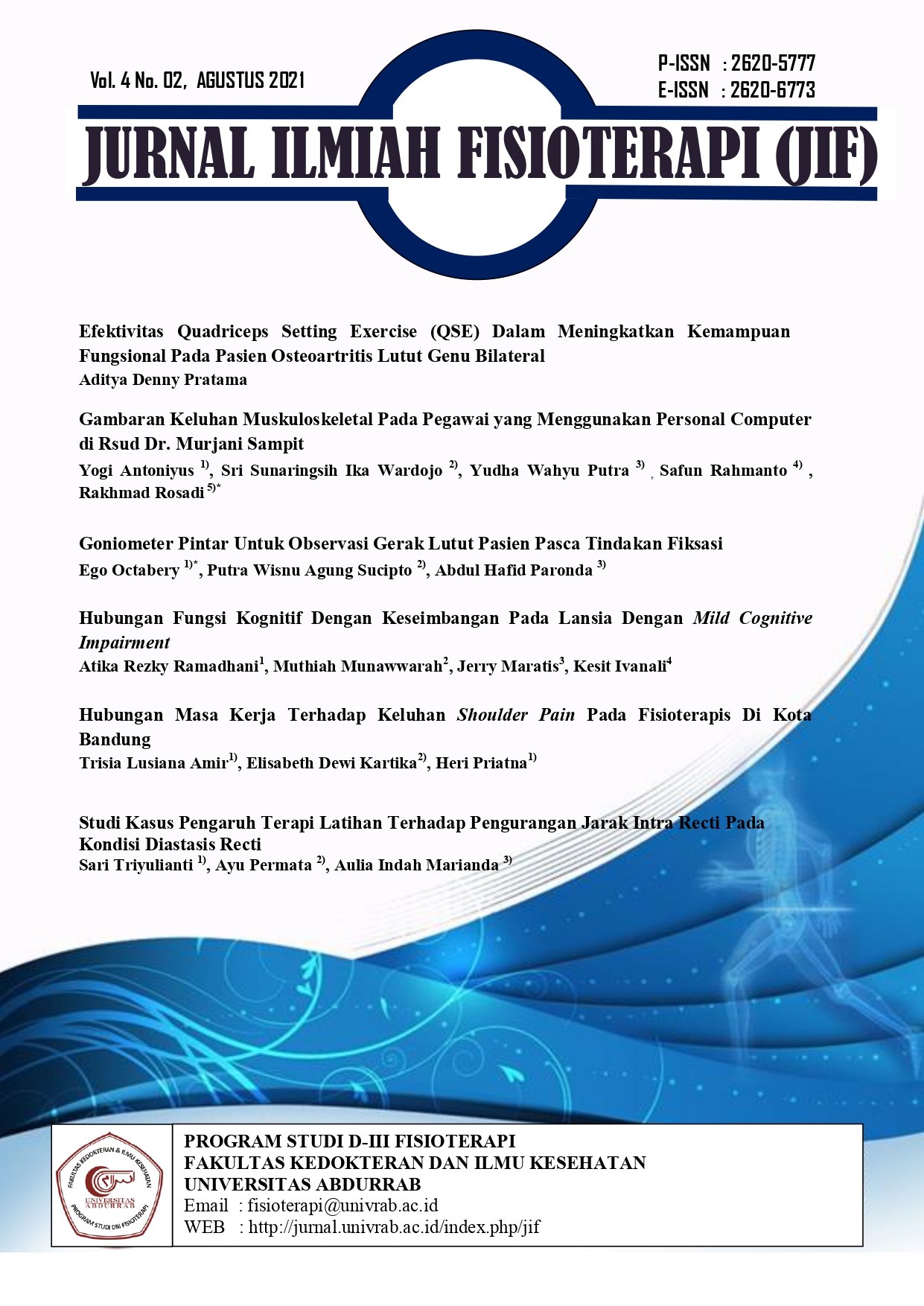 Copyright (c) 2021 Jurnal Ilmiah Fisioterapi
This work is licensed under a Creative Commons Attribution-NonCommercial-ShareAlike 4.0 International License.
1. Copyright of all journal manuscripts is held by the Jurnal Ilmiah Fisioterapi
2. Formal legal provisions to access digital articles of electronic journal are subject to the provision of the Creative Commons Attribution-ShareAlike license (CC BY-NC-SA), which means that Jurnal Ilmiah Fisioterapi is rightful to keep, transfer media/format, manage in the form of databases, maintain, and publish articles.
3. Published manuscripts both printed and electronic are open access for educational, research, and library purposes. Additionally, the editorial board is not responsible for any violations of copyright law.
licensed under a Creative Commons Attribution-ShareAlike 4.0 International License.

PDF (Bahasa Indonesia)

Abstract views: 432

downloads: 488