PENGARUH PEMBERIAN ROSE EFFLEURAGE TERHADAP INTENSITAS NYERI PERSALINAN KALA I FASE AKTIF PADA PERSALINAN NORMAL PRIMIGRAVIDA DI BIDAN PRAKTIK MANDIRI ERNITA KOTA PEKANBARU
Jasmi Jasmi

Poltekes Kemenkes Riau

Elly Susilawati

Poltekes Kemenkes Riau

Ana Andriana

Poltekes Kemenkes Riau
Abstract
Birth pain can cause maternal discomfort such as fatigue, frustration, despair, and stress. The preliminary survey at PMB Ernita of Pekanbaru showed that there were 60% of the mothers that suffered moderate pain and 40% of them experienced severe pain. The intensity of labor pain can be reduced by giving a rose effleurage that can produce endorphin so that it stimulates a sense of relaxation. This pre-experimental research used a one group pre-test study post-test design carried out in March to June 2018. The population was primigravidae  mothers in the first stage of labor taken using purposive sampling technique. The results showed that the average intensity of pain in parturient women before and after administration of rose effleurage was 6.00 and 4.60, respectively. The result of statistic test with Wilcoxon test on 95% confidence degree showed that there was the effect of rose effleurage stage on pain intensity in the active stage of labor (p value = 0.000). It is then suggested that rose effleurage can be applied as an alternative method which aims to reduce the intensity of labor pain at the time of active phase.
Keywords:
Labor pain, pain intensity, rose effleurage
References
Afifah, D, dkk. 2011. Perbedaan Tingkat Nyeri Kala I Pada Ibu Bersalin Normal Primigravida Dan Multigravida Di RB Nur Hikmah Desa Kuwaron Gubug Kabupaten Grobogan. D III Kebidanan, Fakultas Ilmu Keperawatan Dan Kesehatan, Universitas Muhammadiyah Semarang.
Bobak, L. 2004. Keperawatan Maternitas, Edisi 4. Jakarta: EGC.
Field, T. 2008. Pregnancy And Labor Alternative Therapy Research. Vol 14: 28-33.
Handayani, R, dkk. 2011. Pengaruh Massage Effleurage Terhadap Pengurangan Intensitas Nyeri Persalinan Kala I Fase Aktif Pada Primipara Di RSIA Bunda Arif Purwokerto. Akademi kebidanan YLPP Purwokerto.
Jaelani. 2009. Aroma Terapi. Jakarta: Pustaka Populer Obor.
Judha, M, dkk. 2012. Teori Pengukuran Nyeri & Nyeri Persalinan, Yogyakarta : Nuha Medika.
Koensoemardiyah. 2009. A – Z Aromaterapi. Yogyakarta: Andi Offset.
Mander, Rosemary. 2014. Nyeri Persalinan. Jakarta: EGC.
Marpaung, Leny M. 2011. Gambaran Kecemasan Dan Nyeri Persalinan Pada Ibu Primigravida Di Klinik Bersalin Sally Medan. Program D-Iv Bidan Pendidik Fakultas Keperawatan Universitas Sumatera Utara.
Oxorn, H, et al. 2010. Ilmu Kebidanan Patologi & Fisiologi Persalinan. Yogyakarta; Yayasan Essentia Medika.
Poerwadi, R. 2006. Aromaterapi sahabat calon ibu. Jakarta: Dian rakyat.
Sugiyono. 2011. Metode penelitian kuntitatif, kualitatif dan R&D. Bandung: Alfabeta.
Sujiyatini, dkk. 2011. Asuhan Kebidanan II (Persalinan). Yogykarta: Rohiro Press.
Utami, R, N, dkk. 2013. Perbedaan Efektivitas Lama Pemberian Rose Effleurage terhadap Intensitas Nyeri Kala I Fase Aktif Pada Persalinan Normal Primigravida di Kota Semarang. Jurnal Kebidanan. Vol. 2, No. 4.
Wahyuni, S, wahyuningsih E. 2015. Pengaruh Massage Effleurage Terhadap Tingkat Nyeri Persalinan Kala I Fase Aktif Pada Ibu Bersalin di Rsu Pku Muhammadiyah Delanggu Klaten. Jurnal involusi kebidanan. Vol 5 no 10.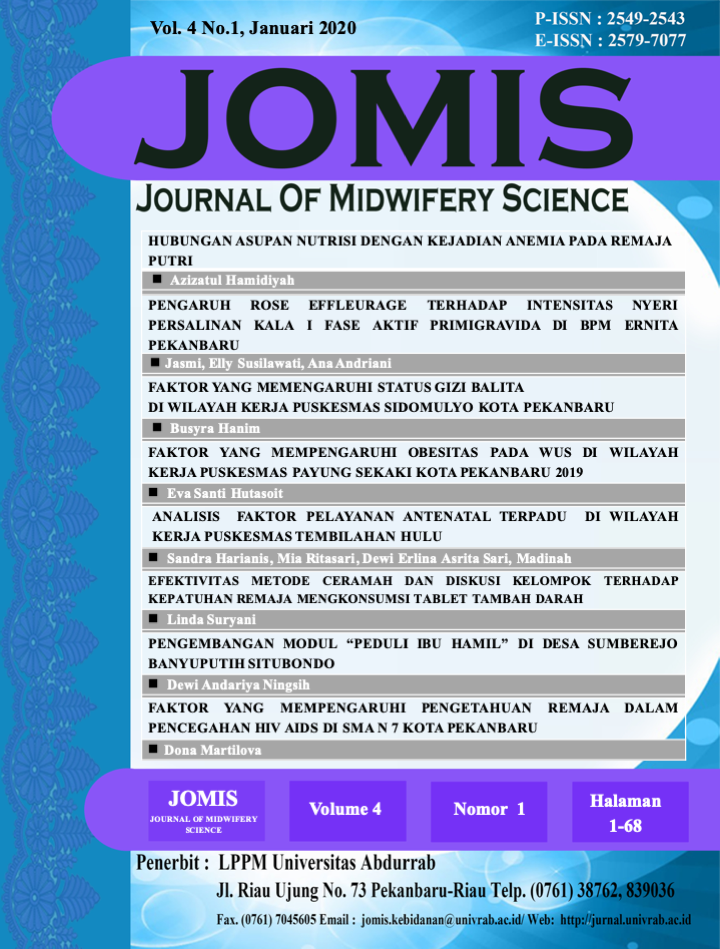 Copyright (c) 2020 Jasmi, Elly Susilawati, Ana Andriana
This work is licensed under a Creative Commons Attribution-NonCommercial-ShareAlike 4.0 International License.

PDF

Abstract views: 77

downloads: 72