FAKTOR -FAKTOR YANG BERHUBUNGAN DENGAN PERILAKU SEKSUAL
Nurhapipa Nurhapipa

STIKes Hang Tuah

Alhidayati Alhidayati

Gita Ayunda
Abstract
Perilaku seksual adalah segala tingkah laku yang di dorong oleh hasrat seksual baik dengan lawan jenisnya maupun dengan sesama jenis sebelum menikah. Bentuk-bentuk tingkah laku bermacam-macam, mulai dari perasaan tertarik sampai tingkah laku berkencan, bercumbu dan bersenggama.Di Provinsi Riau yang sudah pernah melakukan hubungan seksual dengan pasangannya sebanyak 38,73 %. Penelitian ini bertujuan untuk diketahuinya faktor-faktor yang berhubungan dengan perilaku seks. Desain Penelitian ini bersifat kuantitatif dengan jenis desain studi cross sectional. Populasi pada penelitian ini adalah 300 dengan sampel 118 orang yang diambil dengan cara simple random sampling. Analisis data dilakukan secara univariat, bivariat dengan uji chi square. Dari hasil penelitian didapatkan,terdapat hubungan antara pengetahuan kesehatan reproduksi Pvalue 0,000 dan OR47,654(CI= 14,520-156,40), PMS Pvalue: 0,037 dan OR 2.375 (CI=1.120-5,040), HIV/AIDS Pvalue 0,001 dan POR 4.764 (95%CI=1,989-11,407) , pemahaman agama Pvalue 0,000 dan POR 5.714 (95% CI=5.714 (CI=6,344-38.923). Kontrol diri: Pvalue  0,002 dan POR 28,667  (95%CI=10,406-78,970) teman sebaya Pvalue 0,036 dan POR 2,896(95%CI=1,150 -23,465), peran orang tua Pvalue 0,000 dan POR 102,222 (95%CI=26.186-399.04). Kesimpulan dalam penelitian ini adalah terdapat pengaruh antara pengetahuan pemahaman agama, kontrol diri, teman sebaya, peran orang tua dengan perilaku seksual. Dengan demikian diharapkan kepada pihak fakultas sendratasik untuk bekerjasama dengan tenaga kesehatan untuk memberikan penyuluhan tentang kesehatan reproduksi dan untuk orang tua lebih memperhatikan anaknya serta mengawasi anaknya dan meningkatkan iman dan taqwa remaja.
Kata Kunci      : Perilaku Seksual, Pengetahuan kesehatan reproduksi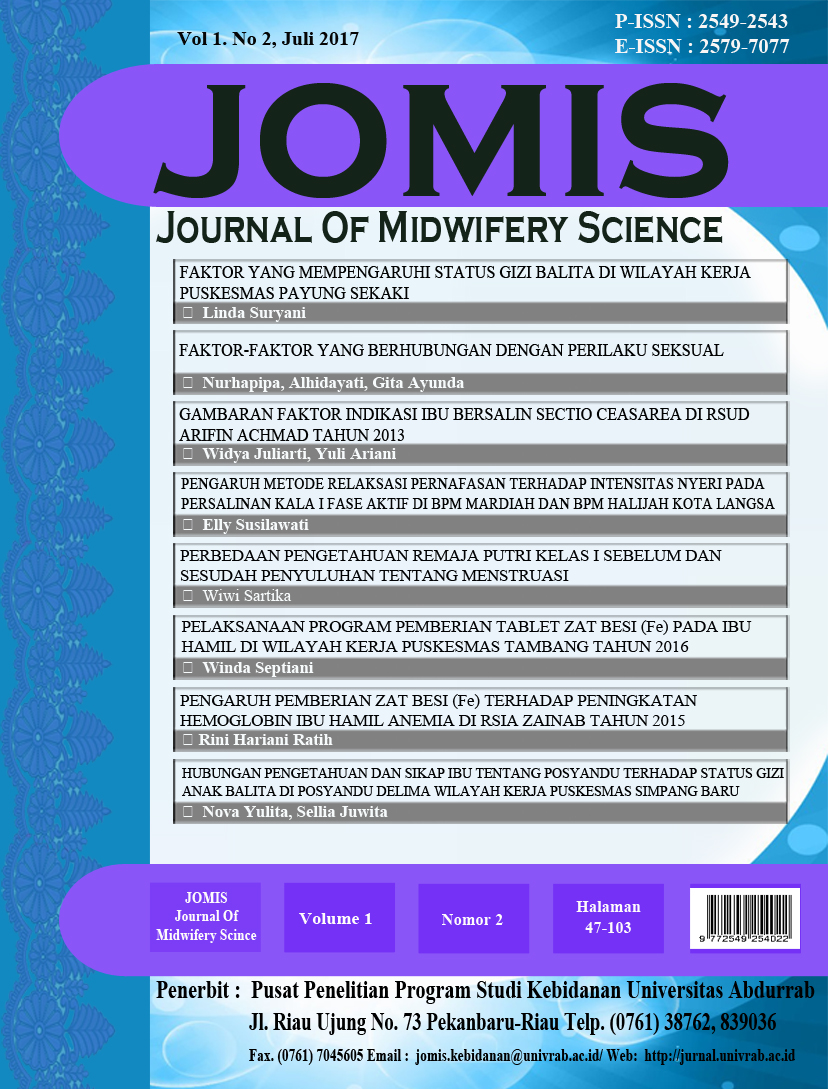 1. Copyright of all journal manuscripts is held by the JOMIS : Journal of midwifery scinece
2. Formal legal provisions to access digital articles of electronic journal are subject to the provision of the Creative Commons Attribution-ShareAlike license (CC BY-NC-SA), which means that JOMIS : Journal of midwifery scinece is rightful to keep, transfer media/format, manage in the form of databases, maintain, and publish articles.
3. Published manuscripts both printed and electronic are open access for educational, research, and library purposes. Additionally, the editorial board is not responsible for any violations of copyright law.
licensed under a Creative Commons Attribution-ShareAlike 4.0 International License.

PDF

Abstract views: 279

downloads: 523