EFEKTIVITAS AROMATERAPI PEPPERMINT DAN PEMBERIAN SARI JAHE PADA MUAL MUNTAH IBU HAMIL DI PMB SITI JULAEHA PEKANBARU
Okta Vitriani

Poltekes Kemenkes Riau

Fatiyani Alyensi

Poltekkes Kemenkes Riau

Ari Susanti

Poltekkes Kemenkes Riau
Abstract
ABSTRAK
Angka kejadian mual muntah masih cukup tinggi, hampir 80%.  Gejala yang dialami dari ringan sampai dengan berat hingga muntah hebat yang memerluan rawat inap dan apabila terjadi terus menerus dapat menyebabkan depresi bahkan sampai ingin mengakhiri kehamilannya. Penelitian ini dilakukan dengan tujuan untuk mengetahui  perbandingan efektivitas aromaterapi  peppermint dan sari jahe terhadap mual muntah pada ibu hamil trimester 1. Jenis penelitian yang digunakan adalah quasy eksperiment dengan desain penelitian two-groups pre test- post-test design. Penelitian dilaksanakan di PMB Siti Julaeha Pekanbaru pada bulan September sampai dengan November 2020 dengan sampel adalah ibu hamil trimester I sebanyak 30 orang, yaitu 15 orang untuk perlakuan pepermin dan 15 orang untuk perlakuan jahe. Analiasa data dengan uji T. Hasil penelitian menunjukkan  sari jahe lebih efektif terhadap mual muntah dibandingkan dengan pemberian aromaterapi peppermint (p Value 0,001). Studi penemuan dosis menggunakan ekstrak standar yang bervariasi juga harus dilakukan untuk menentukan dosis efektif dan persiapan jahe secara akurat. Hasil dari penelitian ini dapat digunakan untuk mengoptimalkan desain uji klinis untuk meningkatkan kemanjuran jahe dalam mual dan muntah.
Keywords:
Peppermint; mual; muntah; jahe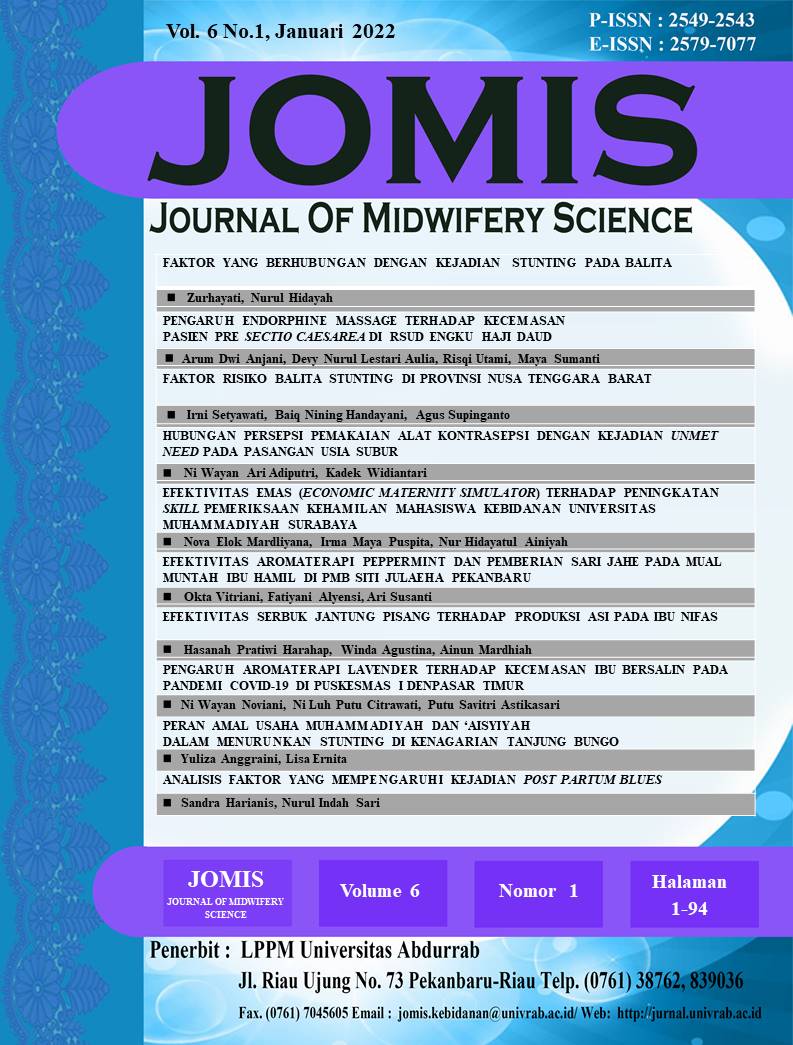 Copyright (c) 2022 JOMIS : Journal of midwifery scinece
This work is licensed under a Creative Commons Attribution-NonCommercial-ShareAlike 4.0 International License.
1. Copyright of all journal manuscripts is held by the JOMIS : Journal of midwifery scinece
2. Formal legal provisions to access digital articles of electronic journal are subject to the provision of the Creative Commons Attribution-ShareAlike license (CC BY-NC-SA), which means that JOMIS : Journal of midwifery scinece is rightful to keep, transfer media/format, manage in the form of databases, maintain, and publish articles.
3. Published manuscripts both printed and electronic are open access for educational, research, and library purposes. Additionally, the editorial board is not responsible for any violations of copyright law.
licensed under a Creative Commons Attribution-ShareAlike 4.0 International License.

PDF

Abstract views: 931

downloads: 1002