STUDI KEJADIAN HIPOTENSI ORTOSTATIK PENGGUNAAN ANTIPSIKOTIK PASIEN PADA PEREMPUAN SKIZOFRENIA
Abstract
Skizofrenia merupakan penyakit gangguan otak yang menginterpretasikan realitas secara abnormal. Salah satu terapi skizofrenia yaitu dengan penggunaan antipsikotik untuk mencegah gejala yang timbul. Tujuan penelitian ini yaitu melihat gambaran kejadian hipotensi orthostatik akibat penggunaan antipsikotik pada pasien perempuan skizofrenia di Instalasi Rawat Inap Rumah Sakit Jiwa Tampan Provinsi Riau. Penelitian ini merupakan penelitian observasi dengan metode deskriptif dan pengumpulan data dilakukan secara cross sectional dengan melakukan pengukuran tekanan darah sebelum obat diberikan dan sesudah obat mencapai waktu paruhnya. Hasil penelitian menunjukkan kejadian hipotensi orthostatik pada sampel didapat persentase sebesar 60% dengan masa usia yang paling tinggi mengalami adalah usia lansia akhir. Antipsikotik yang paling tinggi menyebabkan hipotensi orthostatik adalah golongan atipikal. Klozapin, dan quetiapin 100% menyebabkan hipotensi orthostatik.
Keywords:
Antipsikotik, Hipotensi Ortostatik, Rumah sakit jiwa, Skizofrenia
References
Alvin. (2014). Gambaran Pola Peresepan dan Alasan Perubahan Terapi pada Pasien Skizofrenia di Poli Jiwa Dewasa RSCM. Tesis. Jakarta: FKUI
Chisholm-Burns, M.A. (2016). Pharmacotherapy Principles & Practice Fourth Edition. New York: McGraw-Hill Education.
Cristoph, U., Christine, R., Caroline, C. (2009). Antipsychotic Combinaions vc Monotherapy in Schizophrenia. A Meta-analysis of Randomized Controlled Trials. Schizophrenia Bulletin. 35(2): 443-457.
Dipiro, J.T., Talbert, R.L., Yee, G.C., Matzke, G.R., Well, B.G., & Posey, L.M. (2009). Pharmacotherapi A Pathophysiologic Approach. 7 Edition. New York: McGraw-Hill.
Dipiro, J.T., Taelrt, J.L., Yee, G.C., Matzke., G., and Posey, L.M. (2011). Pharmacotherap A Pathophysiologic Approach. 8th Edition. New York: McGraw-Hill.
Freeman, R., Wieling, W., Axelrod, F., Benditt, D., Benarroch, E. & Biaggioni, I. (2011). Consensus Statement on The Definition of Orthostatic Hypotension, Neurally Mediated Syncope and The Postural Tachycardia Syndrome. Journal of the Clinical Autonomic. 21(2): 69-72.
Isselbacher. (1981). Harrison Principle of Internal Medicine. Edisi 9 ed. Jakarta: EGC.
Khasawneh, F.T., & Shankar, G.S. (2014). Minimizing Cardiovascular Adverse Effects of Atypical Antipsychotic Drugs in Patients with Schizophrenia. Cardiology Research and Practice. 2014: 1-8
Leonard, B.E. (2003). Fundamental of Phsychopharmacology. Third Edition. England: Jhon Wiley and Sons Ltd.
Nurullita, T., Fakhrurrazy & Triawanti. (2015). Perbedaan Waktu Reaksi pada Usia Lanjut dengan Hipotensi Ortostatik dan Tanpa Hipotensi Ortostatik. Berkala Kedokteran, 11(2): 205–212.
Sadock, B.J. & Sadock, V.A. (2013). Buku Ajar Psikiatri Klinis. Edisi 2 ed. Jakarta: EGC
Setiati, S., Sutrisna, B. & Prodjosudjadi, W. (2004). The Prevalence of Orthostatic Hypotension and Risk Factors Among 40 years and Above Adult Population in Indonesia. Med J Indonesian, 13.
Sidharta, P. (1994). Neurologi Klinis Dalam Praktek Umum. Jakarta: PT Dian Rakyat
Syamsudin. (2011). Buku Ajar Farmakoterapin Kardiovaskuler dan Renal. Jakarta: Salemba Medika
Tandon, R. (2002). Safety and Tolerability: How Do Newer Generation "Atypical" Antipsychotics Compare. Psychiatry. 73(4): 297-311
Tjay, T.H. & Rahardja, K. (2007). Obat-Obat Penting. Edisi VI. Jakarta: Gramedia.
Wu, J., Wu, N., Lu, F. & Chang, C. (1996). Factors associated with orthostatic hypotension in the Chinese population in Taiwan. American journal of hypertension, 9: 999–1005.
Yulianty, M.D., Cahaya, N. & Srikartika, V.M. (2017). Antipsychotics Use and Side Effects in Patients With Schizophrenia at Sambang Lihum Hospital South Kalimantan, Indonesia. Jurnal Sains Farmasi & Klinis, 3(2): 153–164.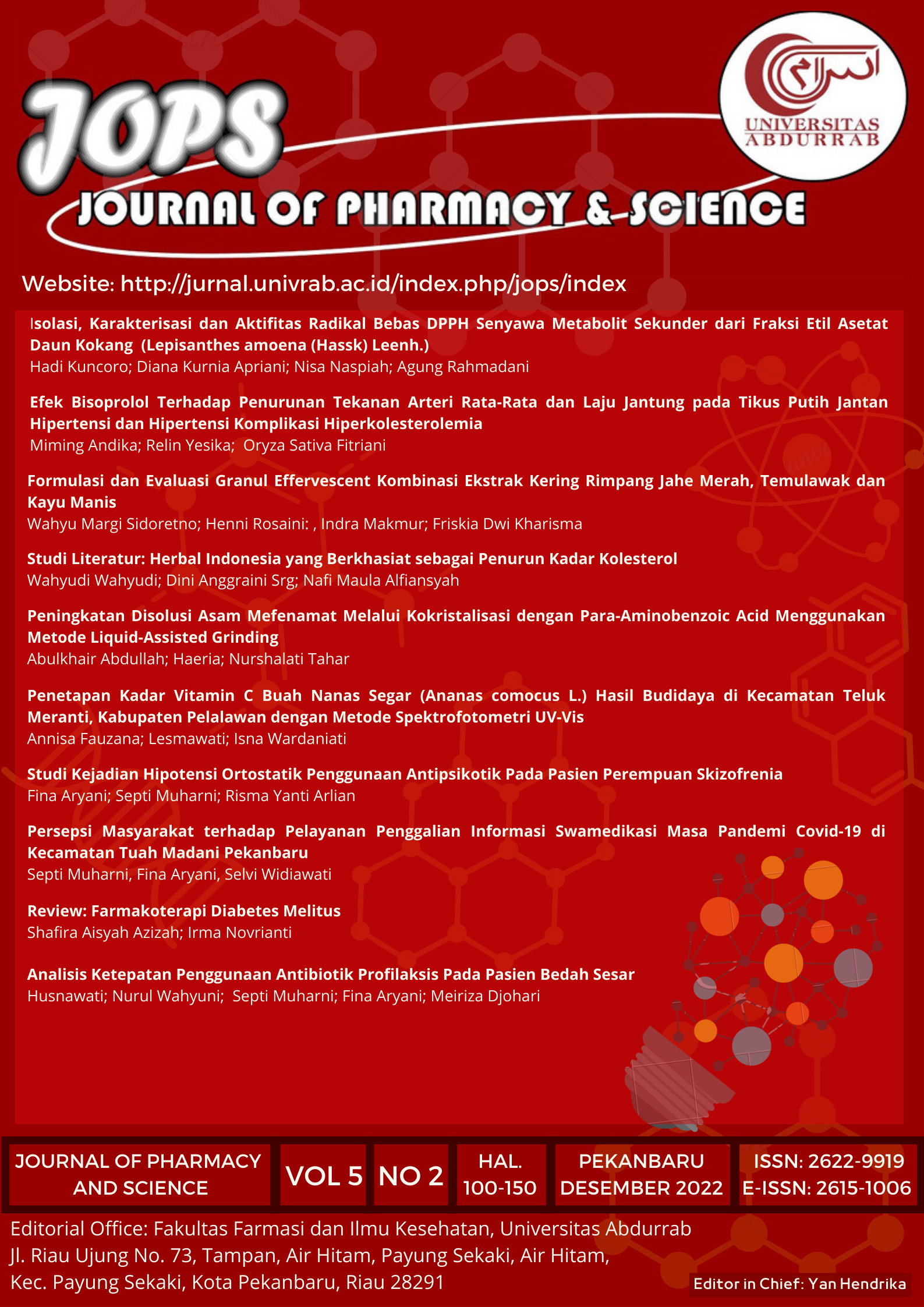 Copyright (c) 2022 JOPS (Journal Of Pharmacy and Science)
This work is licensed under a Creative Commons Attribution-NonCommercial-ShareAlike 4.0 International License.
1. Copyright of all journal manuscripts is held by the JOPS (Journal Of Pharmacy and Science)
2. Formal legal provisions to access digital articles of electronic journal are subject to the provision of the Creative Commons Attribution-ShareAlike license (CC BY-NC-SA), which means that JOPS (Journal Of Pharmacy and Science) is rightful to keep, transfer media/format, manage in the form of databases, maintain, and publish articles.
3. Published manuscripts both printed and electronic are open access for educational, research, and library purposes. Additiponally, the editorial board is not responsible for any violations of copyright law.
licensed under a Creative Commons Attribution-ShareAlike 4.0 International License.

pdf (Bahasa Indonesia)

Abstract views: 152

downloads: 115