ISOLASI, KARAKTERISASI DAN AKTIFITAS RADIKAL BEBAS DPPH SENYAWA METABOLIT SEKUNDER DARI FRAKSI ETIL ASETAT DAUN KOKANG (Lepisanthes amoena (Hassk) Leenh.)
Hadi kuncoro

Fakultas Farmasi Universitas Mulawarman

Diana Kurnia Apriani

Nisa Naspiah

Agung Rahmadani
Abstract
Kokang (L. amoena (Hassk) Leenh.) merupakan tanaman lokal Kalimantan Timur dan digunakan sebagai alternatif pengobatan oleh suku dayak untuk mengatasi berbagai masalah kulit, diantaranya menghilangkan noda hitam di wajah, menyembuhkan bekas luka cacar, bekas jerawat dan perawatan kulit (skincare). Penelitian ini bertujuan untuk memperoleh isolat senyawa metabolit sekunder yang memiliki aktivitas antioksidan dan mengetahui struktur kimia dari isolat tersebut. Metode yang digunakan adalah ekstraksi secara maserasi dengan metanol. Ekstrak difraksinasi dengan n-heksan, etil asetat dan n-butanol. Fraksi etil asetat diisolasi dengan menggunakan berbagai teknik kromatografi. Pengujian antioksidan menggunakan metode kualitatif dengan DPPH. Hasil isolasi didapatkan isolat EA31 yang memiliki aktivitas antioksidan. Hasil elusidasi struktur isolat berdasarkan MS, 1H-NMR dan 13C-NMR. diperoleh senyawa dengan rumus molekul C15H12O11 yang meberikan aktifitas terdapat radikal bebas DPPH.
Keywords:
Isolasi, Kokang (Lepisanthes amoena (Hassk) Leenh., DPPH
References
Barhe, TA and Tehoiya, G.R., 2014, Comparative Study of the Anti-oxidant Activity of the Total Polyphenols Extracted from Hibiscus Sabdariffa L., Glycine max L. Merr., Yellow Tea and Red Wine through Reaction with DPPH Free Radical, Arabian Journal of Chemistry,9, 1-8.

Capiello, A. 2007. Advance and LC-MS Instrumentation. Jornal of Chromatography Library, 72, 1-5
Cholisoh, Z. 2008. Aktivitas Penangkap Radikal Ekstrak Etanol 70% Biji Jengkol (Archidendron jiringa). Jurnal Fakultas Farmasi. Universitas Muhammadiyah Surakarta.


Eichhorn, P. and Knepper, P. T. 2001. Electrospray Ionization Mass Spectrometric Studies on the Amphoteric Surfactant Cocamidoprpylbetaine. Journal of Massa Spectrometry, 36, 677-684

Fajriyati, S. A. N. ., Arifuddin, M. ., & Kuncoro, H. . (2021). Uji Antioksidan Daun Kokang (Lepisanthes amoena) dengan Metode DPPH. Proceeding of Mulawarman Pharmaceuticals Conferences, 13(1), 182–187. https://doi.org/10.25026/mpc.v13i1.464

Harborne, J.B. 1987. Metode Fitokimia Penuntun Cara Modern Menganalisis Tumbuhan. Penerbit ITB. Bandung.

Heriad Daud S, 2017. Phytochemical Screening and Antioxidant Activityof Selekop (Lepisanthes amoena) Fruit. Faculty of Forestry Mulawarman University Samarinda East Kalimantan Indonesia.

Herawati, D, Nuraida L, dan Sumarto. 2012. Cara Produksi Simplisia yang Baik. Bogor: Seafast Center
Husnul. 2017. Efektivitas Ekstrak Daun Kokang (Lepishantes amoena) Sebagai Tabir Surya ; Eksplorasi Kearifan Lokal Kalimantan Timur. Akademi Farmasi Samarinda.

Isnindar, Subagus Wahyuono, Erna Prawita Setyowati. 2011. Isolasi dan Identifikasi Senyawa Antioksidan Daun Kesemek (Diospyros kaki Thunb.) Dengan Metode DPPH (2,2-difenil-1- pikrilhidrazil). Majalah Obat Tradisional. 16 (3). 157 – 164.

Jusmiati, A., Rolan Rusli, Laode Rijai. 2015. Aktivitas Antioksidan Buah Kakao Masak dan Kulit Buah Kakao Muda. Journal Sains dan Kesehatan. 1 (1). 34-39

Kumar Vinay,Abbas Abul K, Fausto Nelson, Mitchell Richard N, Robbins Basic Pathology, 8th Edition, Philadelphia, USA, Saunders Elsevier 2007, Chapter 19 The Female Genital System and Breast: 724-725

Lambert, J.B. and Mazzola, E.P. 2004. Nuclear Magnetic Resonance Spectroscopy: an Introduction on Principles, Applications, and Experimental Methods, Pearson Education.

Mathias, O., Hamburger and Geoffrey A. Cordell. 1987. A Direct Bioautographic Assay for Compounds Possessing Antibacterial Activity. Journal of Natural Products. Vol. 50. No. 1. 19-22.

Prakasih, A. Rigelhof F dan Miller F. 2001. Antioxidant Activity. Medallion Laboratories Analytical Progress. 19 (2). 1-4

Pratimasari, D. 2009. "Uji Aktivitas Penangkap Radikal Buah Carica Papaya L. Dengan Metode DPPH dan Penetapan Kadar Fenolik Serta Flavonoid Totalnya". Skripsi. Surakarta: Universitas Muhammadiyah Surakarta.

Redha, Abdi. 2010. Flavonoid : Struktur, Sifat Antioksidatif dan Peranannya dalam Sistem Biologis. Jurnal Belian 9 (2)
Reynertson, K. A., 2007, Phytochemical Analysis of Bioactive Constituens from Edible Myrtaceae Fruit, Dissertation, The City University of New York, New York

Riza, 2013. Isolasi dan Karakterisasi Senyawa Steroid Pada Fraksi N-Heksana dari Daun Kokang. Jurnal Kimia Mulawarman Volume 10 Nomor 2. Kimia FMIPA Unmul.

Rohman, A. dan Riyanto S. 2007. Daya Antioksidan Ekstrak Etanol Daun Kemuning (Murraya paniculata (L) Jack.) secara in Vitro. Majalah Farmasi Indonesia, 16 (3). 136-140.


Sunarni, T., Suwidjiyo Pramono dan Ratna Asmah, 2007. Flavonoid Antioksidan Penangkap Radikal dari Daun Kepel Uji Aktivitas Antioksidan Fraksi Eter Hasil Hidrolisis Infusa . (Agustina Ardianti) (Stelechocarpus burahol (B1.) Hook f.& Th.).

Stahl, Egon. 1967. Dunnschicht-Cromatographie. Eie Laboratorium Shandouch. Berlin : Zweite Autflage.

Nurkhasanah, Trisnamurti, K. C., Gunaryanti, R. D. and Widyastuti, T., 2015, The Screening of Cytotoxic Fraction from Elephantopus scaber Linn against Human Cervical Cancer (Hela) Cells, International Journal of Pharma Sciences and Research, 6(6): 1011–1014.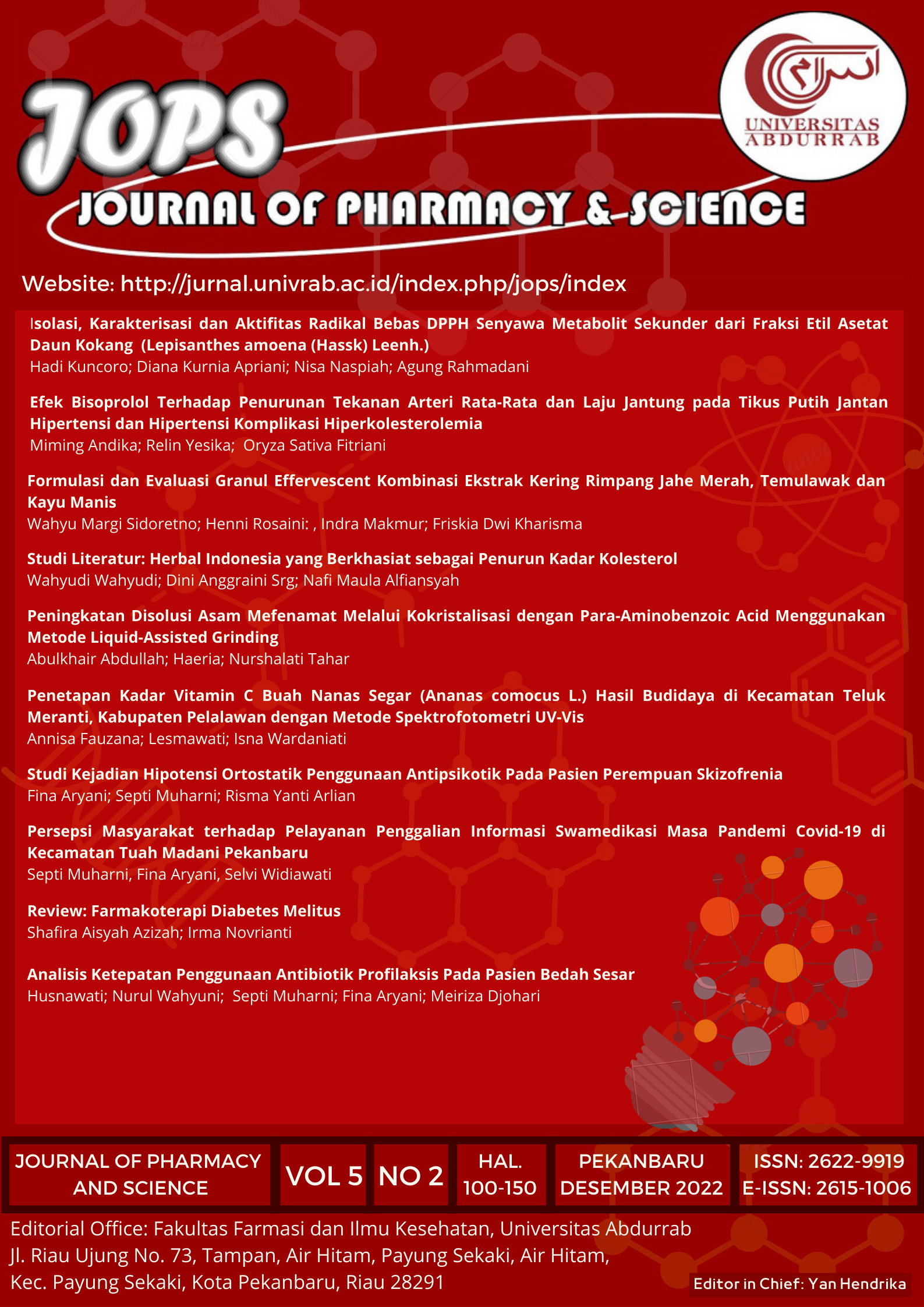 Copyright (c) 2022 JOPS (Journal Of Pharmacy and Science)
This work is licensed under a Creative Commons Attribution-NonCommercial-ShareAlike 4.0 International License.
1. Copyright of all journal manuscripts is held by the JOPS (Journal Of Pharmacy and Science)
2. Formal legal provisions to access digital articles of electronic journal are subject to the provision of the Creative Commons Attribution-ShareAlike license (CC BY-NC-SA), which means that JOPS (Journal Of Pharmacy and Science) is rightful to keep, transfer media/format, manage in the form of databases, maintain, and publish articles.
3. Published manuscripts both printed and electronic are open access for educational, research, and library purposes. Additiponally, the editorial board is not responsible for any violations of copyright law.
licensed under a Creative Commons Attribution-ShareAlike 4.0 International License.

pdf (Bahasa Indonesia)

Abstract views: 133

downloads: 105