The IMPLEMENTATION OF OSCE (OBJECTIVE STRUCTURED CLINICAL EXAMINATION) METHODS STUDENTS OF STIKES HANGTUAH PEKANBARU
Susi Erianti

STIKes Hang Tuah Pekanbaru

Raja Fitrina Lestari

STIKes Hang Tuah Pekanbaru
Abstract
The development of nursing science and technology that is increasingly sophisticated requires nursing staff to be competent, so that the world of nursing education must be able to prepare graduates who are able to compete both nationally and globally. To achieve competence, especially in the field of skills, the OSCE (Objective Structured Clinical Examination) method is used. To assess clinical performance or abilities in a structured and objective manner. This study aims to describe the design (the preparation of blue prints, cases and stations and the preparation of a checklist or rating form) used in OSCE, describe standard patients, describe OSCE examiners, describe facilities and infrastructure in the implementation of OSCE, describe standard settings in the implementation of OSCE and describe overall OSCE implementation. This research used observational quantitative research with a descriptive research design. The population in this study were lecturers who carried out OSCE using a total sampling technique. The data collection tool used a questionnaire and data analysis was carried out univariately. The results of the study show that 18 (60%), OSCE standard patients have carried out 16 (53.3%), OSCE examiners have carried out 20 (53,3%) have carried out the OSCE design (blue print, case and station preparation and checklist or rating form) 66.7%), OSCE facilities and infrastructure that have been implemented 19 (63.3%), OSCE standard setting that has been implemented 16 (53.3%) and OSCE implementation that has been implemented as a whole is 17 (56.7%) . The implementation of OSCE must be using the existing standart, so it can be used as a tool to evaluate the students' clinical skills, blue print  is an important aspect to be prepare before OSCE.
Keywords:
OSCE, evaluation method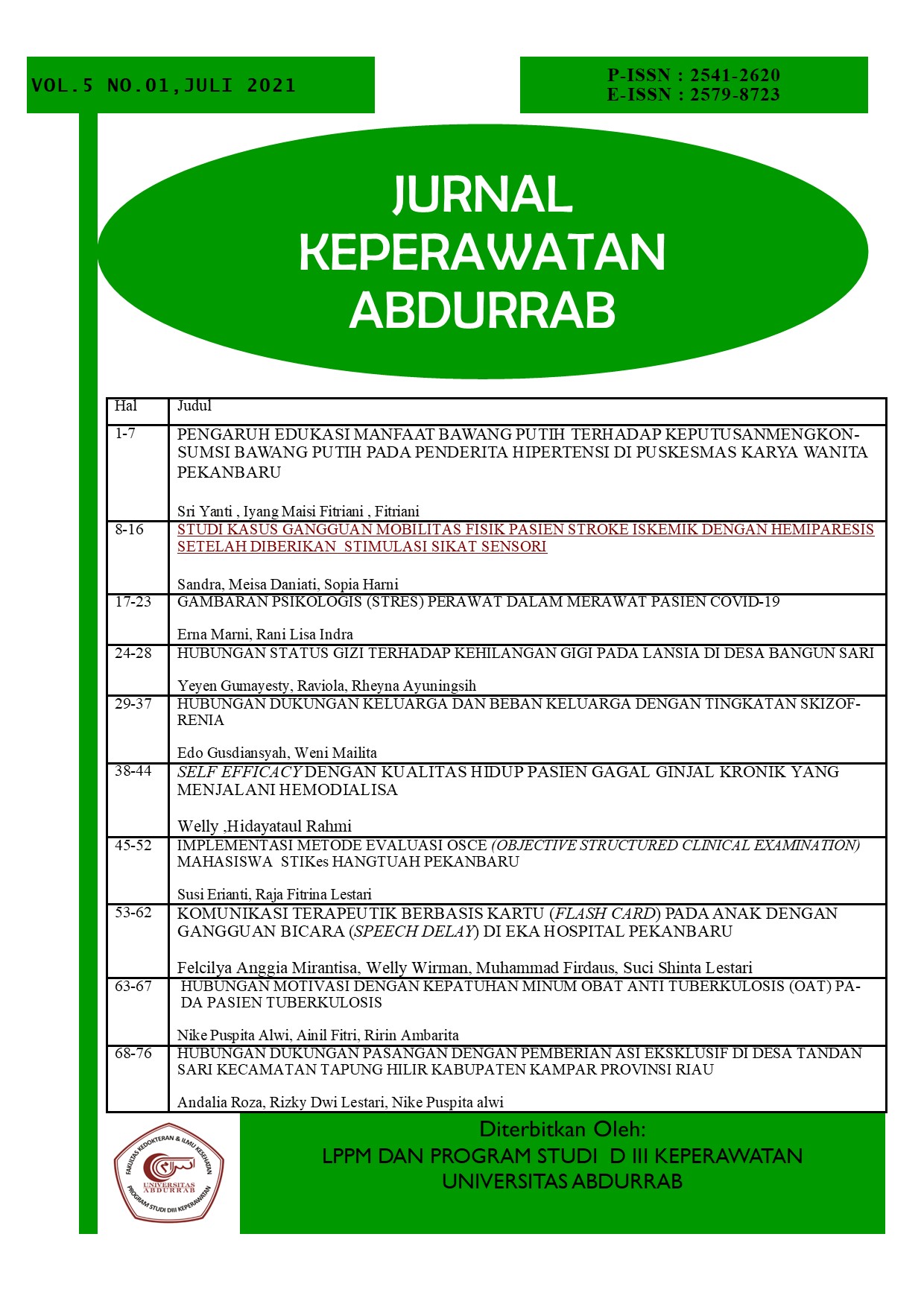 Copyright (c) 2021 Jurnal Keperawatan Abdurrab
This work is licensed under a Creative Commons Attribution-NonCommercial-ShareAlike 4.0 International License.
1. Copyright of all journal manuscripts is held by the Jurnal Keperawatan Abdurrab
2. Formal legal provisions to access digital articles of electronic journal are subject to the provision of the Creative Commons Attribution-ShareAlike license (CC BY-NC-SA), which means that Jurnal Keperawatan Abdurrab is rightful to keep, transfer media/format, manage in the form of databases, maintain, and publish articles.
3. Published manuscripts both printed and electronic are open access for educational, research, and library purposes. Additionally, the editorial board is not responsible for any violations of copyright law.
licensed under a Creative Commons Attribution-ShareAlike 4.0 International License.

UNDUH ARTIKEL

Abstract views: 83

downloads: 116