HUBUNGAN MOTIVASI DENGAN KEPATUHAN MINUM OBAT ANTI TUBERKULOSIS (OAT) PADA PASIEN TUBERKULOSIS
Nike Puspita Alwi

Universitas Abdurrab

Ainil Fitri

universitas abdurrab

Ririn Ambarita

universitas abdurrab
Abstract
Tuberkulosis merupakan penyakit menular yang disebabkan oleh Mycobacterium tuberculosis yakni kuman aerob yang menginfeksi berbagai organ tubuh  terutama paru-paru. Penelitian ini bertujuan untuk mengetahui hubungan motivasi dengan kepatuhan minum obat pada pasien tuberkulosis di puskesmas rejosari kecamatan tenayan raya kabupaten kota pekanbaru. Jenis penelitian ini adalah cross sectional dengan disain penelitian komparatif. Populasi dalam penelitian ini adalah pasien tuberkulosis berjumlah 32 penderita. Teknik pengambilan sampel adalah total sampling. Instrumen penelitian menggunakan kuesioner MMAS 8 untuk variabel kepatuhan minum obat dan kuesioner yang telah reliabel untuk variabel motivasi. Data diproses dengan menggunakan uji Kolmogorov smirnov. Hasil penelitian diperoleh adalah ada hubungan yang signifikan antara hubungan Motivasi dengan Kepatuhan Minum Obat Anti Tuberkulosis pada Pasien Tuberkulosis (P Value 0,027). Penting bagi perawat dan tenaga Kesehatan yang lain meningkatkan program DOTS untuk memutus mata rantai penularan penyakit tuberkulosis ini.
Keywords:
Kepatuhan Minum Obat, Motivasi, Pasien Tuberkulosis.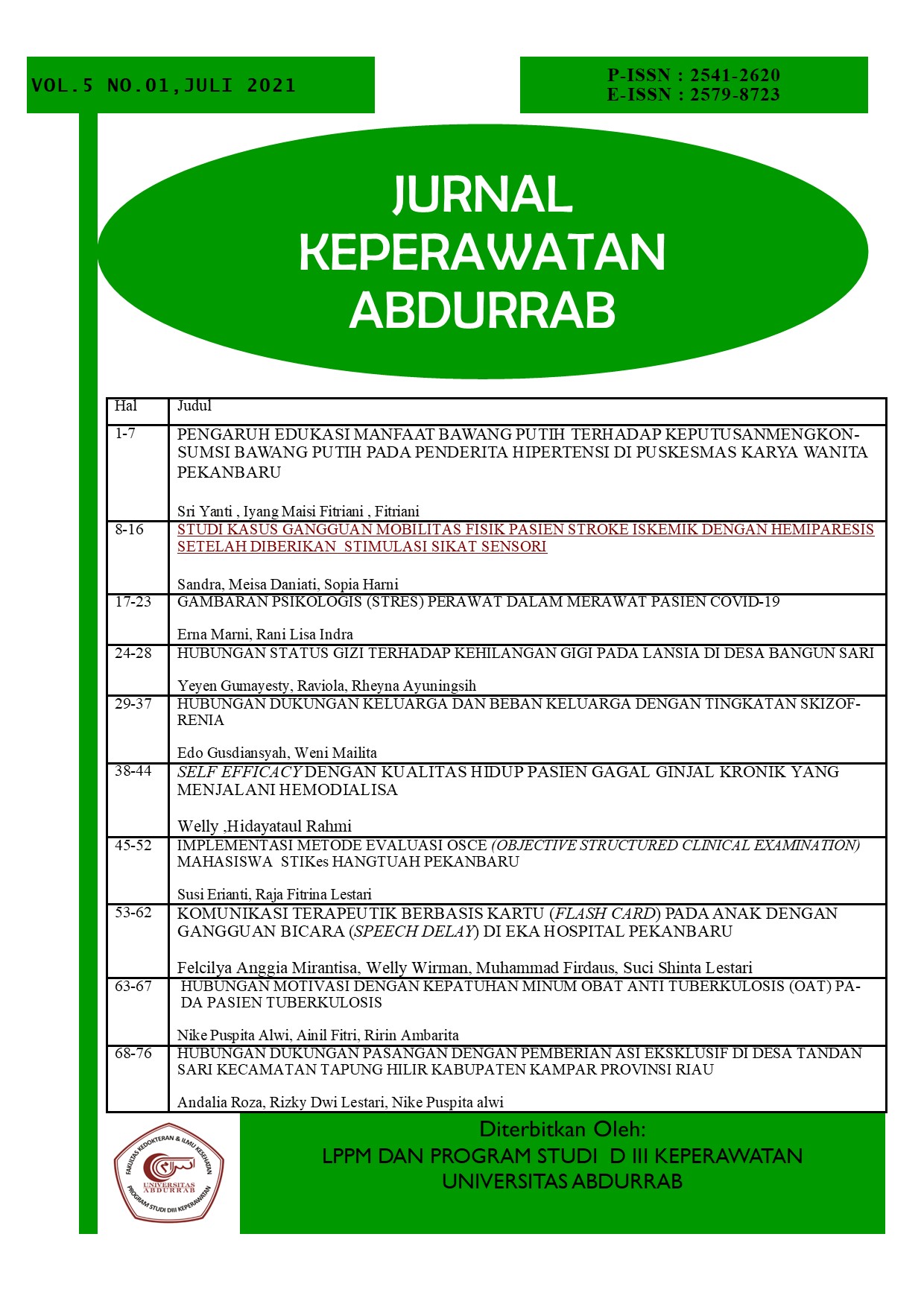 Copyright (c) 2021 Jurnal Keperawatan Abdurrab
This work is licensed under a Creative Commons Attribution-NonCommercial-ShareAlike 4.0 International License.
1. Copyright of all journal manuscripts is held by the Jurnal Keperawatan Abdurrab
2. Formal legal provisions to access digital articles of electronic journal are subject to the provision of the Creative Commons Attribution-ShareAlike license (CC BY-NC-SA), which means that Jurnal Keperawatan Abdurrab is rightful to keep, transfer media/format, manage in the form of databases, maintain, and publish articles.
3. Published manuscripts both printed and electronic are open access for educational, research, and library purposes. Additionally, the editorial board is not responsible for any violations of copyright law.
licensed under a Creative Commons Attribution-ShareAlike 4.0 International License.

UNDUH ARTIKEL

Abstract views: 334

downloads: 394