Dilatasi Memori; Leksikon Bahasa Inggris Melalui Musik
Subhan Ajrin Sudirman

Universitas Muhammadiyah Yogyakarta

Fitriah M Suud

Universitas Muhammadiah Yogyakarta

Dewi Purnama Sari

Universitas Muhammadiah Yogyakarta
Abstract
Penelitian ini bertujuan untuk mengetahui perbedaan antara menghafal kosa kata bahasa Inggris melalui musik dengan tidak menggunakan musik. Subjek dalam penelitian ini adalah siswa Taman Kanak-Kanak berusia antara 5,0 - 6,5 tahun. Dalam penelitian ini, musik digunakan sebagai sarana pengajaran kosa kata dalam bahasa Inggris.Temuan penelitian menunjukkan bahwa dalam hal tes kecerdasan tidak berbeda secara signifikan pada kelompok kontrol dan kelompok eksperimen. Penelitian ini juga menemukan bahwa kemampuan untuk mengingat leksikon bahasa Inggris anak saat pre tes antara kelompok kontrol dan kelompok eksperimen tidak memiliki perbedaan yang signifikan. Berdasarkan hasil perhitungan dalam penelitian ini menunjukkan bahwa antara kedua kelompok tersebut secara bersama-sama mengalami peningkatan kemampuan mengingat leksikon bahasa Inggris baik yang disampaikan dengan metode konvensional maupun melalui musik dengan menggunakan lagu anak-anak berbahasa Inggris.
Keywords:
memori, leksikon bahasa inggris, musik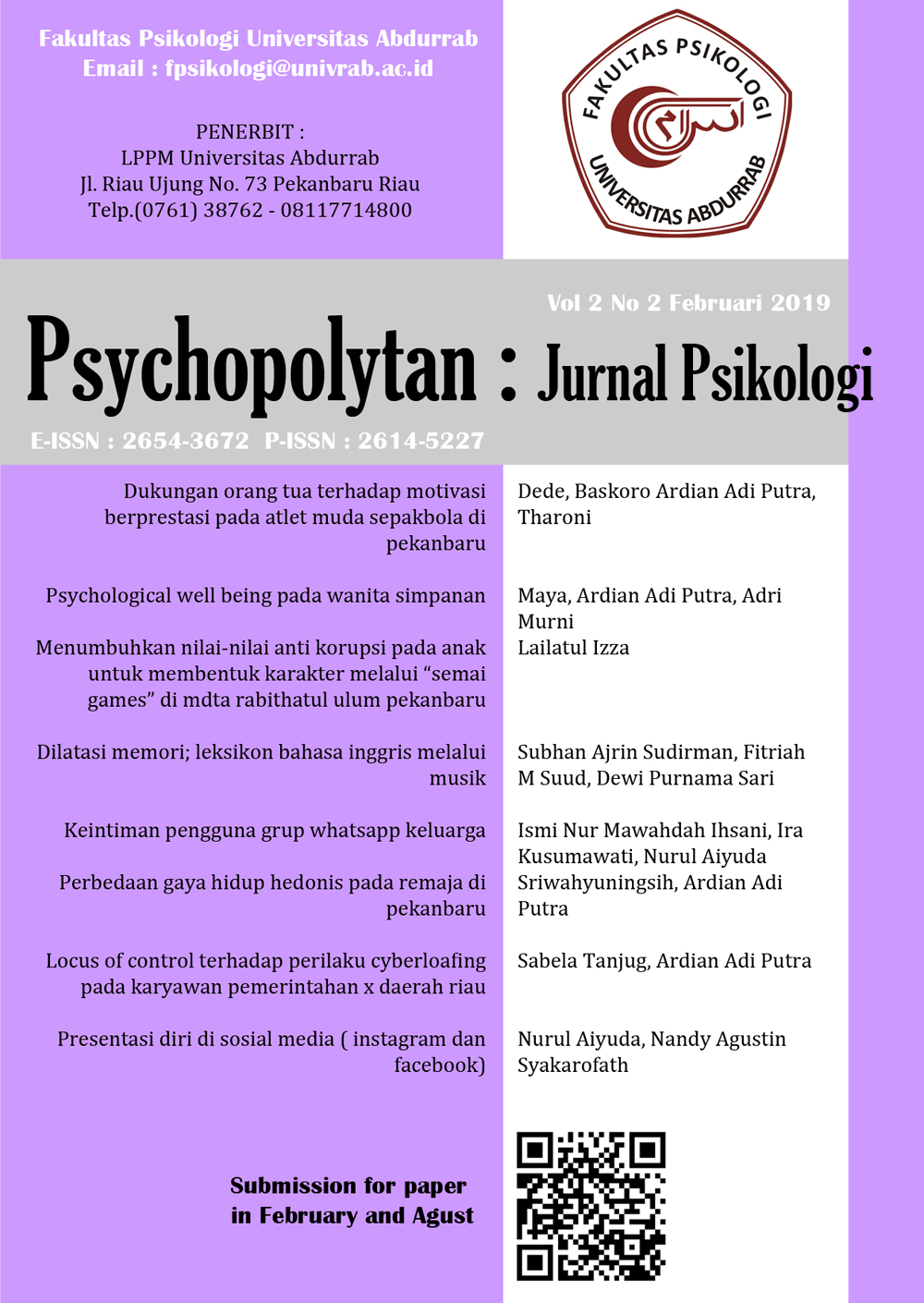 1. Copyright of all journal manuscripts is held by the Psychopolytan : Jurnal Psikologi
2. Formal legal provisions to access digital articles of electronic journal are subject to the provision of the Creative Commons Attribution-ShareAlike license (CC BY-NC-SA), which means that Psychopolytan : Jurnal Psikologi is rightful to keep, transfer media/format, manage in the form of databases, maintain, and publish articles.
3. Published manuscripts both printed and electronic are open access for educational, research, and library purposes. Additionally, the editorial board is not responsible for any violations of copyright law.
licensed under a Creative Commons Attribution-ShareAlike 4.0 International License.

pdf

Abstract views: 188

downloads: 196