Physiotherapy Management in Improving Fitness in Post-Covid-19 Patients: Case Study
Nova Relida Samosir

universitas abdurrab
Abstract
Background: Post covid or long covid is a general term used for people who have recovered from Covid-19 but still show symptoms much longer than expected. Research purposes; to determine the effectiveness of the Diaphragm Breathing Exercise intervention in increasing fitness in post-Covid-19 patients. Research method: case study method, presented in the form of a description. The study was conducted at the Abdurrab University Physiotherapy Laboratory for 3 weeks. Conclusion; Post-covid-19 patients with less than optimal fitness conditions received the Diaphragm Breathing Exercise intervention 9 times, the results obtained, there was an increase in fitness with a Vo2 Max value of 30.08 (Very Bad) after the intervention, there was a change in increase in Vo2 Max with a value of 42.68 (Good).
Keywords:
Keywords: Post Covid, Long Covid, Covid-19, Physiotherapy, Diaphragm Breathing Exercise
References
Xiong, Q., Xu, M., Li, J., Liu, Y., Zhang, J., Xu, Y., & Dong, W. (2021). Clinical sequelae of COVID-19 survivors in Wuhan, China: a single-centre longitudinal study. Clinical Microbiology and Infection, 27(1), 89–95. https://doi.org/10.1016/j.cmi.2020.09.023
Schaller, T., Hirschbühl, K., Burkhardt, K., Braun, G., Trepel, M., Märkl, B., & Claus, R. (2020). Postmortem Examination of Patients with COVID-19. JAMA - Journal of the American Medical Association, 323(24), 2518–2520. https://doi.org/10.1001/jama.2020.8907
Carsana, L., Sonzogni, A., Nasr, A., Rossi, R. S., Pellegrinelli, A., Zerbi, P., Rech, R., Colombo, R., Antinori, S., Corbellino, M., Galli, M., Catena, E., Tosoni, A., Gianatti, A., & Nebuloni, M. (2020). Pulmonary post-mortem findings in a series of COVID-19 cases from northern Italy: a two-centre descriptive study. The Lancet Infectious Diseases, 20(10), 1135–1140. https://doi.org/10.1016/S1473-3099(20)30434-5
Park YJ, Choe YJ, Park O, Park SY, Kim YM, Kim J, Kweon S, Woo Y, Gwack J, Kim SS, Lee J, Hyun J, Ryu B, Jang YS, Kim H, Shin SH, Yi S, Lee S, Kim HK, Lee H, Jin Y, Park E, Choi SW, Kim M, Song J, Choi SW, Kim D, Jeon BH, Yoo H, Jeong EK; COVID-19 National Emergency Response Center, Epidemiology and Case Management Team. Contact Tracing during Coronavirus Disease Outbreak, South Korea, 2020. Emerg Infect Dis. 2020 Oct;26(10):2465-2468. doi: 10.3201/eid2610.201315. Epub 2020 Jul 16. PMID: 32673193; PMCID: PMC7510731.
Liu, K., Chen, Y., Lin, R., & Han, K. (2020). Clinical features of COVID-19 in elderly patients: A comparison with young and middle-aged patients. Journal of Infection, 80(6), e14–e18. https://doi.org/10.1016/j.jinf.2020.03.005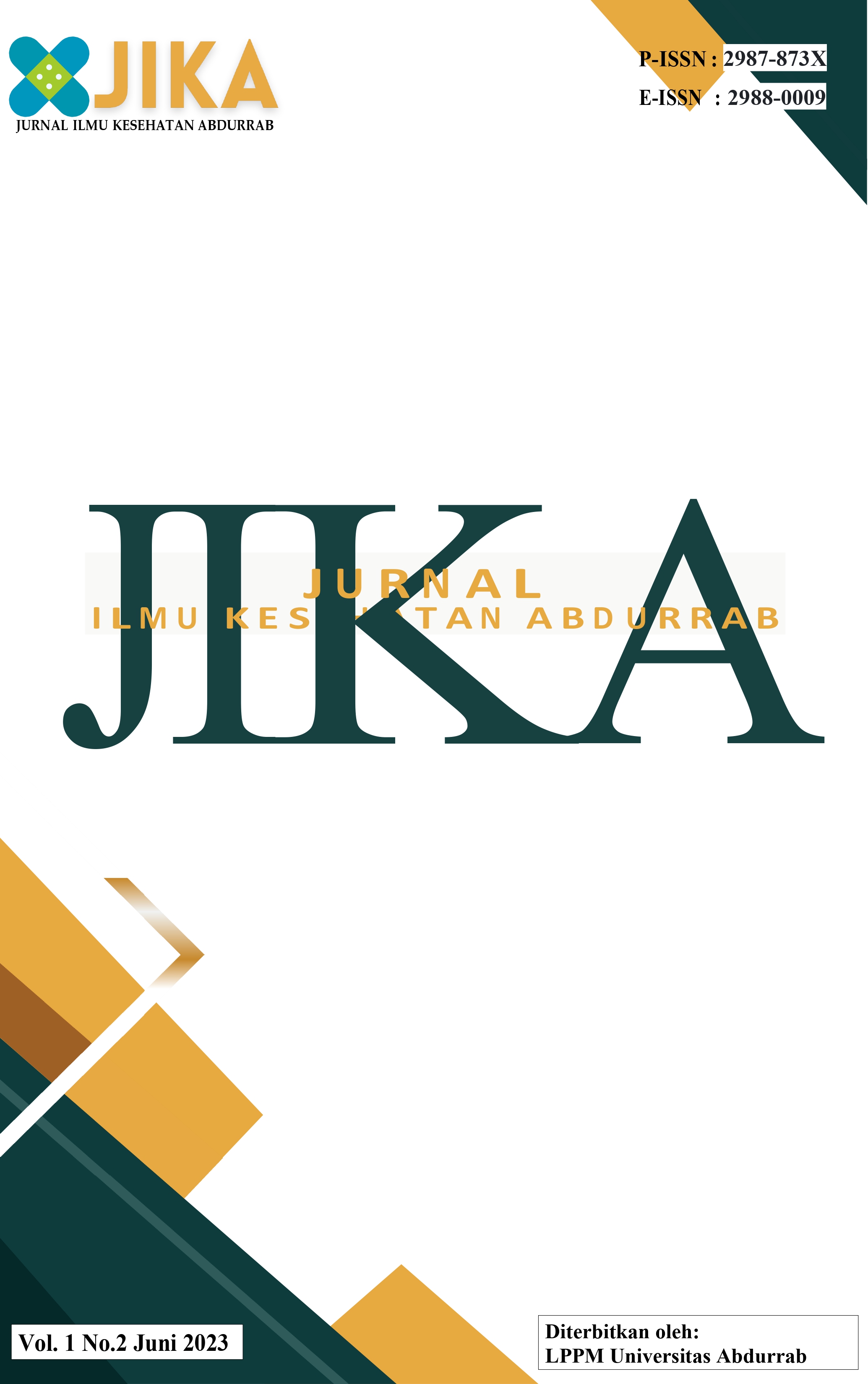 How to Cite
Relida Samosir, N. (2023). Physiotherapy Management in Improving Fitness in Post-Covid-19 Patients: Case Study. Jurnal Ilmu Kesehatan Abdurrab, 1(1), 7-10. Retrieved from https://jurnal.univrab.ac.id/index.php/jika/article/view/3554
Please find the rights and licenses in Jurnal Ilmu Kesehatan Abdurrab. By submitting the article/manuscript of the article, the author(s) accept this policy.
1. License
The non-commercial use of the article will be governed by the Creative Commons Attribution license as currently displayed on Creative Commons Attribution-NonCommercial-ShareAlike 4.0 International License.
2. Author's Warranties
The author warrants that the article is original, written by stated author(s), has not been published before, contains no unlawful statements, does not infringe the rights of others, is subject to copyright that is vested exclusively in the author and free of any third party rights, and that any necessary written permissions to quote from other sources have been obtained by the author(s).
3. User Rights
Jurnal Ilmu Kesehatan Abdurrab spirit is to disseminate articles published are as free as possible. Under the Creative Commons license, Jurnal Ilmu Kesehatan Abdurrab permits users to copy, distribute, display, and perform the work for non-commercial purposes only. Users will also need to attribute authors and Jurnal Ilmu Kesehatan Abdurrab on distributing works in the journal.
4. Rights of Authors
Authors retain all their rights to the published works, such as (but not limited to) the following rights;
Copyright and other proprietary rights relating to the article, such as patent rights,
The right to use the substance of the article in own future works, including lectures and books,
The right to reproduce the article for own purposes,
The right to self-archive the article,
The right to enter into separate, additional contractual arrangements for the non-exclusive distribution of the article's published version (e.g., post it to an institutional repository or publish it in a book), with an acknowledgment of its initial publication in this journal (Jurnal Ilmu Kesehatan Abdurrab).
5. Co-Authorship
If the article was jointly prepared by other authors, any authors submitting the manuscript warrants that he/she has been authorized by all co-authors to be agreed on this copyright and license notice (agreement) on their behalf, and agrees to inform his/her co-authors of the terms of this policy. Jurnal Ilmu Kesehatan Abdurrab will not be held liable for anything that may arise due to the author(s) internal dispute. Jurnal Ilmu Kesehatan Abdurrab will only communicate with the corresponding author.
6. Royalties
This agreement entitles the author to no royalties or other fees. To such extent as legally permissible, the author waives his or her right to collect royalties relative to the article in respect of any use of the article by Jurnal Ilmu Kesehatan Abdurrab.
7. Miscellaneous
Jurnal Ilmu Kesehatan Abdurrab will publish the article (or have it published) in the journal if the article's editorial process is successfully completed. Jurnal Ilmu Kesehatan Abdurrab's editors may modify the article to a style of punctuation, spelling, capitalization, referencing and usage that deems appropriate. The author acknowledges that the article may be published so that it will be publicly accessible and such access will be free of charge for the readers as mentioned in point 3.

PDF

Abstract views: 41

downloads: 30