Case Studies of Physiotheraphy for Elderly People with Dementia with Brain Gym Exercise and Music Therapy to Improve Sleep Quality
Ayu Permata

universitas abdurrab

Rere Mauliyah

universitas abdurrab
Abstract
Dementia is a disorder that occurs in the brain so that patients experience memory disorientation. In the elderly who experience dementia, it is also possible to experience difficulty sleeping due to damage to the sleep wake cycle in the brain. This study was conducted to determine the effect of providing Brain Gym therapy and music therapy to improve sleep quality in the elderly with dementia. The measuring instrument used to determine the quality of elderly sleep is the Pittsburgh Sleep Qualty Index (PSQL). The research subject consisted of 1 patient with dementia who experienced sleep disturbances. The study was conducted for 9 times therapy (T1-T9) at the patient's home. After being given 9 times of therapy with the provision of Brain Gym and music therapy, the initial therapy results obtained a total score of 14 and the final therapy 4 with a total interpretation, if the value ≤5 = good sleep quality and if the value >5 = poor sleep quality. The results of this study indicate that the administration of Brain Gym and Music Therapy can improve sleep quality in the elderly who experience dementia.
Keywords:
Keywords: Dementia, Elderly, Brain Gym, Music Therapy, Pittsburgh Sleep Quality Index (PSQI)
References
Buana & Burhanto. (2021). Pengaruh Terapi Musik terhadap Kualitas Tidur pada Lansia: Literature Review. Borneo Student Research (BSR), 827-833.
Buana & Burhanto. (2021). Pengaruh Terapi Musik Terhadap Kualitas Tidur pada Lansia: Literature Review. Borneo Student Research, 828.
Fadhilah. (2019). Senam Otak Meningkatkan Fungsi Kognitif Pada Lansia Di Posyandu Nusa Indah Klaten Gadingrejo Kabupaten Pringsewu. Bagimu Negeri: Jurnal Pengabdian Masyarakat, 2.
Lisnawaty. (2019). Kualitas Tidur Pada Lanjut Usia Dengan Demensia. repository.upi.edu, 1-5.
Pambudi. (2019). Pengaruh Musik Akustik Physio Terhadap Demensia Pada Lansia Dengan Gangguan Tidur Di Panti Pelayanan Sosial Lanjut Usia Sudagaran Banyumas. Fakultas Ilmu Kesehatan UMP.
Priastana & Nurmalisyah. (2020). Faktor Resiko Kejadian Demensia Berdasarkan Studi Literatur. Jurnal Ilmiah Pannmed (Pharmacyst, Analyst, Nurse, Nutrition, Midwivery, Evironment, Dental Hygiene), 279-282.
Priastana, et al. (2020, September 8). Pendidikan Kesehatan tentang Demensia pada Lansia di Banjar Tengah, Kecamatan Negara, Kabupaten Jembrana. Journal of Community Engagement in Health, 3, 357-359.
Ramli & Ladewan. (2020). Faktor Yang Berhubungan Dengan Kejadian Demensia Di PUSKESMAS JUMPANDANG BARU Kecamatan Tallo Kota Makassar. Jurnal Medika Hutama (JMH), 78-79.
Sartika & Rasidin. (2020). Pengaruh Terapi Musik Keroncong terhadap Peningkatan Kualitas Tidur Lansia di Klinik Azzahra Tasikmalaya. Jurnal Kesehatan Pertiwi, 69-74.
Situmorang. (2017). Efektivitas Pemberian Layanan Intervensi Music Therapy Untuk Mereduksi Academic Anxiety Mahasiswa Terhadap Skripsi. Jurnal Bimbingan Konseling Indonesia, 4.
Suwarni, et al. (2017). Hubungan Usia Demensia Dan Kemampuan Fungsional Pada Lansia. Kementerian Kesehatan Politeknik Kesehatan Surakarta Jurusan Fisioterapi, 39.
Suwarni, et all. (2017). Hubungan Usia Demensia Dan Kemampuan Fungsional Pada Lansia. Jurnal Keterapian Fisik, 35-39.
Triyulianti & Ayuningtyas. (2022). Peengaruh Brain Gym dan Resistance Exercise Pada Lansia dengan Kondisi Demensia Untuk Meningkatkan Fungsi Kognitif. Jurnal Ilmiah Fisioterapi, 23.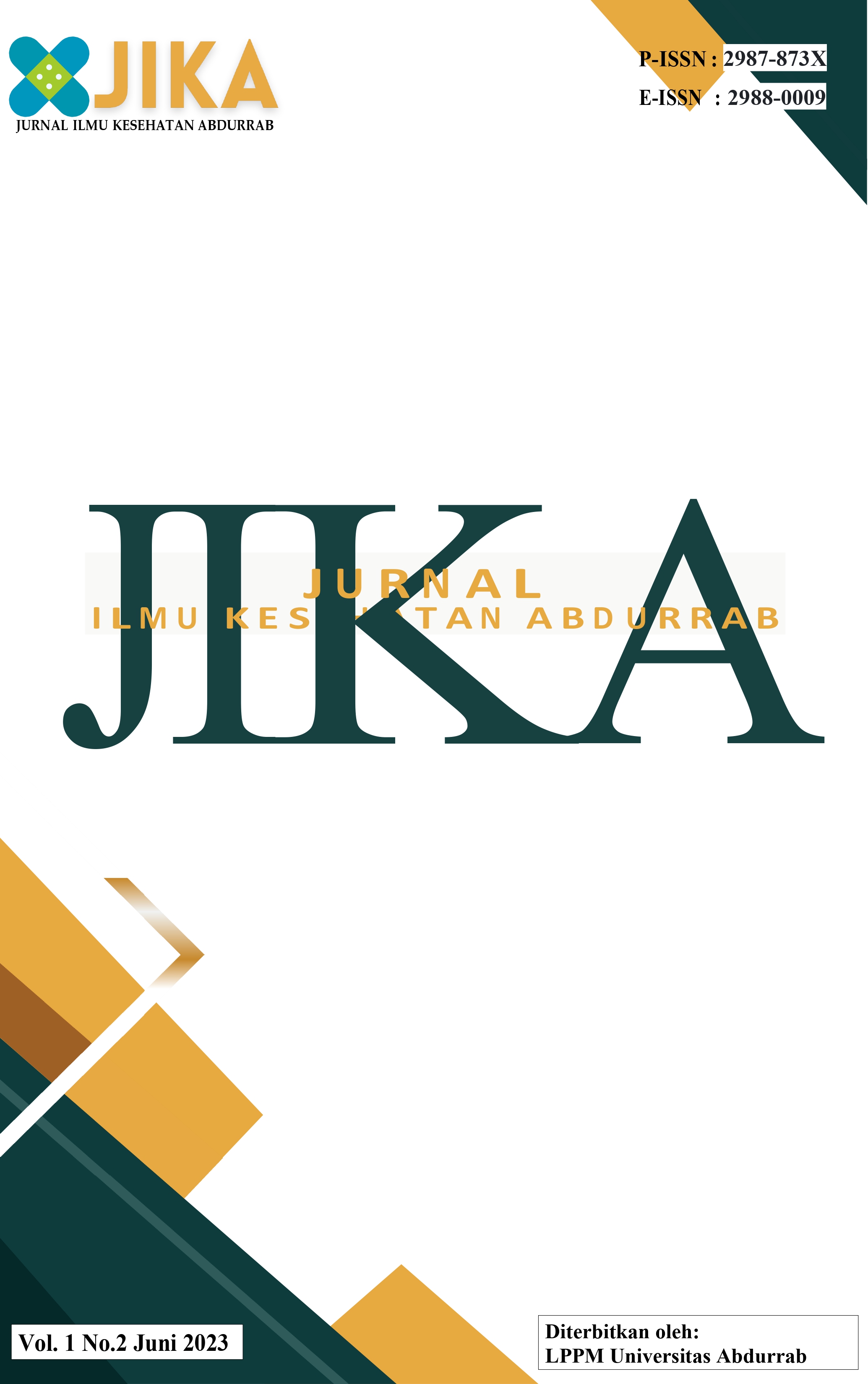 How to Cite
Permata, A., & Mauliyah, R. (2023). Case Studies of Physiotheraphy for Elderly People with Dementia with Brain Gym Exercise and Music Therapy to Improve Sleep Quality. Jurnal Ilmu Kesehatan Abdurrab, 1(1), 1-6. Retrieved from https://jurnal.univrab.ac.id/index.php/jika/article/view/3555
Please find the rights and licenses in Jurnal Ilmu Kesehatan Abdurrab. By submitting the article/manuscript of the article, the author(s) accept this policy.
1. License
The non-commercial use of the article will be governed by the Creative Commons Attribution license as currently displayed on Creative Commons Attribution-NonCommercial-ShareAlike 4.0 International License.
2. Author's Warranties
The author warrants that the article is original, written by stated author(s), has not been published before, contains no unlawful statements, does not infringe the rights of others, is subject to copyright that is vested exclusively in the author and free of any third party rights, and that any necessary written permissions to quote from other sources have been obtained by the author(s).
3. User Rights
Jurnal Ilmu Kesehatan Abdurrab spirit is to disseminate articles published are as free as possible. Under the Creative Commons license, Jurnal Ilmu Kesehatan Abdurrab permits users to copy, distribute, display, and perform the work for non-commercial purposes only. Users will also need to attribute authors and Jurnal Ilmu Kesehatan Abdurrab on distributing works in the journal.
4. Rights of Authors
Authors retain all their rights to the published works, such as (but not limited to) the following rights;
Copyright and other proprietary rights relating to the article, such as patent rights,
The right to use the substance of the article in own future works, including lectures and books,
The right to reproduce the article for own purposes,
The right to self-archive the article,
The right to enter into separate, additional contractual arrangements for the non-exclusive distribution of the article's published version (e.g., post it to an institutional repository or publish it in a book), with an acknowledgment of its initial publication in this journal (Jurnal Ilmu Kesehatan Abdurrab).
5. Co-Authorship
If the article was jointly prepared by other authors, any authors submitting the manuscript warrants that he/she has been authorized by all co-authors to be agreed on this copyright and license notice (agreement) on their behalf, and agrees to inform his/her co-authors of the terms of this policy. Jurnal Ilmu Kesehatan Abdurrab will not be held liable for anything that may arise due to the author(s) internal dispute. Jurnal Ilmu Kesehatan Abdurrab will only communicate with the corresponding author.
6. Royalties
This agreement entitles the author to no royalties or other fees. To such extent as legally permissible, the author waives his or her right to collect royalties relative to the article in respect of any use of the article by Jurnal Ilmu Kesehatan Abdurrab.
7. Miscellaneous
Jurnal Ilmu Kesehatan Abdurrab will publish the article (or have it published) in the journal if the article's editorial process is successfully completed. Jurnal Ilmu Kesehatan Abdurrab's editors may modify the article to a style of punctuation, spelling, capitalization, referencing and usage that deems appropriate. The author acknowledges that the article may be published so that it will be publicly accessible and such access will be free of charge for the readers as mentioned in point 3.

PDF

Abstract views: 100

downloads: 66