LITERATURE REVIEW PENGARUH MASA PANDEMI COVID_19 TERHADAP AKIBAT BURNOUT PADA TENAGA KESEHATAN DI RUMAH SAKIT
Heppy Sulistiyowati

Universitas Muhammadiyah Jakarta

Ida Syarina

Agustina Agustina

Yurongki Donana

M Reza Hanafi Pahlevi
Abstract
Riset ini bertujuan membagikan cerminan indikasi burnout yang terjalin pada tenaga kesehatan di rumah sakit sepanjang pandemi COVID- 19. Riset ini difokuskan pada burnout yang dirasakan oleh pegawai di Rumah Sakit. Penyusunan artikel ini dengan tata cara riset kepustakaan ataupun study literature. Informasi yang digunakan merupakan informasi sekunder berbentuk pelaporan ilmiah. Artikel yang telah didapat dilakukan analisis dengan memakai metode analisis isi menganalisis serta menguasai bacaan artikel. 9 artikel yang telah didapat menampilkan hasil yang bermacam- macam. Timbul indikasi burnout semacam tekanan pikiran, takut, kecemasan serta perasaan tertekan pada petugas yang menanggulangi penderita COVID- 19.
Keywords:
Keywords: Pandemic, Covide-19, Work, Burnout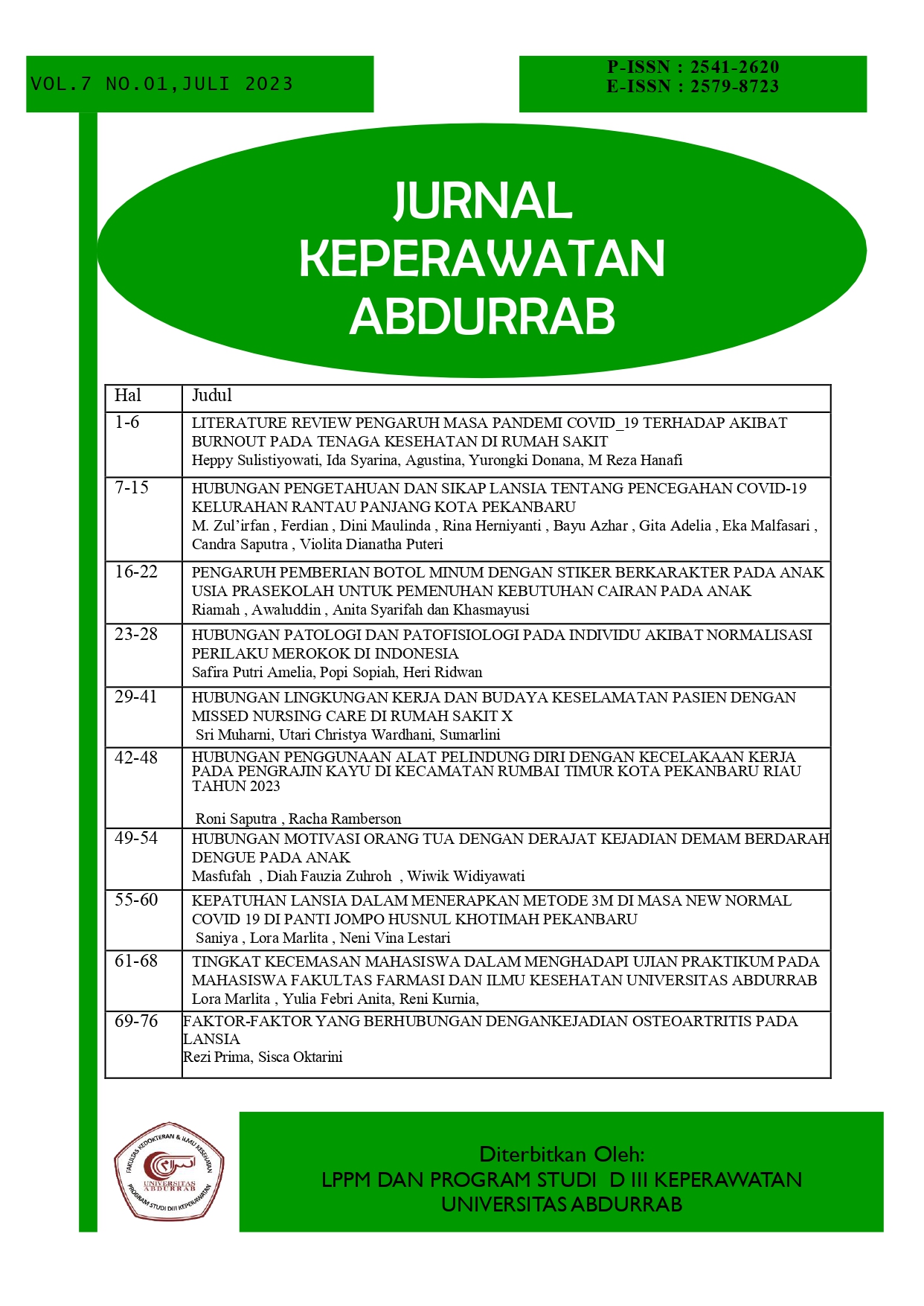 Copyright (c) 2023 Jurnal Keperawatan Abdurrab
This work is licensed under a Creative Commons Attribution-NonCommercial-ShareAlike 4.0 International License.
1. Copyright of all journal manuscripts is held by the Jurnal Keperawatan Abdurrab
2. Formal legal provisions to access digital articles of electronic journal are subject to the provision of the Creative Commons Attribution-ShareAlike license (CC BY-NC-SA), which means that Jurnal Keperawatan Abdurrab is rightful to keep, transfer media/format, manage in the form of databases, maintain, and publish articles.
3. Published manuscripts both printed and electronic are open access for educational, research, and library purposes. Additionally, the editorial board is not responsible for any violations of copyright law.
licensed under a Creative Commons Attribution-ShareAlike 4.0 International License.

UNDUH ARTIKEL

Abstract views: 74

downloads: 53