HUBUNGAN MOTIVASI ORANG TUA DENGAN DERAJAT KEJADIAN DEMAM BERDARAH DENGUE PADA ANAK
Masfufah Masfufah

Universitas Muhammadiyah Gresik

Diah Fauzia Zuhroh

Universitas Muhammadiyah Gresik

Wiwik Widiyawati

Universitas Muhammadiyah Gresik
Abstract
Dengue Hemorrhagic Fever (DHF) is an infectious disease that can be fatal. In a relatively short time, DHF can claim the lives of sufferers if it is not treated as soon as possible. Health is a very important thing in everyday life, to achieve this requires parental motivation to improve health. This study aims to analyze the relationship between parental motivation and the incidence rate of DHF in children. The research instrument in this study used parental motivation questionnaires and DHF incident rate observation sheets. This research is an analytical research with a cross sectional approach. The population is 289 patients, the total sample is 35 patients, using a consecutive sampling technique. The analysis of this study used the Spearman correlation test (p<0.05). The results showed that the motivation of parents to take their children for treatment is that most mothers have strong motivation (65.7%) 33 people, mothers have moderate motivation (28.5%) 10 people and a small proportion of mothers have weak motivation (5.8%) 2 Most people with DHF degree 1 (71%) 25 people, DHF degree 2 (21%) 7 people and DHF degree 3 (8%) 8 people. Statistics show that p = 0.001 is less than 0.05, so H0 is rejected, which means there is a relationship between the level of motivation of parents and the incidence of DHF. So, conclused of this research there is a relationship between parents' motivation and the incidence of DHF in children at Muhammadiyah Gresik Hospital.
Keyword :Motivation, DHF insidence
Keywords:
Motivation, DHF, insidence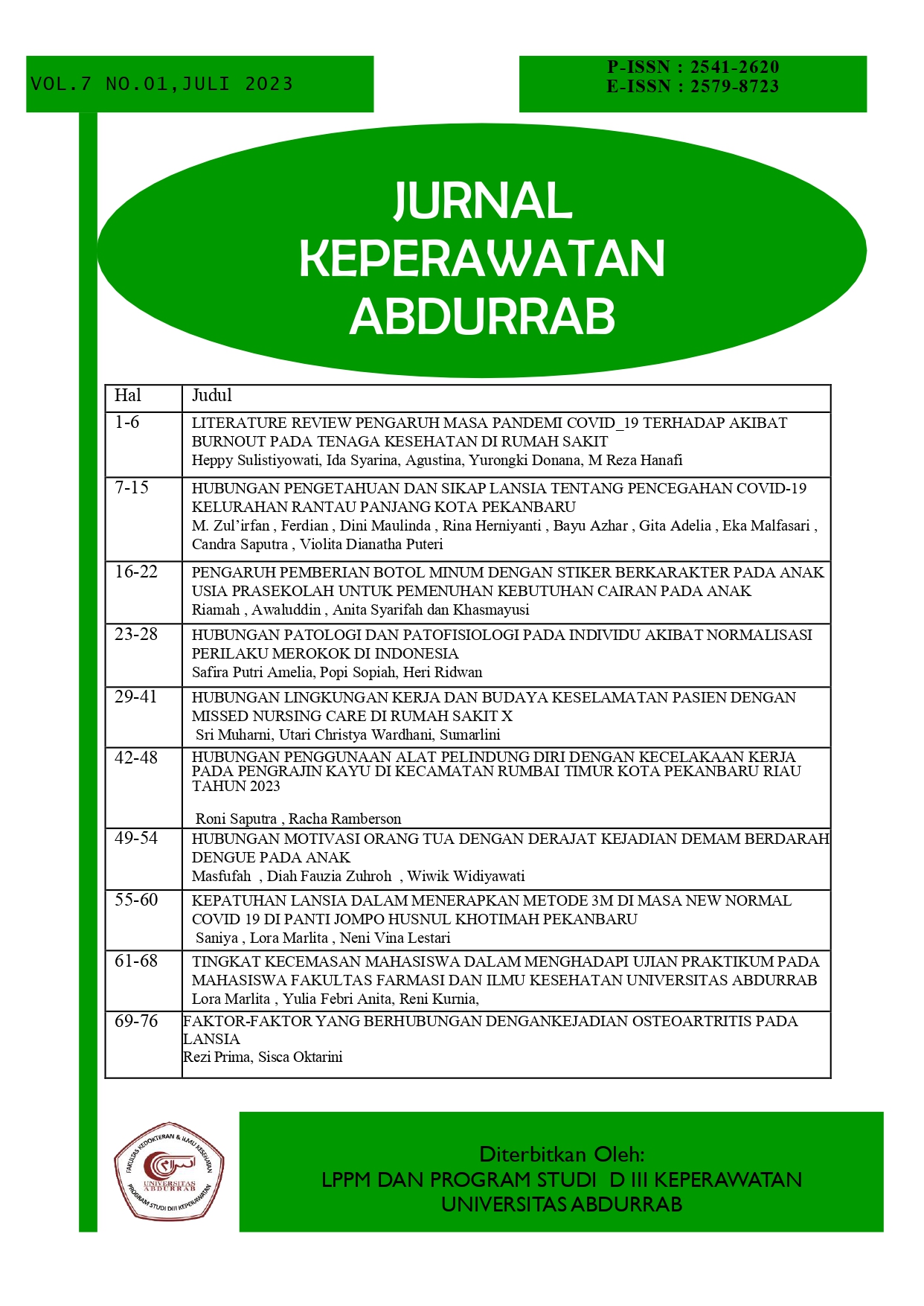 Copyright (c) 2023 Jurnal Keperawatan Abdurrab
This work is licensed under a Creative Commons Attribution-NonCommercial-ShareAlike 4.0 International License.
1. Copyright of all journal manuscripts is held by the Jurnal Keperawatan Abdurrab
2. Formal legal provisions to access digital articles of electronic journal are subject to the provision of the Creative Commons Attribution-ShareAlike license (CC BY-NC-SA), which means that Jurnal Keperawatan Abdurrab is rightful to keep, transfer media/format, manage in the form of databases, maintain, and publish articles.
3. Published manuscripts both printed and electronic are open access for educational, research, and library purposes. Additionally, the editorial board is not responsible for any violations of copyright law.
licensed under a Creative Commons Attribution-ShareAlike 4.0 International License.

UNDUH ARTIKEL

Abstract views: 68

downloads: 37