GAMBARAN TINGKAT KECEMASAN MAHASISWA DALAM MENGHADAPI UJIAN PRAKTIKUM PADA MAHASISWA FAKULTAS FARMASI DAN ILMU KESEHATAN UNIVERSITAS ABDURRAB TAHUN 2023
Lora Marlita

universitas abdurrab

Yulia Febri anita

Reni Kurnia
Abstract
Anxiety is a body's response to conflict. Anxiety arises when negative emotions are present due to fears of impending danger. The way to deal with anxiety is by self-control, asking for support from family and friends, exercising, and preparing yourself earlier before facing a practicum exam. The purpose of this study was to describe the level of student anxiety in facing practicum exams for students of the Faculty of Pharmacy and Health Sciences, Abdurrab University in 2023. This research used a quantitative descriptive research type. Total population of 1519 respondents. The sampling technique used in this study was cluster sampling. Total sample 304 respondents. The instrument used for this study was a questionnaire in the form of a google form consisting of 20 questions. Data analysis using univariate analysis. It is known from the research results that the majority of anxiety levels based on majors are mild anxiety with a total of 100 people (32.8%), based on gender experiencing anxiety as many as 155 people (64%), based on age experiencing anxiety as many as 147 people (68%). It is hoped that students who experience anxiety can overcome anxiety both pharmacologically and non-pharmacologically.
Keywords:
Anxiety Level, Examination, How to Overcome Anxiety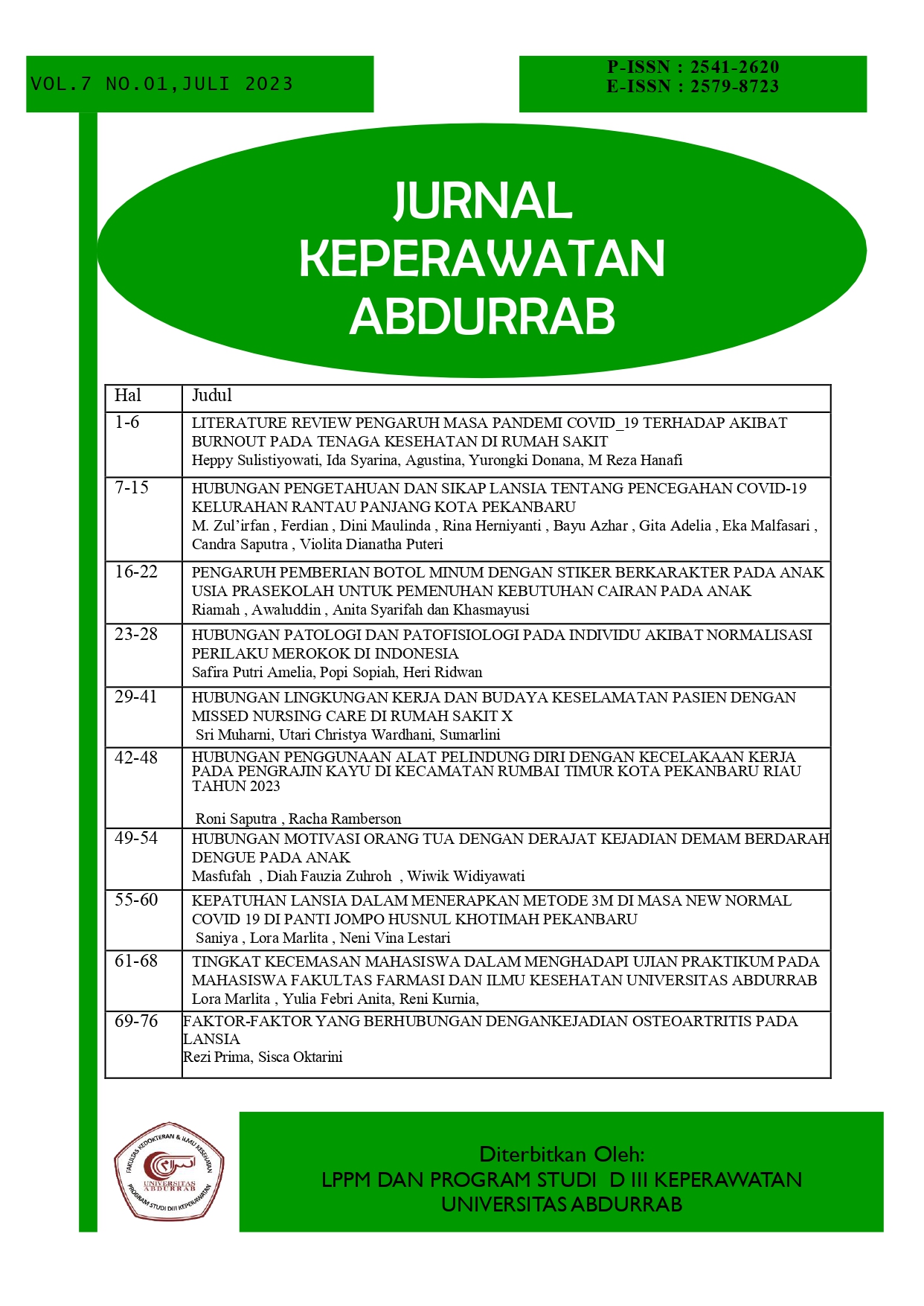 Copyright (c) 2023 Jurnal Keperawatan Abdurrab
This work is licensed under a Creative Commons Attribution-NonCommercial-ShareAlike 4.0 International License.
1. Copyright of all journal manuscripts is held by the Jurnal Keperawatan Abdurrab
2. Formal legal provisions to access digital articles of electronic journal are subject to the provision of the Creative Commons Attribution-ShareAlike license (CC BY-NC-SA), which means that Jurnal Keperawatan Abdurrab is rightful to keep, transfer media/format, manage in the form of databases, maintain, and publish articles.
3. Published manuscripts both printed and electronic are open access for educational, research, and library purposes. Additionally, the editorial board is not responsible for any violations of copyright law.
licensed under a Creative Commons Attribution-ShareAlike 4.0 International License.

UNDUH ARTIKEL

Abstract views: 74

downloads: 57