FAKTOR RESIKO NEUROPATI PERIFER DIABETIK PADA PASIEN DIABETES MELITUS TIPE 2 : TINJAUAN LITERATUR
Rima Novia Putri

Magister Keperawatan Keperawatan Medikal Bedah Universitas Indonesia dan Program Studi D3 Keperawatan Poltekkes Kemenkes Tanjungpinang

Agung Waluyo

Universitas Indonesia
Abstract
Type 2 diabetes mellitus is one of the chronic diseases that has increased globally and is a cause of various organ dysfunction such as diabetic peripheral neuropathy. Early detection of diabetic peripheral neuropathy and identification of risk factors can reduce the morbidity of diabetic peripheral neuropathy. This literature review was written to present the risk factors of diabetic peripheral neuropathy in type 2 diabetes mellitus patients. Literature search was conducted to obtain appropriate articles through the electronic database Medline, Cinahl, Proquest, and Clinical Key with  keywords:  prevalence of diabetic peripheral neuropathy, risk factors and type 2 diabetes mellitus. The results obtained 16 articles according to the topic and through a review, it is known that risk factors of  diabetic peripheral neuropathy in type 2 diabetes mellitus patients are old age, male sex, duration of diabetes mellitus, poor glycemic control, retinopathy, nephropathy, and risk factors of cardiovascular diseases such as: obesity, overweight, hypertension,and  dyslipidemia.
Keywords:
Neuropati perifer diabetik, faktor resiko, diabetes melitus tipe 2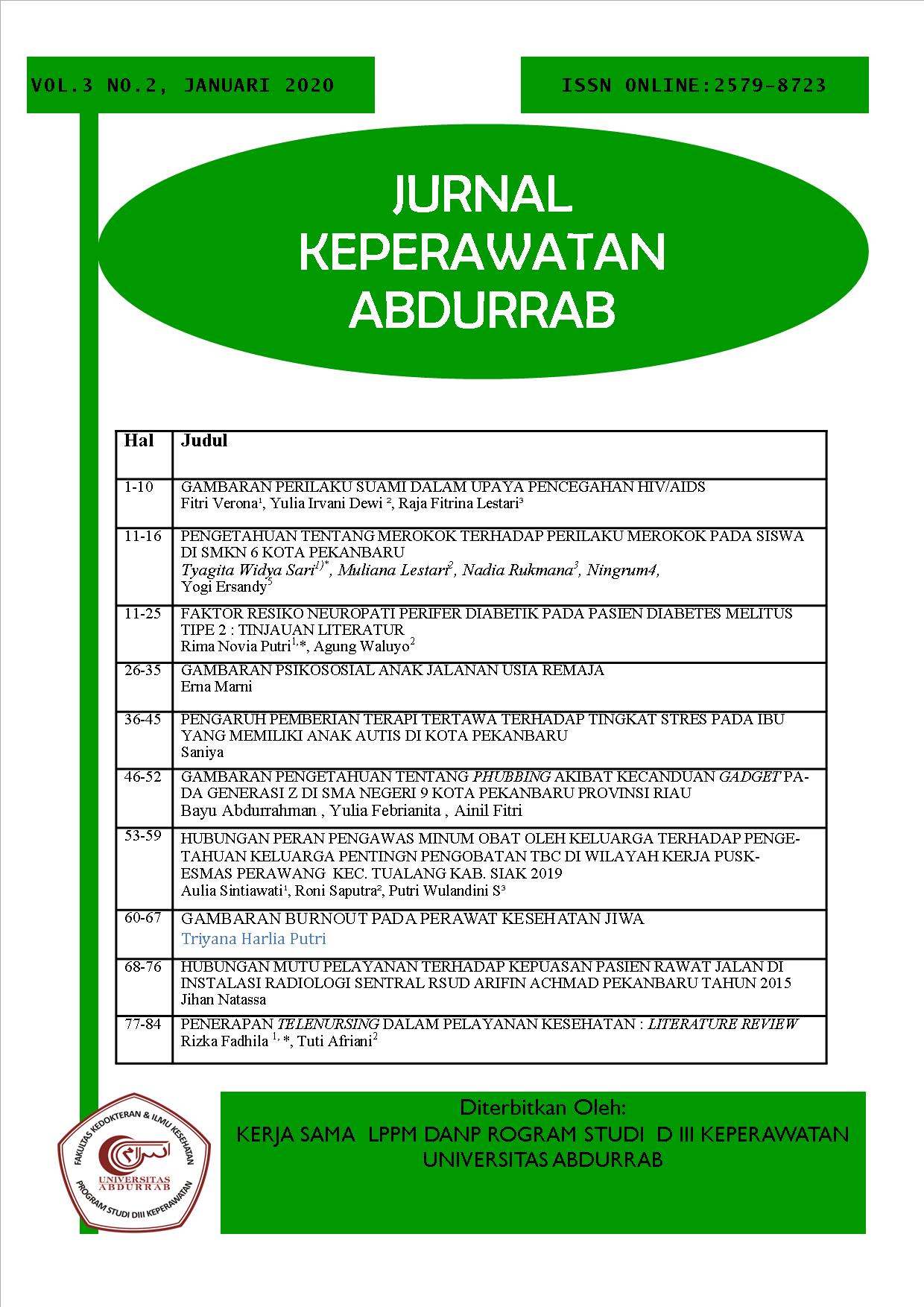 1. Copyright of all journal manuscripts is held by the Jurnal Keperawatan Abdurrab
2. Formal legal provisions to access digital articles of electronic journal are subject to the provision of the Creative Commons Attribution-ShareAlike license (CC BY-NC-SA), which means that Jurnal Keperawatan Abdurrab is rightful to keep, transfer media/format, manage in the form of databases, maintain, and publish articles.
3. Published manuscripts both printed and electronic are open access for educational, research, and library purposes. Additionally, the editorial board is not responsible for any violations of copyright law.
licensed under a Creative Commons Attribution-ShareAlike 4.0 International License.

Unduh Artikel

Abstract views: 4310

downloads: 3800