ANALISIS FRAMING MODEL ROBERT N. ENTMAN TENTANG PIDATO NADIEM MAKARIM PADA PERINGATAN HARI GURU NASIONAL
Nove Kurniati Sari

Universitas Islam Sunan Kalijaga Yogyakarta
Abstract
Nadiem Makarim is part of the Jokowi cabinet which received pros and cons responses from the public. His background as a businessman has been criticized by various parties who doubt his capacity in government. Criticism of Nadiem was also given in the text of his speech on Teacher's Day which was considered different from other formal public speeches. The method in this study uses Robert N. Entman's framing analysis model to explore the perspective of online media on Nadiem Makarim's speech text. The author argues, using framing analysis, the construction of events presented by the media can be understood from various points of view and lead public interpretations as objectively as possible. The purpose of this study is to find differences between the media in processing and presenting facts about an event. The results of this study indicate that each media has its own characteristics in preaching the Teacher's Day speech by Nadiem Makarim. Liputan6 presents the news from the standpoint of Nadiem's ​​concern for national education. Whereas Pontas.id, Republika.co.id, and CNNIndonesia.com use the perspective of educational leaders in criticizing aspects of the application and prospects of the essence of the speech text.
Keywords:
framing, mass media, Nadiem Makarim
References
Aminah, Siti. 2006. "Politik Media, Demokrasi Dan Media Politik." Masyarakat, Kebudayaan dan Politik 19(3): 35–46.
Anugrahadi, Adi. 2019. "Cerita Viralnya Naskah Pidato Nadiem Makarim." Liputan6.com. https://www.liputan6.com/news/read/4123344/cerita-viralnya-naskah-pidato-nadiem-makarim (January 15, 2019).
Barata, Atep Adya. 2004. "Dasar-Dasar Pelayanan Prima." In Metode Penelitian Komunikasi, Teori Dan Aplikasi, Yogyakarta: Gitanyali.
Burngin, Burhan. 2008. Konstruksi Sosial Media Massa. Jakarta: Kencana Prenada Group.
Charismiadji, Indra. 2019. "Pengamat: Pidato Nadiem Sulit Dijalankan Guru di Daerah."https://www.cnnindonesia.com.https://www.cnnindonesia.com/nasional/20191124180948-20-451067/pengamat-pidato-nadiem-sulit-dijalankan-guru-di-daerah (December 12, 2019).
Dwinanda, Reiny. 2019. "PGRI Tanggapi Pidato Nadiem Makarim Sebagai Mendikbud." Republika.co.id. https://republika.co.id/berita/q1iunl414/pgri-tanggapi-pidato-nadiem-makarim-sebagai-mendikbud (January 15, 2019).
Eriyanto. 2002. Analisis Framing: Konstruksi, Ideologi, Dan Politik Media. Yogyakarta: LKIS Group.
———. 2011. Analisis Framing: Konstruksi Ideologi, Dan Politik Media. Yogyakarta: LKIS.
Hamad, Ibnu. 1999. "Media Massa Dan Konstruksi Realitas." Jurnal Pantau. ISAI 6: 55.
Herdian, Luki. 2019. "Pidato Nadiem Di Hari Guru, DPR: Semoga Programnya Bisa Di Follow Up." https://pontas.id/2019/11/25/pidato-nadiem-di-hari-guru-dpr-semoga-programnya-bisa-di-follow-up/ (January 15, 2019).
Humphreys, Peter, and Mathias Lang. 1998. "Pluralism and German Broadcasting: The Symbolic Re-Regulation of German Media Ownership." EPRU Paper No.4: 98.
Kovach, Bill, and Tom Rosenstiel. 2001. The Elements of Jurnalism: What Newspeople Should Know and the Public Should Expect. New York: Crown Publisher.
Kurnia, Dedi. 2015. Komunikasi CSR Politik. Jakarta: Kencana Prenada Media Group.
Mulyana, Deddy. 2006. Metodologi Penelitian Kualitatif. Bandung: PT. Remaja Rosdakarya.
Rothman, S., and S. R Lichter. 1982. "Media and Business Elites: Two Classes in Conflict?" The Public Interest 69: 117.
Sobur, Alex. 2009. Analisis Teks Media : Suatu Pengantar Analisis Wacana, Analisis Semiotika, Dan Analisis Framing. Bandung: PT Remaja Rosdakarya.
Sugiyono. 2010. Metode Penelitian Pendidikan Kuantitatif, Kualitatif Dan R& D. Bandung: Alfabeta.
Wahyuni, Hermin Indah. 2007. "Politik Media Dalam Transisi Politik: Dari Kontrol Negara Menuju Self-Regulation Mechanism." Jurnal Ilmu Komunikasi 4(1): 11–24.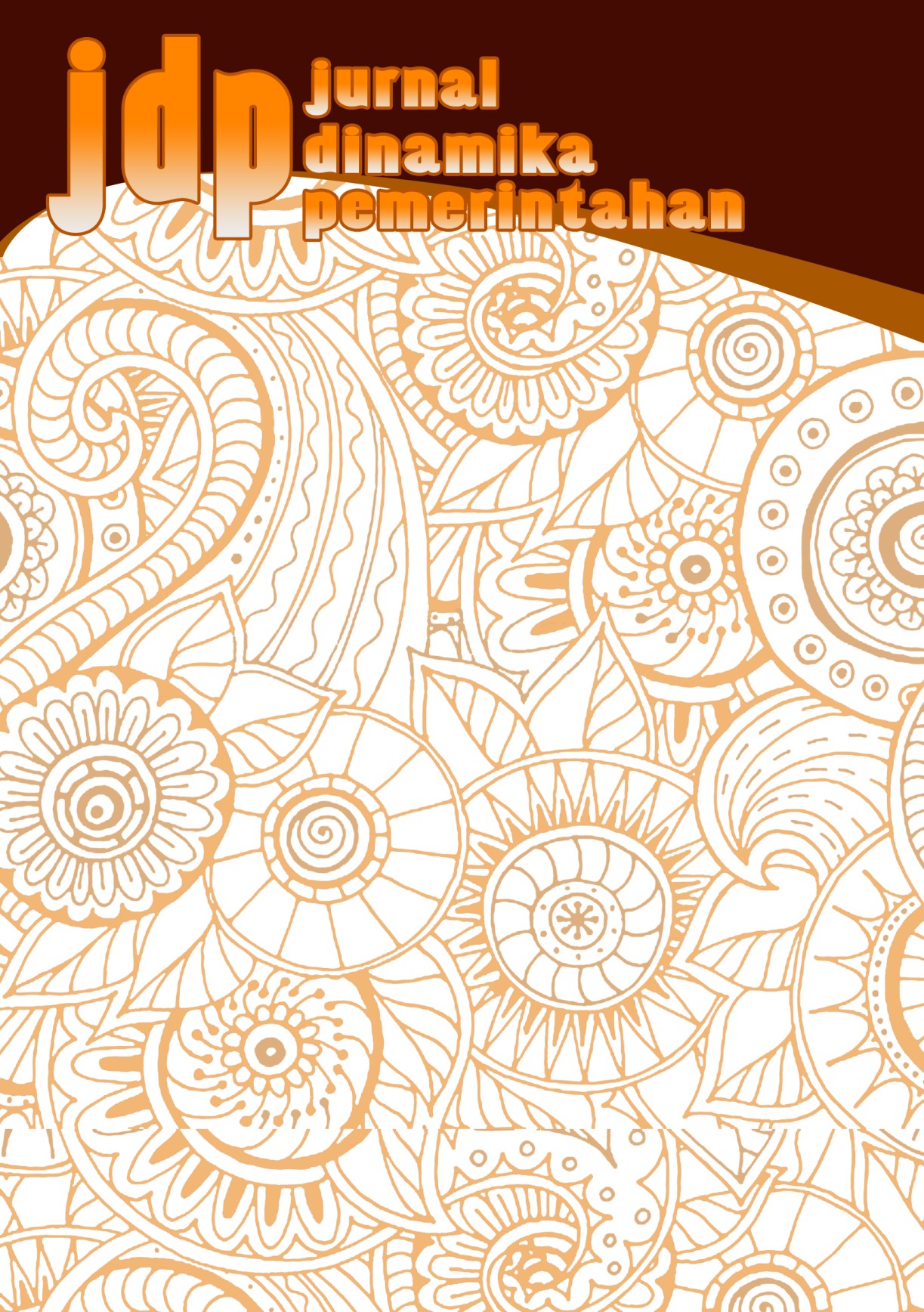 1. Copyright of all journal manuscripts is held by the JDP (Jurnal Dinamika Pemerintahan)
2. Formal legal provisions to access digital articles of electronic journal are subject to the provision of the Creative Commons Attribution-ShareAlike license (CC BY-NC-SA), which means that JDP (Jurnal Dinamika Pemerintahan) is rightful to keep, transfer media/format, manage in the form of databases, maintain, and publish articles.
3. Published manuscripts both printed and electronic are open access for educational, research, and library purposes. Additionally, the editorial board is not responsible for any violations of copyright law.
licensed under a Creative Commons Attribution-ShareAlike 4.0 International License.

pdf (Bahasa Indonesia)

Abstract views: 261

downloads: 230