EFEKTIVITAS EMAS (ECONOMIC MATERNITY SIMULATOR) TERHADAP PENINGKATAN SKILL PEMERIKSAAN KEHAMILAN MAHASISWA KEBIDANAN UNIVERSITAS MUHAMMADIYAH SURABAYA
Nova Elok Mardliyana

Program Studi S1 Kebidanan dan Profesi Bidan, Fakultas Ilmu Kesehatan, Universitas Muhammadiyah Surabaya

Irma Maya Puspita

Universitas Muhammadiyah Surabaya

Nur Hidayatul Ainiyah

Program Studi S1 Kebidanan dan Profesi Bidan, Fakultas Ilmu Kesehatan, Universitas Muhammadiyah Surabaya
Abstract
Antenatal care is one of the health services provided by midwives to monitor the health welfare of the mother and fetus. One of the competencies possessed by a midwife is to provide obstetric care for pregnancy which includes history taking, physical examination, laboratory, and counseling. The limited learning media for pregnancy phantom can make students less understanding of pregnancy examinations. For this reason, researchers made an innovative EMAS (Economic Maternity Simulator) learning media. This research is a type of quantitative research. The method used is an experimental research method with a quasi experimental research design. In this design the treatment and control groups were not randomly selected. Data analysis used Non-paired T-Test. The results of the study, it was found that there was a difference in the average score of prenatal care skills before and after using EMAS of 3.30 with a p value of 0.011 (p <0.05), 95% CI 0744-5.907. Statistically there is a significant difference and it can be concluded that EMAS has an effect on improving prenatal examination practicum skills.
Keywords:
Skill, Antenatal Care, Learning Media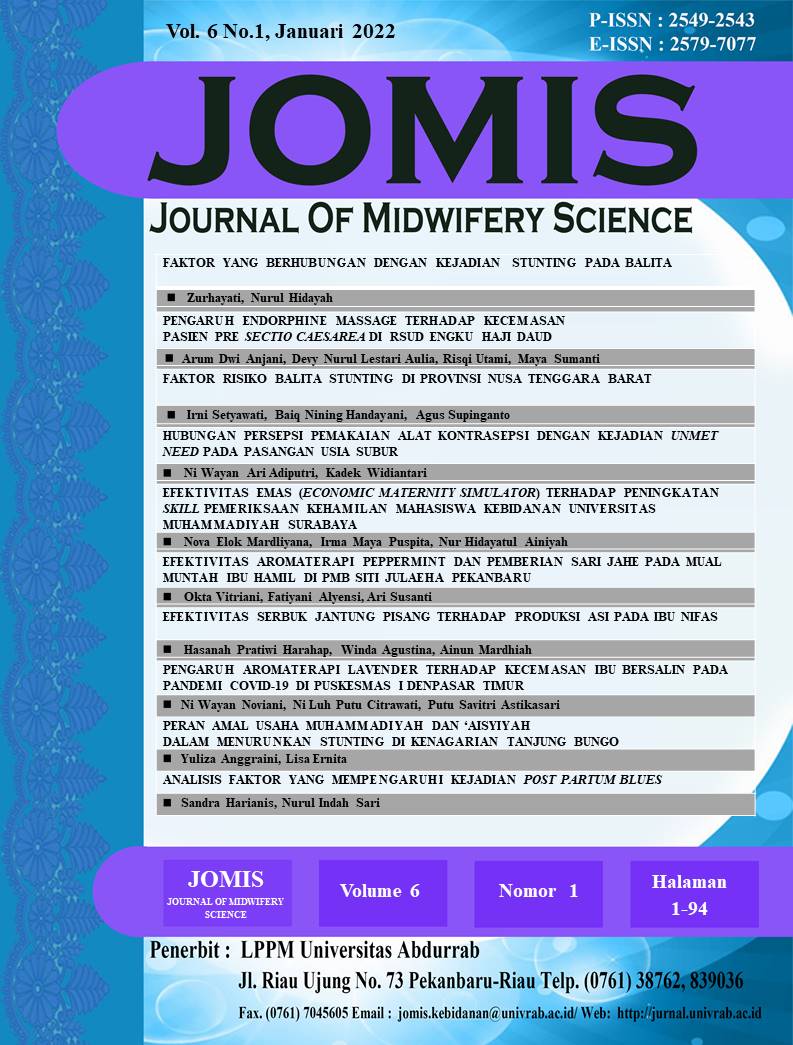 Copyright (c) 2022 JOMIS : Journal of midwifery scinece
This work is licensed under a Creative Commons Attribution-NonCommercial-ShareAlike 4.0 International License.
1. Copyright of all journal manuscripts is held by the JOMIS : Journal of midwifery scinece
2. Formal legal provisions to access digital articles of electronic journal are subject to the provision of the Creative Commons Attribution-ShareAlike license (CC BY-NC-SA), which means that JOMIS : Journal of midwifery scinece is rightful to keep, transfer media/format, manage in the form of databases, maintain, and publish articles.
3. Published manuscripts both printed and electronic are open access for educational, research, and library purposes. Additionally, the editorial board is not responsible for any violations of copyright law.
licensed under a Creative Commons Attribution-ShareAlike 4.0 International License.

PDF

Abstract views: 343

downloads: 264