PEREMPUAN DALAM POLITIK: MODALITAS KEMENANGAN PADA PEMILIHAN KEPALA DESA PADANG BARU KECAMATAN PANGKALAN BARU KABUPATEN BANGKA TENGAH TAHUN 2022
Putri Adella

Universitas Bangka Belitung

Bahjatul Murtasidin

Universitas Bangka Belitung

Ranto Ranto

Universitas Bangka Belitung
Abstract
Democratic values are contained in the implementation of general elections in which general elections become a forum for citizens to participate in political activities, whether elected or elected without any gender limitations. However, throughout history, women have been a minority group in the political arena because of the assumption that political culture was made specifically for men, so that women who enter politics are seen as going against their nature in the domestic world. To minimize gender bias in policy making in politics, it is necessary to represent women in the smallest units such as village government. This study uses a qualitative research method that uses in-depth analysis with data collection techniques, namely interviews, field notes, drawings, photographs, video recordings and others. In this study it was found that Amnah's victory as the first woman to win the regional election was based on social capital which dominated her political strategy game. By taking advantage of the trust from the community and providing real action in building physical resources that benefit the village, a name recognition is created for her that makes her win the election of village head. In this case Amnah fought against several male candidates in which the candidates' fight lay in the game of economic capital in the form of political transactions involving the candidates and the community. Apart from that, it is a game of symbolic capital (identity) which is used to gain votes or support from certain groups. It was this modality and strategy that made Amnah the winner in the 2022 Election of Padang Baru Village Head.
Keywords:
Election, Capital, Political Arena, Women
References
Agus. (2018). Incumbent di Mata Pemilih. Politea: Jurnal Politik Islam, 21.
Ahmad, A. (2021). Modalitas Kemenangan Sutinah Pada Pemilihan Kepala Daerah di Kabupaten Mamuju. Journal Political Science, 36.
Arikunto. (2010). Prosedur Penelitian Suatu Pendekatan Praktik Edisi Revisi. Jakarta: Rinneka Cipta.
Bangkapos.com. (2022, June 22). Hasil Hitung Cepat Pilkades Serentak 29 Desa di Bangka Tengah, Berikut Nama-nama Pemenangnya. Retrieved April 12, 2023, from Bangkapos.com: https://bangka.tribunnews.com/2022/06/22/hasil-hitung-cepat-pilkades-serentak-29-desa-di-bangka-tengah-berikut-nama-nama-pemenangnya
bangkatengahkab.go.id. (2018, October 29). Geografis Kabupaten Bangka Tengah. Retrieved April 6, 2023, from bangkatengahkab.go.id: http://bangkatengahkab.go.id/halaman/detail/geografis
Bangkatengahkab.go.id. (2019, August 29). Peta Desa Padang Baru. Retrieved March 21, 2023, from Bangkatengahkab.go.id: https://www.google.co.id/imgres?imgurl=https%3A%2F%2Fbangkatengahkab.go.id%2Fasset%2Fkcfinder%2Fupload%2Ffiles%2Fpdbarupeta.jpg&tbnid=xVQs4DF0K5byVM&vet=1&imgrefurl=http%3A%2F%2Fbangkatengahkab.go.id%2Fhalaman%2Fdetail%2Fdesa-padang-baru&docid=LTgQPTTRnYO
Bourdieu, P. (1990). (Habitus X Modal) + Ranah= Praktik Pengantar Paling Komprehensif kepada Pemikiran Pierre Bourdieu. Yogyakarta: Jalasutra.
Bourdieu, P. (1993). The Field on Cultural Production: Essays on Art and Literature. Cambridge: Polity Press.
Bourdieu, P. (1998). Practical Reason: On The Theory of Action. California: Stanford University Press.
BPS Kabupaten Bangka Tengah. (2023, April 6). Luas Wilayah Bangka Tengah (km2), 2019-2021. Retrieved April 6, 2023, from BPS Kabupaten Bangka Tengah: https://bangkatengahkab.bps.go.id/indicator/153/33/1/luas-wilayah-bangka-tengah.html
Casey, K. L. (2012). Defining Political Capital: A Reconsideration of Bourdieu's Interconvertibility Theory. Padang: Fisip Univ. Andalas, 19.
Dinas Kependudukan dan Pencatatan Sipil Kab. Bangka Tengah. (2023, February 6). Data Jumlah Penduduk Berdasarkan Jenis Kelamin Per Semester II Tahun 2022. Retrieved April 6, 2023, from Bidang PIAK dan Pemanfaatan Data: http://dindukcapil.bangkatengahkab.go.id/content/data-jumlah-penduduk-berdasarkan-jenis-kelamin-semester-ii-tahun-2022
Faqih, M. (1997). Analisis Gender dan Transformasi Sosial. Yogyakarta: Pustaka Belajar.
Field, J. (2010). Terj. Modal Sosial. Yogyakarta: Kreasi Wacana.
Halim, A. (2014). Politik Lokal; Pola, Aktor & Alur Dramatikalnya. Yogyakarta: LP2B.
Haryatmoko. (2003). Landasan Teoritis Gerakan Sosial Menurut Pierre Bourdieu: Menyingkap Kepalsuan Budaya Penguasa. Yogyakarta: Basis.
Haryatmoko. (2016). Membongkar Rezim Kepastian Pemikiran Kritis Post-Strukturalis. Yogyakarta: PT Kanisisus.
Hiplunudin, A. (2019). Politik & Gender. Yogyakarta: Suluh Media.
Huda, N. (2015). Hukum Pemerintahan Desa. Malang: Setara Press.
JDHI BPK RI. (2022, August 8). Pembentukan Kabupaten Bangka Selatan, Kabupaten Bangka Tengah, Kabupaten Bangka Barat, dan Kabupaten Belitung Timur. Retrieved April 6, 2023, from JDHI BPK RI DATABASE PERATURAN: https://peraturan.bpk.go.id/Home/Details/42829
KabarBangka.com. (2022, June 22). Pilkades Serentak di Bangka Tengah, Ini Nama-nama Kades Terpilih. Retrieved April 6, 2023, from KabarBangka.com: https://kabarbangka.com/pilkades-serentak-di-bangka-tengah-ini-nama-nama-kades-terpilih/
Kamus Besar Bahasa Indonesia. (2023, April 12). 2 Arti Kata Petahana di Kamus Besar Bahasa Indonesia (KBBI). Retrieved April 12, 2023, from KBBI Lektur: https://kbbi.lektur.id/petahana
Krisdinanto, N. (2014). "Pierre Bourdieu, Sang Juru Damai". Jurnal KANAL, 194-197.
Marijan, K. (2010). Demokratisasi di Daerah, Pelajaran dari Pilkada Secara Langsung. Surabaya: Pustaka Eureka.
Miles, & Huberman. (1992). Analisis Data Kualitatif. Jakarta: Universitas Indonesia Press.
Pantouw, S. M. (2012). Modalitas Dalam Kontestasi Politik (Studi tentang Modalitas dalam Kemenangan Pasangan Hanny Sondakh dan Maximiliaan Lomban pada Pemilukada di Kota Bitung Sulawesi Utara tahun 2010). Journal Political Science, 32-34.
Rahman, B., & Ibrahim. (2009). Menyusun Proposal Penelitian. Pangkalpinang: UBB Press.
Rianawati, S. (2017). Teori Tentang Praktik: Saduran Outline of Theory of Practise Karya Pierre Bourdieu. Bandung: Ultimus.
Ritzer, G., & Goodman, D. J. (2009). Teori Sosiologi; Dari Teori Sosiologi Klasik sampai Perkembangan Mutakhir Teori Sosial Postmodern. Yogyakarta: Kreasi Wacana.
Sakti, A. T. (2022, July 30). Kisah Amnah Pegawai Kantor Desa yang Dipercaya Jadi Kades, Ingin Potensi Ternak Sapi Berkembang. Retrieved October 11, 2022, from Bangkapos.com: https://bangka.tribunnews.com/2022/07/30/kisah-amnah-pegawai-kantor-desa-yang-dipercaya-jadi-kades-ingin-potensi-ternak-sapi-berkembang
Saputra, K., & Azmi, A. (2021). Kepemimpinan Kepala Desa Perempuan (Studi Kasus di Desa Maliki Air, Kota Sungai Penuh, Jambi). Journal of Civic Education, 4(1), 58-59.
Surbakti, R. (1992). Memahami Ilmu Poltik. Jakarta: PT. Gramedia Widisuasarana.
Tim Prima Pena. (2006). Kamus Ilmiah Populer. Surabaya: Gitamedia Press.
Wadanubun, S., Susanti, A. T., & Kudubun, E. E. (2020). Perjuangan Perempuan Dalam Arena Politik (Studi Pemilihan Anggota Dewan Perwakilan Rakyat Daerah di Kabupaten Mimika, Propinsi Papua Dalam Perspektif Pierre Bourdieu. Jurnal Analisa Sosiologi, 440-448.
Yusniawati, N. P. (2018). Penyelesaian Sengketa Pemilihan Kepala Desa Menurut UU NO. 6 Tahun 2014 (Studi Kasus Pilkades 2016 di Desa Narimbang Mulia Kec. Rangkabitung Kab. Lebak). Journal UIN-IR, 31-32.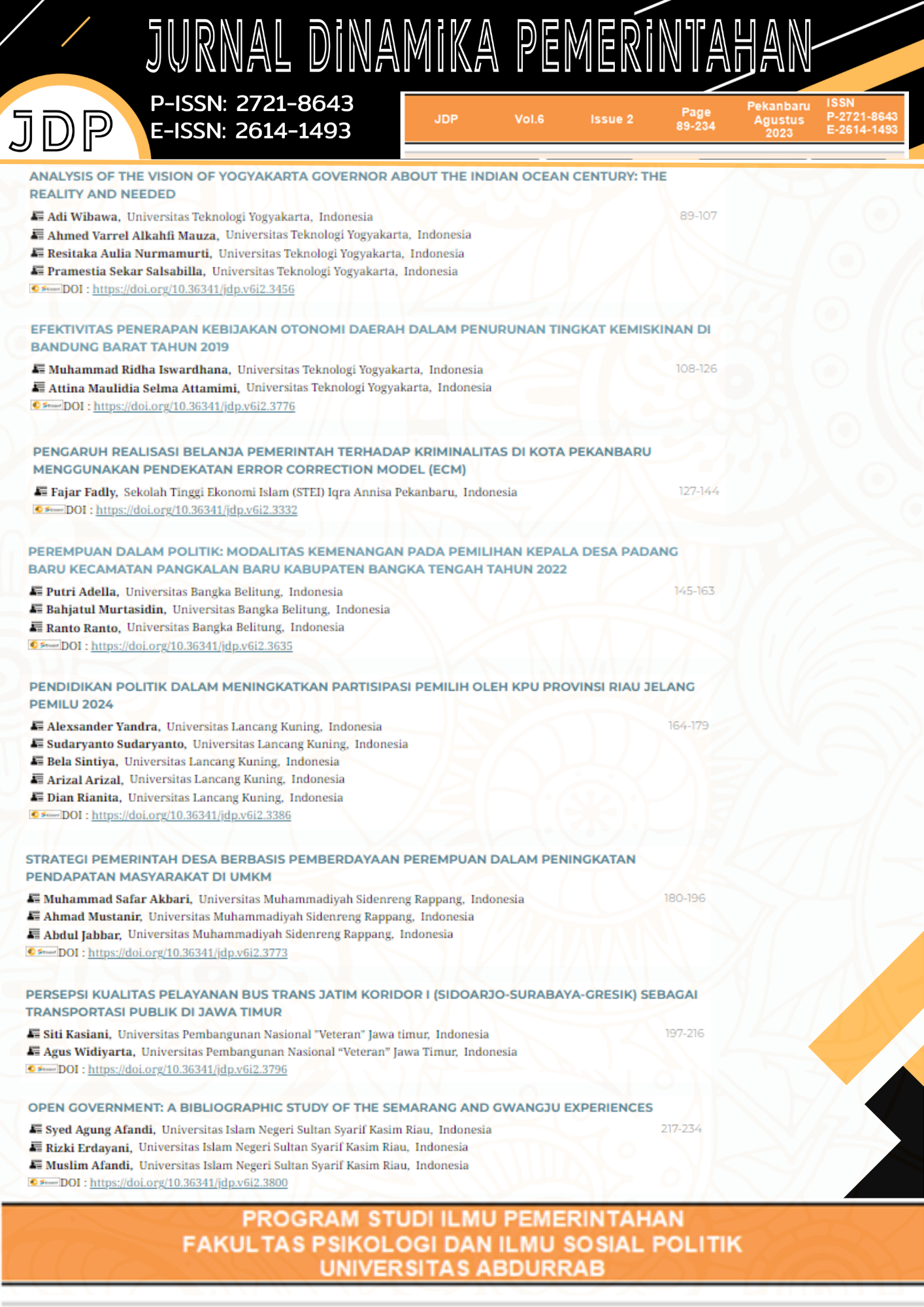 This work is licensed under a Creative Commons Attribution-NonCommercial-ShareAlike 4.0 International License.
1. Copyright of all journal manuscripts is held by the JDP (Jurnal Dinamika Pemerintahan)
2. Formal legal provisions to access digital articles of electronic journal are subject to the provision of the Creative Commons Attribution-ShareAlike license (CC BY-NC-SA), which means that JDP (Jurnal Dinamika Pemerintahan) is rightful to keep, transfer media/format, manage in the form of databases, maintain, and publish articles.
3. Published manuscripts both printed and electronic are open access for educational, research, and library purposes. Additionally, the editorial board is not responsible for any violations of copyright law.
licensed under a Creative Commons Attribution-ShareAlike 4.0 International License.

PDF (Bahasa Indonesia)

Abstract views: 40

downloads: 15