STRATEGI ADVOKASI MELALUI PROSES NONLITIGASI DALAM RANGKA PEMBAHARUAN PROSES PERADILAN DI INDONESIA
STRATEGI ADVOKASI MELALUI PROSES NONLITIGASI DALAM RANGKA PEMBAHARUAN PROSES PERADILAN DI INDONESIA
Reski Lestari

Sekolah Tinggi Agama Islam Negeri (STAIN) Bengkalis, Indonesia

Wahyu subakti

Sekolah Tinggi Agama Islam Negeri (STAIN) Bengkalis, Indonesia

Syed Agung Afandi

Universitas Islam Negeri Sultan Syarif Kasim Riau, Indonesia
Abstract
This study aims to explain the advocacy strategy through the non-litigation process in the context of reforming the judicial process in Indonesia. Mediation in court is an institution and empowerment of peace (court connected mediation) with a philosophical foundation that is Pancasila which is the basis of the Indonesian state, especially the fourth precept "Popularity led by Wisdom of Wisdom in deliberation/representation". In resolving disputes, there are several dispute resolution mechanisms, namely litigation, non-litigation, and advocacy. The method used in this research is literature study, with the type of qualitative descriptive research. The results explain that alternative efforts and strategies for resolving disputes with the Non-Litigation route can achieve a peace in accordance with the wishes of both parties through Mediation, Advocacy and negotiation. In its application there are two types of obstacles in non-litigation efforts to resolve land grabbing disputes, because mediation is not clearly regulated in Law no. 30 of 1999 concerning Artibrasion and Alternative Dispute Resolution. And the non-litigation efforts are legally less certain because their legality is also not explicitly regulated in Law no. 30 of 1999. 
Keywords:
Mediation, Advocacy, Judiciary, Litigation, Non Litigation
References
Rahadi Wasi Bintoro, "Kajian Ontologis Lembaga Mediasi di Pengadilan," Jurnal Yuridika, Vol.31, No.1, (April, 2021), hlm. 72
TM.Hasbi, 1964, Peradilan dan Hukum Acara Islam, Yogyakarta: PT Al-Maarif, hlm. 69.
Undang-Undang Nomor 48 tahun 2009 tentang Kekuasaan Kehakiman, Pasal 2 ayat (4)
Ainal Mardhiah, "Penyelesaian Sengketa Melalui Mediasi Berdasarkan Perma No. 1 tahun 2008,"Kanun Jurnal Ilmu Hukum, No. 53, (April, 2011), hlm. 155-156
Siti Musawwamah, "Mediasi Integratif di Pengadilan Agama Pamekasan," Jurnal Nuansa, Vol. 11, No.2, (Juli-Desember, 2014), hlm. 344
Tohirin, Bimbingan Konseling Di Sekolah Dan Madrasah (Berbasis Integritas),(Jakarta: PT RAJAGRAINDO PERSADA, 2013), h. 185
Syahrizal Abbas, Mediasi dalam Hukum Syariah, Hukum Adat, Dan Hukum Nasional, (Jakarta : Kencana Prenada Media Group, 2009), h. 2
Prayitno, Layanan Orientasi, (Padang, 2004)
Artikel ini disampaikan oleh pemateri (Elbiando Lumban Gaol) pada sesi diskusi tematis gemaprodem dalammateri pengantar advokasi di Sekretariat gemaprodem ,Jamin ginting gg ganefo Padang Bulan-Medan 14 agustus 2006
Solo Sumardjan, Pengantar Ilmu Hukum, Ghara ilmu, 2012, Hal 07
Achmad Ali, Menguak Tabir Hukum, Ghalia Indonesia, 2011, hal 171.
Sarwono, SH, Hukum Acara Perdata, Rajawali Pers, 2010, Hal 10.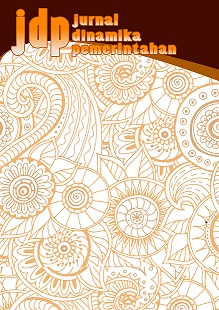 This work is licensed under a Creative Commons Attribution-NonCommercial-ShareAlike 4.0 International License.
1. Copyright of all journal manuscripts is held by the JDP (Jurnal Dinamika Pemerintahan)
2. Formal legal provisions to access digital articles of electronic journal are subject to the provision of the Creative Commons Attribution-ShareAlike license (CC BY-NC-SA), which means that JDP (Jurnal Dinamika Pemerintahan) is rightful to keep, transfer media/format, manage in the form of databases, maintain, and publish articles.
3. Published manuscripts both printed and electronic are open access for educational, research, and library purposes. Additionally, the editorial board is not responsible for any violations of copyright law.
licensed under a Creative Commons Attribution-ShareAlike 4.0 International License.

PDF (Bahasa Indonesia)

Abstract views: 340

downloads: 353