UJI DAYA HAMBAT EKSTRAK BAWANG PUTIH (Allium Sativum) TERHADAP LARVA Anopheles Sp
Darmadi '

Akademi Analis Kesehatan Yayasan Fajar Pekanbaru
Abstract
Penyakit malaria merupakan salah satu penyakit yang disebabkan oleh nyamuk Anopheles sp. Diperkirakan 35% penduduk Indonesia tinggal di daerah beresiko tertular malaria. Di Indonesia terdapat 15 juta kasus malaria setiap tahun dan 30.000 diantaranya meninggal dunia. Untuk menanggulangi masalah tersebut dilakukan upaya pengendalian penyakit malaria dengan cara memutus mata rantainya yaitu membunuh larva Anopheles dengan menggunakan ekstrak bawang putih (Allium sativum). Tujuan penelitian ini adalah untuk mengetahui ekstrak bawang putih (Allium sativum) dapat menghambat larva Anopheles sp. Jenis penelitian yang digunakan adalah Eksperimen Laboratorium secara invitro, dengan menggunakan metode Rancangan Acak Lengkap (RAL). Berdasarkan penelitian yang telah dilakukan diperoleh hasil bahwa berdasarkan deret konsentrasi ekstrak bawang putih 0,3% larva yang mati 27,5%, konsentrasi 0,5% larva yang mati 47,5%, konsentrasi 0,7% larva yang mati 65% dan konsentrasi 0,9% larva yang mati 77,5%. Kesimpulan dari penelitian ini adalah terdapat efek larvasida dari ekstrak bawang putih terhadap pertumbuhan larva Anopheles sp.
Keywords:
Larva Anopheles, ekstrak bawang putih, larvasida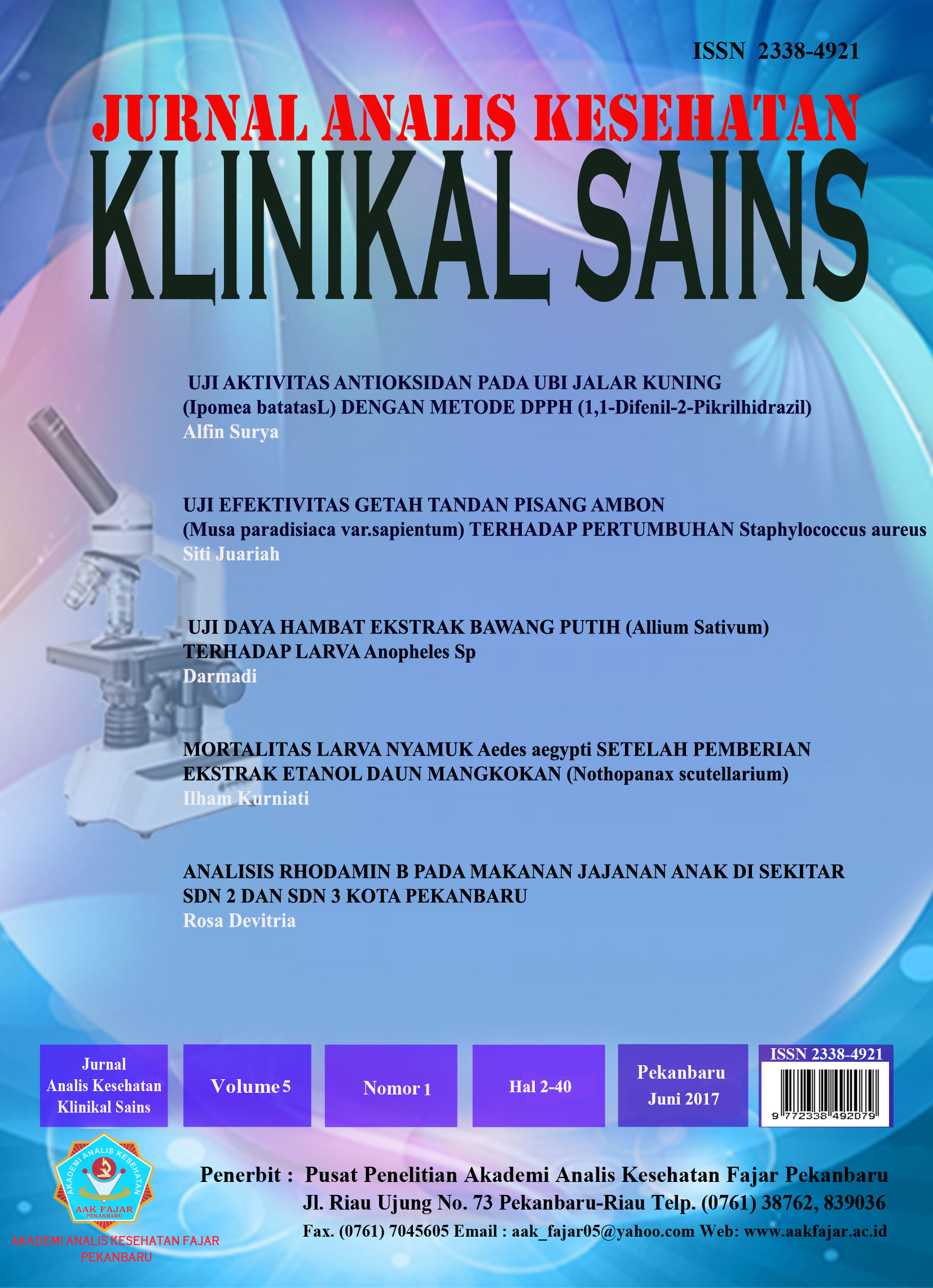 1. Copyright of all journal manuscripts is held by the Klinikal Sains : Jurnal Analis Kesehatan
2. Formal legal provisions to access digital articles of electronic journal are subject to the provision of the Creative Commons Attribution-ShareAlike license (CC BY-NC-SA), which means that Klinikal Sains : Jurnal Analis Kesehatan is rightful to keep, transfer media/format, manage in the form of databases, maintain, and publish articles.
3. Published manuscripts both printed and electronic are open access for educational, research, and library purposes. Additionally, the editorial board is not responsible for any violations of copyright law.
licensed under a Creative Commons Attribution-ShareAlike 4.0 International License.

pdf (Bahasa Indonesia)

Abstract views: 98

downloads: 302