ANALISIS RHODAMIN B PADA MAKANAN JAJANAN ANAK DI SEKITAR SDN 2 DAN SDN 3 KOTA PEKANBARU
Rosa Devitria

Akademi Analis Kesehatan Yayasan Fajar Pekanbaru
Abstract
Rhodamin B merupakan zat warna tambahan yang dilarang penggunaannya dalam produk-produk pangan. Bahaya dari Rhodamin B dapat menyebabkan iritasi kulit, saluran pernafasan, mata, saluran pencernaan, keracunan, gangguan hati dan dapat menyebabkan kanker. Tujuan dari penelitian untuk mengetahui ada tidaknyaRhodamin B dan kandungannya pada makanan jajanan anak yang dijual di sekitar SDN 2 dan SDN 3 Kelurahan Kampung Bandar Kecamatan Senapelan Kota Pekanbarudengan metode Spektrofotometri  UV-Vis. Hasil yang didapatkan dari 5 sampel yang diperiksa 3 sampel positif mengandung Rhodamin B dengan kandungan tertinggi sampai terendah yaitu tela-tela 0,343 ppm, kue lapis 0,174 ppm dan agar-agar 0,122 ppm.
Keywords:
Rhodamine B, Spectrophotometer UV-Vis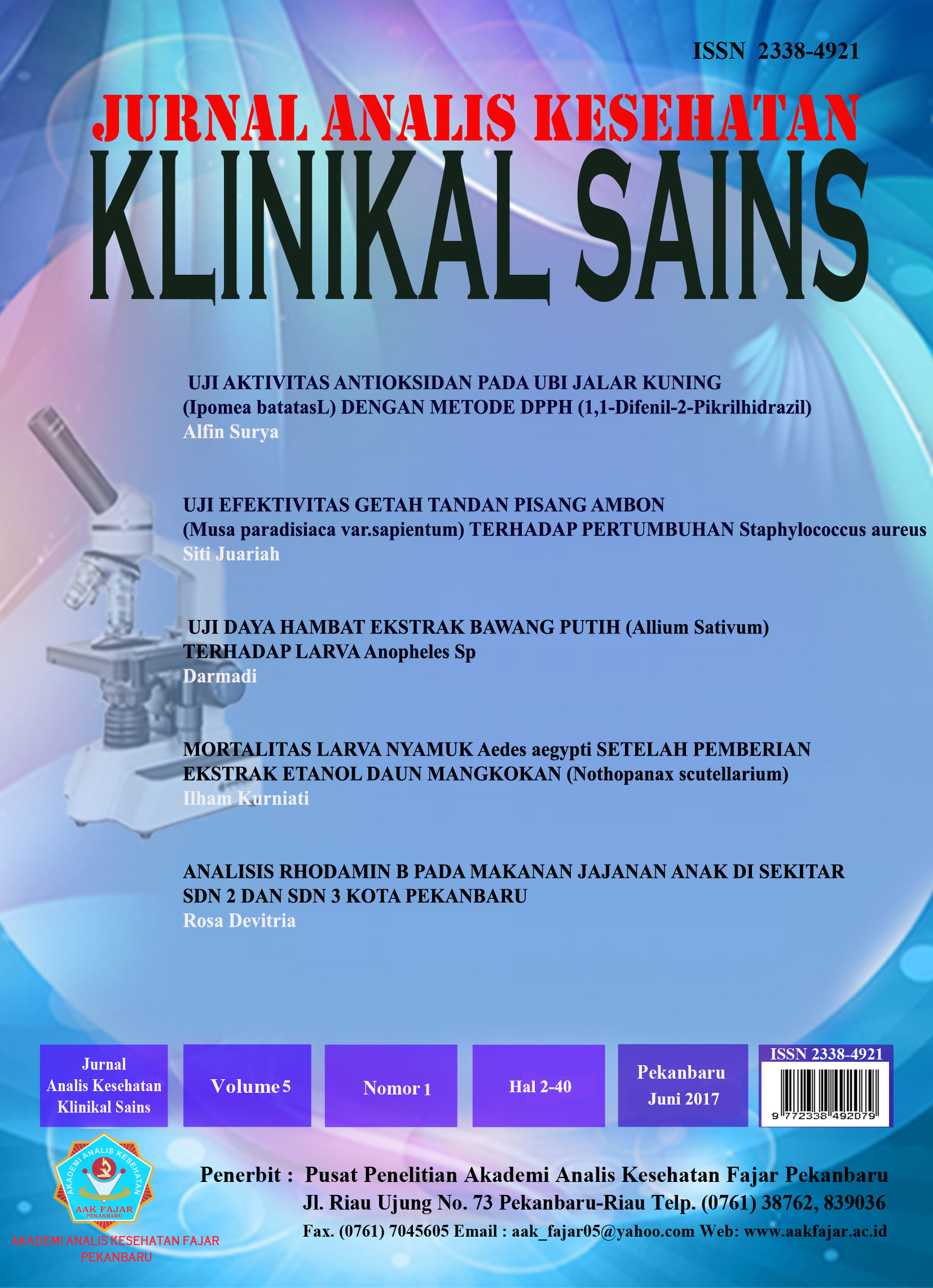 1. Copyright of all journal manuscripts is held by the Klinikal Sains : Jurnal Analis Kesehatan
2. Formal legal provisions to access digital articles of electronic journal are subject to the provision of the Creative Commons Attribution-ShareAlike license (CC BY-NC-SA), which means that Klinikal Sains : Jurnal Analis Kesehatan is rightful to keep, transfer media/format, manage in the form of databases, maintain, and publish articles.
3. Published manuscripts both printed and electronic are open access for educational, research, and library purposes. Additionally, the editorial board is not responsible for any violations of copyright law.
licensed under a Creative Commons Attribution-ShareAlike 4.0 International License.

pdf (Bahasa Indonesia)

Abstract views: 1053

downloads: 2520