IMPLEMENTASI ALGORITMA C4.5 UNTUK KLASIFIKASI PRODUK LARIS SEPEDA MOTOR HONDA PADA CV CENDANA MOTOR CEPIRING
Tabitha Salsabilla

Stikubank University

Sulastri Sulastri

Stikubank University
Abstract
CV Cendana Motor Cepiring is one of the Honda brand motorcycle sales companies in Kendal Regency. Tight motorcycle sales competition requires companies to determine the right sales strategy to increase sales and product marketing in order to attract consumers' interest. In knowing consumer interest in Honda motorcycle products, research was conducted on predictions of best-selling Honda motorcycle products from each sub-district in Kendal Regency. The research method used is the C4.5 decision tree algorithm with the process using five steps in KDD (Knowledge Discovery in Databases). This research produces a classification with an accuracy of 99% which indicates that the C4.5 algorithm is suitable for measuring the estimated sales of the best-selling Honda motorcycle.
Keywords:
data mining, classification, C4.5 algorithm decision tree
References
N. Azwanti, "Analisa Algoritma C4.5 Untuk Memprediksi Penjualan Motor Pada Pt. Capella Dinamik Nusantara Cabang Muka Kuning," Inform. Mulawarman J. Ilm. Ilmu Komput., vol. 13, no. 1, p. 33, 2018, doi: 10.30872/jim.v13i1.629.
J. Eska, "Penerapan Data Mining Untuk Prediksi Penjualan Wallpaper Menggunakan Algoritma C4.5," vol. 2, 2018, doi: 10.31227/osf.io/x6svc.
A. S. Sunge, H. Fidiawan, P. Studi, T. Informatika, S. Tinggi, and T. Pelita, "Data Mining, Penjualan Produk, Decision Tree, Algoritma C4.5 . ," vol. 9, pp. 97–103, 2019.
L. Elvitaria and M. Havenda, "Luluk Elvitaria, 2) Muhammad Havenda," vol. 2, no. 2, pp. 110–124, 2017.
J. A. D. I. Swara, "Aplikasi Data Mining Menggunakan Metode Decision Tree Untuk Pemantauan Distribusi Penjualan Sepeda Motor Di Pd . Wijaya Abadi Bandung," pp. 1–8.
D. A. Kurnia et al., "KLASIFIKASI PRODUK PENJUALAN BROWNIES MENGGUNAKAN Jurnal Sistem Informasi dan Manajemen," vol. 9, no. 3, 2021.
I. Sutoyo, "Implementasi Algoritma Decision Tree Untuk Klasifikasi Data Peserta Didik," J. Pilar Nusa Mandiri, vol. 14, no. 2, p. 217, 2018, doi: 10.33480/pilar.v14i2.926.
A. F. Izzulhaq and Sulastri, "Klasifikasi Penjualan Aplikasi Android," Proceeding SENDIU, vol. 72, no. 6, pp. 978–979, 2020.
M. Algoritma, "Klasifikasi Diagnosa Penyakit Paru-Paru Pada Klinik Raditya Medical," vol. 12, no. 1, pp. 1894–1905, 2020.
A. K. Lalo, P. Batarius, and Y. C. H. Siki, "Implementasi Algoritma C4.5 Untuk Klasifikasi Penjualan Barang di Swalayan Dutalia," J. Tek. Inform. UNIKA St. Thomas, no. June, pp. 1–12, 2021, doi: 10.54367/jtiust.v6i1.1089.
N. Dicky and W. N. Gunadi, "Algoritma Data Mining Dan Pengujian," Penerbit CV Budi Utama, Yogyakarta. 2019.
A. Muhammad and N. Muhammad, "Data Mining – Algoritma dan Implementasi," Penerbit Andi, 2020.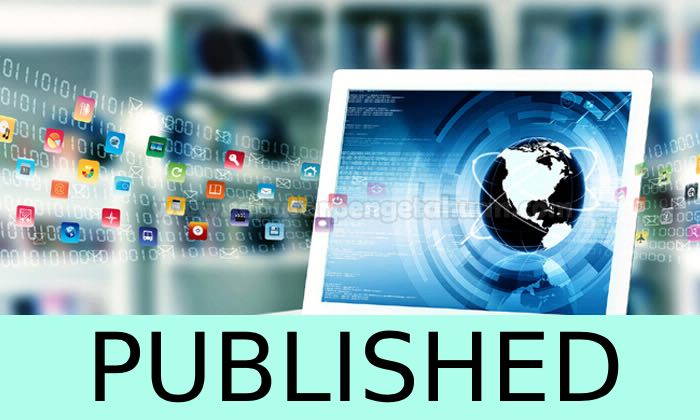 How to Cite
[1]
T. Salsabilla and S. Sulastri, "IMPLEMENTASI ALGORITMA C4.5 UNTUK KLASIFIKASI PRODUK LARIS SEPEDA MOTOR HONDA PADA CV CENDANA MOTOR CEPIRING", rabit, vol. 7, no. 2, pp. 164-171, Jul. 2022.
This work is licensed under a Creative Commons Attribution-NonCommercial-ShareAlike 4.0 International License.
Please find the rights and licenses in RABIT : Jurnal Teknologi dan Sistem Informasi Univrab. By submitting the article/manuscript of the article, the author(s) accept this policy.
1. License
The non-commercial use of the article will be governed by the Creative Commons Attribution license as currently displayed on Creative Commons Attribution-NonCommercial-ShareAlike 4.0 International License.
2. Author's Warranties
The author warrants that the article is original, written by stated author(s), has not been published before, contains no unlawful statements, does not infringe the rights of others, is subject to copyright that is vested exclusively in the author and free of any third party rights, and that any necessary written permissions to quote from other sources have been obtained by the author(s).
3. User Rights
RABIT's spirit is to disseminate articles published are as free as possible. Under the Creative Commons license, RABIT permits users to copy, distribute, display, and perform the work for non-commercial purposes only. Users will also need to attribute authors and RABIT on distributing works in the journal.
4. Rights of Authors
Authors retain all their rights to the published works, such as (but not limited to) the following rights;
Copyright and other proprietary rights relating to the article, such as patent rights,
The right to use the substance of the article in own future works, including lectures and books,
The right to reproduce the article for own purposes,
The right to self-archive the article,
The right to enter into separate, additional contractual arrangements for the non-exclusive distribution of the article's published version (e.g., post it to an institutional repository or publish it in a book), with an acknowledgment of its initial publication in this journal (RABIT : Jurnal Teknologi dan Sistem Informasi Univrab).
5. Co-Authorship
If the article was jointly prepared by other authors, any authors submitting the manuscript warrants that he/she has been authorized by all co-authors to be agreed on this copyright and license notice (agreement) on their behalf, and agrees to inform his/her co-authors of the terms of this policy. RABIT will not be held liable for anything that may arise due to the author(s) internal dispute. RABIT will only communicate with the corresponding author.
6. Royalties
This agreement entitles the author to no royalties or other fees. To such extent as legally permissible, the author waives his or her right to collect royalties relative to the article in respect of any use of the article by RABIT.
7. Miscellaneous
RABIT will publish the article (or have it published) in the journal if the article's editorial process is successfully completed. RABIT's editors may modify the article to a style of punctuation, spelling, capitalization, referencing and usage that deems appropriate. The author acknowledges that the article may be published so that it will be publicly accessible and such access will be free of charge for the readers as mentioned in point 3.

PDF (Bahasa Indonesia)

Abstract views: 573

downloads: 664