MEDIA PEMBELAJARAN BERBASIS GAME PUZZLE MENINGKATKAN KETERAMPILAN BACA DAN TULIS USIA 4-6 TAHUN
Ira Puspita Sari

Universitas Abdurrab

Berliana Putri

Universitas Abdurrab
Abstract
Game edukasi merupakan sebuah permainan yang dikemas dalam konteks pendidikan untuk merangsang daya pikir dan termasuk salah satu cara untuk melatih meningkatkan konsentrasi penggunanya (anak-anak). Penelitian ini bertujuan untuk merancang game puzzle sebagai media pembelajaran untuk meningkatkan keterampilan baca dan tulis anak usia 4-6 tahun. Game puzzle ini dirancang menggunakan metode Game Development Life Cycle (GDLC) yang melalui bebarapa tahapan yaitu initiation/ pembuatan konsep, pra-produksi, produksi, pengujian dan rilis. Hasil akhir penelitian berupa game puzzle dengan menggunalan Game Engine Construct 3 sebagai aplikasi pembangunnya, aplikasi yang telah dihasilkan dapat digunakan untuk membantu proses belajar mengajar dan juga dapat meningkatkan semangat belajar anak usia dini, untuk selanjutnya diharapkan aplikasi yang dibuat dapat dikembangkan lagi untuk digunakan sesuai dengan kebutuhan.
Keywords:
learning media, game, education, construct 3
References
F. A. Khoriri, B. Murtiyasa, M. Kom, and S. T. Sukirman, "Pengembangan Media Pembelajaran Berbasis Game Puzzle Bergambar untuk Meningkatkan Keterampilan Membaca dan Menulis Kelas 1 Sekolah Dasar." Universitas Muhammadiyah Surakarta, 2018.
I. Irdawati, Y. Yunidar, and D. Darmawan, "Meningkatkan kemampuan membaca permulaan dengan menggunakan media gambar kelas 1 di MIN Buol," J. Kreat. Online, vol. 5, no. 4, 2014.
M. Misra, "Peningkatan Kemampuan Menulis Pengumuman Melalui Metode Latihan Siswa Kelas IV SD Inpres 2 Gio Kecamatan Moutong," J. Kreat. Online, vol. 1, no. 2, 2014.
R. A. Rahman and D. Tresnawati, "Pengembangan game edukasi pengenalan nama hewan dan habitatnya dalam 3 bahasa sebagai media pembelajaran berbasis multimedia," J. Algoritm., vol. 13, no. 1, pp. 184–190, 2016.
R. Nurcholis, A. I. Purnamasari, A. R. Dikananda, O. Nurdiawan, and S. Anwar, "Game Edukasi Pengenalan Huruf Hiragana Untuk Meningkatkan Kemampuan Berbahasa Jepang," Build. Informatics, Technol. Sci., vol. 3, no. 3, pp. 338–345, 2021.
L. Lusiana, "Penggunaan Media Puzzle untuk Meningkatkan Keterampilan Membaca Permulaan dalam Pembelajaran Tematik," J. Basicedu, vol. 2, no. 2, pp. 32–39, 2018.
M. Ichwan and F. Hakiky, "Pengukuran Kinerja Goodreads Application Programming Interface (API) Pada Aplikasi Mobile Android," J. Inform., vol. 2, no. 2, pp. 13–21, 2011.
W. A. Rini and W. Sukartaningsih, "Pengembangan Media Puzzle Kata Bergambar Menggunakan Aplikasi Instagram Untuk Siswa Kelas 1 Sekolah Dasar Pada Keterampilan Membaca Permulaan Abstrak," J. PGSD, vol. 9, pp. 2597–2609, 2021.
I. P. Sari, "Sistem Informasi Manajemen Dalam Pengembangan Sumber Daya Manusia Dan Komunikasi Karyawan Lp3i Cabang Pekanbaru," J. Ilm. Media Sisfo, vol. 10, no. 1, pp. 485–496, 2017.
S. Ayumida, M. Tabrani, F. Natalia, and K. A. Hariri, "Aplikasi Propas (Program Pengarsipan Surat) Pada Kantor Desa Cihambulu-Subang," J. Interkom J. Publ. Ilm. Bid. Teknol. Inf. dan Komun., vol. 14, no. 3, pp. 102–109, 2019.
I. P. Sari, "Bank Kosa Kata Untuk Tuna Rungu dan Tuna Wicara Berbasis Web," J. Appl. Comput. Sci. Technol., vol. 2, no. 2, pp. 83–87, 2021.
N. Parhan, I. P. Sari, and D. Arisandi, "Aplikasi Peninggalan Sejarah Kerajaan Siak Sri Indrapura di Kabupaten Siak Berbasis Android," J. SANTI-Sistem Inf. dan Tek. Inf., vol. 1, no. 1, pp. 49–55, 2021.
B. Indrawan and R. K. Dewi, "Pengaruh Net Interest Margin (NIM) Terhadap Return on Asset (ROA) Pada PT Bank Pembangunan Daerah Jawa Barat Dan Banten Tbk Periode 2013-2017," J. E-Bis, vol. 4, no. 1, pp. 78–87, 2020.
D. Lahay and S. Suleman, "Perancangan Sistem Informasi Pengelolaan Tagihan Iuran Pemasangan Jaringan Pada PT. Molindo Media Persada Berbasis Android," in SemanTECH (Seminar Nasional Teknologi, Sains dan Humaniora), 2019, vol. 1, no. 1, pp. 44–49.
T. S. Jaya, "Pengujian aplikasi dengan metode blackbox testing boundary value analysis (studi kasus: kantor digital Politeknik Negeri Lampung)," J. Inform. J. Pengemb. IT, vol. 3, no. 1, pp. 45–48, 2018.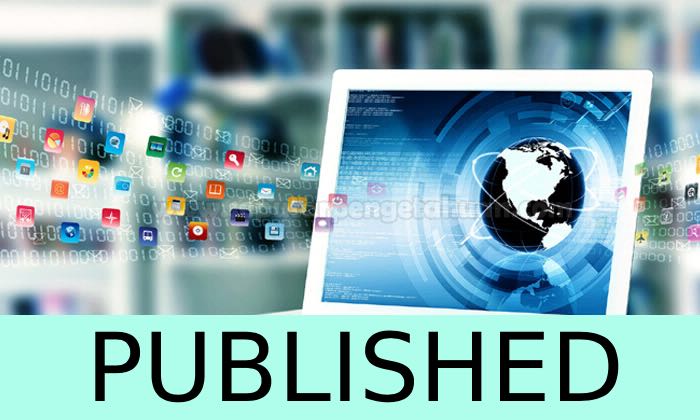 How to Cite
[1]
I. Sari and B. Putri, "MEDIA PEMBELAJARAN BERBASIS GAME PUZZLE MENINGKATKAN KETERAMPILAN BACA DAN TULIS USIA 4-6 TAHUN", rabit, vol. 8, no. 2, pp. 213-220, Jul. 2023.
This work is licensed under a Creative Commons Attribution-NonCommercial-ShareAlike 4.0 International License.
Please find the rights and licenses in RABIT : Jurnal Teknologi dan Sistem Informasi Univrab. By submitting the article/manuscript of the article, the author(s) accept this policy.
1. License
The non-commercial use of the article will be governed by the Creative Commons Attribution license as currently displayed on Creative Commons Attribution-NonCommercial-ShareAlike 4.0 International License.
2. Author's Warranties
The author warrants that the article is original, written by stated author(s), has not been published before, contains no unlawful statements, does not infringe the rights of others, is subject to copyright that is vested exclusively in the author and free of any third party rights, and that any necessary written permissions to quote from other sources have been obtained by the author(s).
3. User Rights
RABIT's spirit is to disseminate articles published are as free as possible. Under the Creative Commons license, RABIT permits users to copy, distribute, display, and perform the work for non-commercial purposes only. Users will also need to attribute authors and RABIT on distributing works in the journal.
4. Rights of Authors
Authors retain all their rights to the published works, such as (but not limited to) the following rights;
Copyright and other proprietary rights relating to the article, such as patent rights,
The right to use the substance of the article in own future works, including lectures and books,
The right to reproduce the article for own purposes,
The right to self-archive the article,
The right to enter into separate, additional contractual arrangements for the non-exclusive distribution of the article's published version (e.g., post it to an institutional repository or publish it in a book), with an acknowledgment of its initial publication in this journal (RABIT : Jurnal Teknologi dan Sistem Informasi Univrab).
5. Co-Authorship
If the article was jointly prepared by other authors, any authors submitting the manuscript warrants that he/she has been authorized by all co-authors to be agreed on this copyright and license notice (agreement) on their behalf, and agrees to inform his/her co-authors of the terms of this policy. RABIT will not be held liable for anything that may arise due to the author(s) internal dispute. RABIT will only communicate with the corresponding author.
6. Royalties
This agreement entitles the author to no royalties or other fees. To such extent as legally permissible, the author waives his or her right to collect royalties relative to the article in respect of any use of the article by RABIT.
7. Miscellaneous
RABIT will publish the article (or have it published) in the journal if the article's editorial process is successfully completed. RABIT's editors may modify the article to a style of punctuation, spelling, capitalization, referencing and usage that deems appropriate. The author acknowledges that the article may be published so that it will be publicly accessible and such access will be free of charge for the readers as mentioned in point 3.

PDF (Bahasa Indonesia)

Abstract views: 56

downloads: 26