IMPLEMENTASI SISTEM INFORMASI DATA PELAKU USAHA PERIKANAN BUDIDAYA PADA DINAS PERIKANAN KOTA KUPANG
IMPLEMENTATION OF THE DATA INFORMATION SYSTEM FOR AQUACULTURE BUSINESS ACTORS AT THE FISHERIES OFFICE OF THE CITY OF KUPANG
Frensile Susanti Ndoen

Universitas Nusa Cendana

Meiton Boru

Universitas Nusa Cendana

Clarissa E. A. Pah

Universitas Nusa Cendana
Abstract
In 2022, the number of aquaculture business actors in the Kupang City Fisheries Service are 649 people, divided into 55 groups of business actors with 566 members and 83 individual business actors. Data processing for aquaculture business actors operated through Microsoft Office Excel (Ms. Excel) is not optimal because several obstacles frequently encountered, namely duplication of data, difficulty calculating the number of business actors, Large amounts of data are difficult to summarize because they are scattered across multiple Excel files, making it difficult for officers to create data reports on aquaculture business actors. Therefore, this study aims to create a system to assist officers in managing data on aquaculture business actors. The method used in this research is the Waterfall method because the advantage is that the quality of the resulting system will be good. After all, the implementation is carried out in stages. This system generates group data reports, business actor data, business data, pond data, production data, business registration data, training data, and histograms of the number of business actors based on gender, the number of businesses receiving Business Cards for Marine and Fisheries (KUSUKA), the number of businesses per nameplate group, the number of business actors per district, the number of businesses per district and the summary score of the number of aquaculture business actors. The results of black box testing conducted by three respondents to 12 menus show that all functional systems function as expected.
Keywords:
Information Systems, Aquaculture Business Actors, Waterfall
References
L. Laisina, M. Haurissa, and Z. Hatala, "Sistem Informasi Data Jemaat Gpm Gidion Waiyari Ambon Dan Jemaat Gpm Halong Anugerah Ambon," J. SIMETRIK, vol. 8, no. 2, p. 139, Dec. 2018.
H. B. Santoso, C. Malvin, and R. Delima, "Pengembangan Sistem Informasi Pendataan Petani Dan Kelompok Tani," Semin. Nas. Sist. Inf. Indones., p. 10, 2017.
A. A. Wahid, "Analisis Metode Waterfall Untuk Pengembangan Sistem Informasi," J. Ilmu-Ilmu Inform. Dan Manaj. STMIK, p. 6, 2020.
A. Kristanto, Perancangan Sistem Informasi dan Aplikasinya (Edisi Revisi 2), 2nd ed. Yogyakarta: GAVA MEDIA, 2022.
U. Rusmawan, Teknik Penulisan Tugas Akhir dan Skripsi Pemrograman. Jakarta: PT Elex Media Komputindo, 2019.
Misrawati Aprilyana Puspa And A. Mulawati Mas Pratama, "Aplikasi Sistem Informasi Kelompok Tani Pada Dinas Pertanian Kabupaten Pohuwato Berbasis Android," Dec. 2020.
M. Junaidi And L. D. Rohana, "Sistem Pengolahan Nilai Untuk Kurikulum PAUD Berbasis Desktop Dengan Model Waterfall Pada Kelompok Bermain AL-AMIN Desa Kedewan," SIMETRIS, Vol. 15, No. 1, P. 6, 2021.
G. W. Sasmito, "Penerapan Metode Waterfall Pada Desain Sistem Informasi Geografis Industri Kabupaten Tegal," J. Inform., Vol. 2, No. 1, P. 7, 2017.
M. G. D. Amin, A. H. Brata, And F. Amalia, "Pengembangan Sistem Informasi Pelayanan Dan Pendataan UMKM Provinsi Riau (Studi Kasus: Dinas Perindustrian, Perdagangan, Koperasi Usaha Kecil Dan Menengah Provinsi Riau)".
N. Aini, S. A. Wicaksono, And I. Arwani, "Pembangunan Sistem Informasi Perpustakaan Berbasis Web Menggunakan Metode Rapid Application Development (RAD) (Studi Pada : SMK Negeri 11 Malang)".
A. Krismadi, A. F. Lestari, A. Pitriyah, I. W. P. A. Mardangga, M. Astuti, And A. Saifudin, "Pengujian Black Box Berbasis Equivalence Partitions Pada Aplikasi Seleksi Promosi Kenaikan Jabatan," J. Teknol. Sist. Inf. Dan Apl., Vol. 2, No. 4, P. 155, Oct. 2019.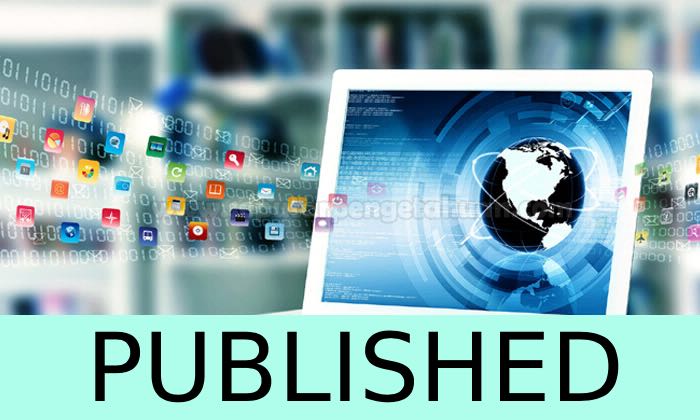 How to Cite
[1]
F. Ndoen, M. Boru, and C. E. A. Pah, "IMPLEMENTASI SISTEM INFORMASI DATA PELAKU USAHA PERIKANAN BUDIDAYA PADA DINAS PERIKANAN KOTA KUPANG", rabit, vol. 8, no. 2, pp. 184-194, Jul. 2023.
This work is licensed under a Creative Commons Attribution-NonCommercial-ShareAlike 4.0 International License.
Please find the rights and licenses in RABIT : Jurnal Teknologi dan Sistem Informasi Univrab. By submitting the article/manuscript of the article, the author(s) accept this policy.
1. License
The non-commercial use of the article will be governed by the Creative Commons Attribution license as currently displayed on Creative Commons Attribution-NonCommercial-ShareAlike 4.0 International License.
2. Author's Warranties
The author warrants that the article is original, written by stated author(s), has not been published before, contains no unlawful statements, does not infringe the rights of others, is subject to copyright that is vested exclusively in the author and free of any third party rights, and that any necessary written permissions to quote from other sources have been obtained by the author(s).
3. User Rights
RABIT's spirit is to disseminate articles published are as free as possible. Under the Creative Commons license, RABIT permits users to copy, distribute, display, and perform the work for non-commercial purposes only. Users will also need to attribute authors and RABIT on distributing works in the journal.
4. Rights of Authors
Authors retain all their rights to the published works, such as (but not limited to) the following rights;
Copyright and other proprietary rights relating to the article, such as patent rights,
The right to use the substance of the article in own future works, including lectures and books,
The right to reproduce the article for own purposes,
The right to self-archive the article,
The right to enter into separate, additional contractual arrangements for the non-exclusive distribution of the article's published version (e.g., post it to an institutional repository or publish it in a book), with an acknowledgment of its initial publication in this journal (RABIT : Jurnal Teknologi dan Sistem Informasi Univrab).
5. Co-Authorship
If the article was jointly prepared by other authors, any authors submitting the manuscript warrants that he/she has been authorized by all co-authors to be agreed on this copyright and license notice (agreement) on their behalf, and agrees to inform his/her co-authors of the terms of this policy. RABIT will not be held liable for anything that may arise due to the author(s) internal dispute. RABIT will only communicate with the corresponding author.
6. Royalties
This agreement entitles the author to no royalties or other fees. To such extent as legally permissible, the author waives his or her right to collect royalties relative to the article in respect of any use of the article by RABIT.
7. Miscellaneous
RABIT will publish the article (or have it published) in the journal if the article's editorial process is successfully completed. RABIT's editors may modify the article to a style of punctuation, spelling, capitalization, referencing and usage that deems appropriate. The author acknowledges that the article may be published so that it will be publicly accessible and such access will be free of charge for the readers as mentioned in point 3.

PDF (Bahasa Indonesia)

Abstract views: 67

downloads: 37