SISTEM PENDUKUNG KEPUTUSAN UNTUK MENENTUKAN PENDAKIAN GUNUNG TERBAIK DI JAWA TENGAH MENGGUNAKAN METODE SAW (SIMPLE ADDITIVE WEIGHTING)
Wahyu Hadikristanto

Universitas Pelita Bangsa

Gatot Tri Pranoto

Universitas Pelita Bangsa
Abstract
The level of interest in mountain climbing activities has increased significantly, this is inseparable from the development of social media technology which exposes the charm of each mountain itself, so as to attract interest in climbing from various groups, both beginners and experienced. Because each climber has their own characteristics and needs and each mountain also has its own character, so that it will affect each climbing destination, prospective climbers must be able to determine which mountain will be chosen as the best mountain in Central Java province to be chosen. as a climbing location. This research uses secondary data, the alternative to be compared is a list of mountains in Central Java province with several criteria to be used. The method for processing data is the Simple Additive Weighting (SAW) method. This method is used to find the weighted sum and rating of each alternative and all attributes. The results of this study can be a reference for climbers in determining the best mountain to be used as a climbing location in Central Java province.
Keywords:
Simple Additive Weighting, SPK, Climbing, Mountain Central Java
References
E. F. Wati, "Penerapan Metode Simple Additive Weighting ( SAW ) Dalam Menentukan Lokasi Usaha," J. Sains Komput. Inform., vol. 5, no. 1, pp. 241–245, 2021, [Online]. Available: https://www.academia.edu/10694816/Penerapan_Metode_Simple_Additive_Weighting_Saw_Dalam_Menentukan_Pendirian_Lokasi_Gramedia_Di_Sumatera_Utara
ni kadek sukerti, "Sistem Pendukung Keputusan Menggunakan Simple Additive Weighting Methode (Saw) Dalam Merekomendasikan Objek Wisata Di Pulau Nusa Penida," Semin. Nas. R. 2018, vol. 9986, no. September, pp. 93–98, 2018, [Online]. Available: https://jurnal.stmikroyal.ac.id/index.php/senar/article/download/146/92
K. M. Sukiakhy and C. V. R. Jummi, "Sistem Pendukung Keputusan Pemilihan Objek Wisata Aceh Menggunakan Metode Simple Additive Weighting (Saw)," J. Komput. dan Inform., vol. 9, no. 1, pp. 74–80, 2021, doi: 10.35508/jicon.v9i1.3835.
I. G. A. Soffan Maulana Akbar, "Kost; SPK; SAW; Gresik; Alternatif," Sist. Pendukung Kepustusan Pemilihan Tempat Kos Untuk Mhs. Di Gresik Dengan Metod. Saw (Simple Addit. Weight., vol. 7, no. 2, 2022.
Hendri Rasminto and Kasih Purwantini, "Metode Simple Additive Weighting (Saw) Pada Sistem Pendukung Keputusan Penentuan Lokasi Service Center Menggunakan Gis," J. Publ. Manaj. Inform., vol. 1, no. 1, pp. 29–36, 2021, doi: 10.55606/jupumi.v1i1.81.
M. Eka, B. Adi, and R. Niswatin, "Sistem Pendukung Keputusan Lokasi Penjualan Burger yang Strategis Menggunakan Metode Naive Bayes," pp. 193–199, 2021.
P. E. S. dan L. S. Sudjiman, "Komputer Dalam Proses Pengambilan Keputusan Paul Eduard Sudjiman dan Lorina Siregar Sudjiman Computer Based Management Information System," J. TeIKa, vol. 8, pp. 55–67, 2018, [Online]. Available: https://jurnal.unai.edu/index.php/teika/article/view/2327
P. Peta, J. Pendakian, and G. Merbabu, "Jurnal Geodesi Undip Oktober 2013 Jurnal Geodesi Undip Oktober 2013," vol. 2, pp. 210–221, 2013.
Y. Sukarmin, "Persiapan Fisik Bagi Pendaki Gunung: Sebuah Alternatif Pencegahan Kecelakaan," J. Cakrawala Pendidik., vol. 1, no. 1, pp. 91–102, 1995.
S. P. Tangdisosang et al., "Sistem Informasi Pendakian Gunung Jawa Timur Berbasis Web Web-Based Information System Of East Java Ascepting Using Codeigniter Framework," vol. 5, no. 1, pp. 7–11, 2022, doi: 10.33387/jiko.
A. Sofwan, "Belajar Mysql dengan Phpmyadmin Pendahuluan," Modul kuliah Graph. User Interface I di Perguru. Tinggi Raharja, pp. 1–29, 2011.
P. Studi, T. Informatika, F. Teknik, U. Khairun, J. J. Metro, and K. T. Selatan, "Rancang Bangun Aplikasi Web Sekolah Menggunakan Uml ( Unified Modeling Language ) Dan Bahasa Pemrograman Php ( Php Hypertext Preprocessor ) Berorientasi Objek Abdul Mubarak," vol. 02, no. 1, pp. 19–25, 2019.
B. Itsnania and I. N. Suputra, "Mobile learning application berbasis sublime text pada mata pelajaran kearsipan," J. Ekon. Bisnis dan Pendidik., vol. 1, no. 9, pp. 914–921, 2021, doi: 10.17977/um066v1i92021p914-921.
A. P. Putra, F. Andriyanto, T. Dewi, and M. Harti, "Pengujian Aplikasi Point Of Sale Berbasis Web," J. Bina Komput., vol. 2, no. 1, pp. 74–78, 2014.
G. T. Pranoto, D. Pebrianti, M. Darwis, Yaddarabullah and E. D. Krishnasari "Selection of Education Assistance Recipients Based on AHP and SAW," 2022 International Seminar on Intelligent Technology and Its Applications (ISITIA), 2022, pp. 163-168,doi:10.1109/ISITIA56226.2022.9855329.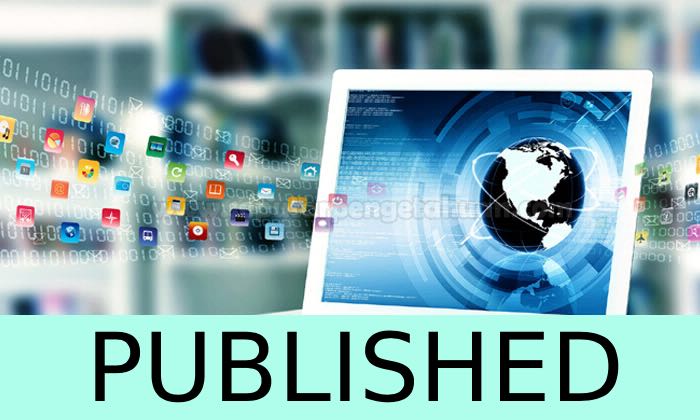 How to Cite
[1]
W. Hadikristanto and G. Pranoto, "SISTEM PENDUKUNG KEPUTUSAN UNTUK MENENTUKAN PENDAKIAN GUNUNG TERBAIK DI JAWA TENGAH MENGGUNAKAN METODE SAW (SIMPLE ADDITIVE WEIGHTING)", rabit, vol. 8, no. 2, pp. 204-212, Jul. 2023.
This work is licensed under a Creative Commons Attribution-NonCommercial-ShareAlike 4.0 International License.
Please find the rights and licenses in RABIT : Jurnal Teknologi dan Sistem Informasi Univrab. By submitting the article/manuscript of the article, the author(s) accept this policy.
1. License
The non-commercial use of the article will be governed by the Creative Commons Attribution license as currently displayed on Creative Commons Attribution-NonCommercial-ShareAlike 4.0 International License.
2. Author's Warranties
The author warrants that the article is original, written by stated author(s), has not been published before, contains no unlawful statements, does not infringe the rights of others, is subject to copyright that is vested exclusively in the author and free of any third party rights, and that any necessary written permissions to quote from other sources have been obtained by the author(s).
3. User Rights
RABIT's spirit is to disseminate articles published are as free as possible. Under the Creative Commons license, RABIT permits users to copy, distribute, display, and perform the work for non-commercial purposes only. Users will also need to attribute authors and RABIT on distributing works in the journal.
4. Rights of Authors
Authors retain all their rights to the published works, such as (but not limited to) the following rights;
Copyright and other proprietary rights relating to the article, such as patent rights,
The right to use the substance of the article in own future works, including lectures and books,
The right to reproduce the article for own purposes,
The right to self-archive the article,
The right to enter into separate, additional contractual arrangements for the non-exclusive distribution of the article's published version (e.g., post it to an institutional repository or publish it in a book), with an acknowledgment of its initial publication in this journal (RABIT : Jurnal Teknologi dan Sistem Informasi Univrab).
5. Co-Authorship
If the article was jointly prepared by other authors, any authors submitting the manuscript warrants that he/she has been authorized by all co-authors to be agreed on this copyright and license notice (agreement) on their behalf, and agrees to inform his/her co-authors of the terms of this policy. RABIT will not be held liable for anything that may arise due to the author(s) internal dispute. RABIT will only communicate with the corresponding author.
6. Royalties
This agreement entitles the author to no royalties or other fees. To such extent as legally permissible, the author waives his or her right to collect royalties relative to the article in respect of any use of the article by RABIT.
7. Miscellaneous
RABIT will publish the article (or have it published) in the journal if the article's editorial process is successfully completed. RABIT's editors may modify the article to a style of punctuation, spelling, capitalization, referencing and usage that deems appropriate. The author acknowledges that the article may be published so that it will be publicly accessible and such access will be free of charge for the readers as mentioned in point 3.

PDF (Bahasa Indonesia)

Abstract views: 82

downloads: 41