APLIKASI E-SURAT SEBAGAI UPAYA PENDUKUNG TATA KELOLA PEMERINTAHAN DI DESA KUKUH, KERAMBITAN, TABANAN, BALI
I Putu Susila Handika

STIMIK STIKOM Indonesia

I Kadek Susila Satwika

STMIK STIKOM Indonesia
Abstract
The electronic based government system causes a change in the conventional mindset towards digitalization.. This was also done by Kukuh Kerambitan Village, Tabanan Regency,  Bali Province. To Support the electronic based government system, research was carried out on the development of the E-Letter information system in Kukuh Kerambitan Village. This study aims to assist village officials in the letter disposition process to be faster and the process of making activity reports easier. This research was developed using the prototyping method so that users can evaluate the application at the design stage. The E-Letter application was built on a web basis using PHP programming language and laravel framework. From the results of the blackbox test, it shows that the E-Surat application has been running according to the functional needs and the results of the usability test also show that most of the average value of each question is greater than the middle value on the likert scale 1-7, which means the application can be accepted by the user.
Keywords:
Information System, The Electronic Based Government system, E-Letter, Kukuh Kerambita Village
References
"Peraturan Presiden Republik Indonesia Nomor 95 Tahun 2018 tentang Sistem Pemerintahan Berbasis Elektronik," Jakarta, 2018.
E. A. Rachma, "Penggunaan Aplikasi E-Surat SIKD (Sistem Informasi Kearsipan Dinamis) Dalam Pengelolaan Arsip Elektronik Untuk Mendukung E-Goverment Di Badan Arsip dan Perpustakaan Kota Srabaya," J. Pendidik. Adm. Perkantoran, 2015.
A. D. L. Tarigan and J. Jumino, "Pemanfaatan Aplikasi E-Surat Dalam Mendukung Pengelolaan Arsip Dinamis Aktif Di Dinas Kearsipan Dan Perpustakaan Provinsi Jawa Tengah," J. Ilmu Perpust., vol. 7, no. 3, pp. 71–80, 2018.
H. Sucipto, A. Mujianto, C. Mahsuri, M. Ali, and Mahfudiyanto;, "Implementasi Aplikasi E-Surat Pada Perangkat Desa," pp. 34–41, 2020.
P. I. Sari, "Sistem Informasi Pengarsipan Surat Masuk Dan Surat Keluar Di Notaris Debora Ekawati Lukman Dadali, Sh," Sekol. Tinggi Manaj. Inform. Dan Komput. Gici Batam, 2018.
D. Anggraeni and S. Iriani, "Sistem Informasi Pengarsipan Surat Masuk Dan Surat Keluar Pada Kantor Kecamatan Pringkuku," Indones. J. Netw. Secur., no. 24, pp. 1–4, 2013.
oky D. Prasetya, "Sistem Informasi Pengarsipan Data Surat Masuk Dan Program Studi Sistem Informasi Fakultas Ilmu Komputer Universitas Dian Nuswantoro Semarang," Sist. Inf. Pengarsipan Data Surat Masuk Dan Surat Kelur Pada Polrestabes Semarang, 2010.
K. Octafiani, "Aplikasi Android Untuk Fasilitas Antar Jemput Siswa SD," J. Manaj. Inform., vol. 8, pp. 35–43, 2018.
I. Solikhin, M. Sobri, and R. Saputra, "Sistem Informasi Pendataan Pengunjung Perpustakaan (Studi kasus : SMKN 1 Palembang)," J. Ilm. Betrik, vol. 9, no. 03, pp. 140–151, Nov. 2018.
D. A. Fatah, "Evaluasi Usability dan Perbaikan Desain Aplikasi Mobile Menggunakan Usability Testing dengan Pendekatan Human-Centered Design (HCD)," Rekayasa, vol. 13, no. 2, pp. 130–143, Aug. 2020.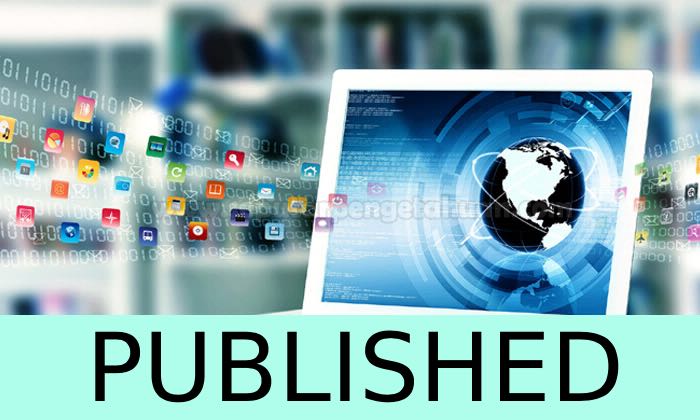 How to Cite
[1]
I. P. Handika and I. K. Susila Satwika, "APLIKASI E-SURAT SEBAGAI UPAYA PENDUKUNG TATA KELOLA PEMERINTAHAN DI DESA KUKUH, KERAMBITAN, TABANAN, BALI", rabit, vol. 6, no. 2, pp. 145-151, Jul. 2021.
Copyright (c) 2021 RABIT:Jurnal Teknologi dan Sistem Informasi Univrab
This work is licensed under a Creative Commons Attribution-NonCommercial-ShareAlike 4.0 International License.
Please find the rights and licenses in RABIT : Jurnal Teknologi dan Sistem Informasi Univrab. By submitting the article/manuscript of the article, the author(s) accept this policy.
1. License
The non-commercial use of the article will be governed by the Creative Commons Attribution license as currently displayed on Creative Commons Attribution-NonCommercial-ShareAlike 4.0 International License.
2. Author's Warranties
The author warrants that the article is original, written by stated author(s), has not been published before, contains no unlawful statements, does not infringe the rights of others, is subject to copyright that is vested exclusively in the author and free of any third party rights, and that any necessary written permissions to quote from other sources have been obtained by the author(s).
3. User Rights
RABIT's spirit is to disseminate articles published are as free as possible. Under the Creative Commons license, RABIT permits users to copy, distribute, display, and perform the work for non-commercial purposes only. Users will also need to attribute authors and RABIT on distributing works in the journal.
4. Rights of Authors
Authors retain all their rights to the published works, such as (but not limited to) the following rights;
Copyright and other proprietary rights relating to the article, such as patent rights,
The right to use the substance of the article in own future works, including lectures and books,
The right to reproduce the article for own purposes,
The right to self-archive the article,
The right to enter into separate, additional contractual arrangements for the non-exclusive distribution of the article's published version (e.g., post it to an institutional repository or publish it in a book), with an acknowledgment of its initial publication in this journal (RABIT : Jurnal Teknologi dan Sistem Informasi Univrab).
5. Co-Authorship
If the article was jointly prepared by other authors, any authors submitting the manuscript warrants that he/she has been authorized by all co-authors to be agreed on this copyright and license notice (agreement) on their behalf, and agrees to inform his/her co-authors of the terms of this policy. RABIT will not be held liable for anything that may arise due to the author(s) internal dispute. RABIT will only communicate with the corresponding author.
6. Royalties
This agreement entitles the author to no royalties or other fees. To such extent as legally permissible, the author waives his or her right to collect royalties relative to the article in respect of any use of the article by RABIT.
7. Miscellaneous
RABIT will publish the article (or have it published) in the journal if the article's editorial process is successfully completed. RABIT's editors may modify the article to a style of punctuation, spelling, capitalization, referencing and usage that deems appropriate. The author acknowledges that the article may be published so that it will be publicly accessible and such access will be free of charge for the readers as mentioned in point 3.

PDF (Bahasa Indonesia)

Abstract views: 167

downloads: 128