KEAMANAN INFORMASI (INFORMATION SECURITY) PADA APLIKASI SISTEM INFORMASI MANAJEMEN SUMBER DAYA MANUSIA
Enggar Novianto

Universitas Teknologi Yogyakarta

Erik Herman Heri Ujianto

Universitas Teknologi Yogyakarta

Rianto Rianto

Universitas Teknologi Yogyakarta
Abstract
The development of information technology in the current era is growing rapidly, which is indicated by the emergence of many innovative programs in personal information services. One of the contenders for such information is SIMPEG, an application from Sebelas Maret University. The purpose of this study is to determine the application of information security to address the aspects of confidentiality, integrity and availability of information. This application ensures the security of user's personal information and employee data. The results of this study are that employees are required to register an account using an email that has been registered with SSO. Users of this application are lecturers and education staff including general users and SIMPEG operators. The SIMPEG application also guarantees the confidentiality of each employee's personal data and can only be seen by Sebelas Maret University internal employees. The purpose of registering an account through NIP/NIK and employee staff email is with the aim of preventing actions that can harm the institution. One of the rules for using this application is that it is forbidden to update, copy and delete data unless the SIMPEG operator is responsible for updating the data.
Keywords:
Information Security, SIMPEG, Application
References
Aulia Puspaning Galih, "Keamanan Informasi (Information Security) Pada Aplikasi Perpustakaan IPusnas," Jurnal Kajian Ilmu dan Perpustakaan, pp. 10-17, 2020.
E. M. Safitri, "Analisis Keamanan Sistem Informasi E-Banking Di Era Industri 4.0 : Studi Lliteratur," Jurnal Imilah Teknologi Informasi dan Robotika, vol. 2, no. 1, pp. 12-16, 2020.
Y. M. K. Ardhana, "Keamanan Sistem Informasi," Jurnal Media Aplikom, vol. 2, no. 2, pp. 1-9, 2012.
F. Novianto, "Evaluasi Keamanan Informasi E-GOVERNMENT Menggunakan Model Defense In Depth," CyberSecurity dan Forensik Digital, vol. 3, no. 1, pp. 14-19, 2020.
Zulkarnain, "Analisis Implementasi Keamanan Sistem Informasi pada Perusahaan Perakitan Elektronik," Journal of Information System and Technology, vol. 1, no. 1, pp. 1-4, 2020.
J. Nainggolan, "Analisis Perbandingan Framework COBIT 5 Dengan ITIL Dalam Mengaudit Sistem Informasi," Jurnal Ilmiah Terapan Universitas Jambi, vol. 5, no. 1, pp. 76-85, 2021.
F. Catur Eri Gunawan, "Pengukuran Keamanan Informasi Menggunakan Indeks Keamanan Informasi (KAMI) Studi Kasus di PUSTIPD UIN Raden Fatah Palembang," Jurnal Sistem Informasi, vol. 4, no. 2, pp. 123-132, 2018.
D. P. I. R. Samsiana Firmayanti Rahayu, "Pengukuran Tingkat Keamanan Informasi Menggunakan Metode Indeks KAMI (Studi Kasus Dinas Komunikasi dan Informatika Kota Pontianak)," Coding : Jurnal Komputer dan Aplikasi, vol. 9, no. 3, pp. 468-477, 2021.
A. L. K. W. Iik Muhamad Malik Matin, "Analisis Keamanan Informasi Data Center Menggunakan COBIT 5," Jurnal Teknik Informatika , vol. 10, no. 2, pp. 119-128, 2017.
S. A. S. A. Shinta Nurul, "Faktor-Faktor Yang Mempengaruhi Keamanan Sistem Informasi Keamanan Informasi Teknologi Informasi dan Network (Literatur Review SIM)," JEMSI Jurnal Ekonomi Manajemen Sistem Informasi, vol. 3, no. 5, pp. 564-573, 2022.
M. K. N. Mesra Betty Yel, "Keamanan Informasi Data Pribadi Pada Media Sosial," Jurnal Informatika Kaputama (JIK), vol. 6, no. 1, pp. 92-101, 2022.
F. Catur Eri Gunawan, "Pengukuran Keamanan Informasi Menggunakan Indeks Keamanan Informasi (KAMI) Studi Kasus di PUSTIPD UIN Raden Fatah Palembang," JUSIFO Jurnal Sistem Informasi, vol. 4, no. 2, pp. 121-132, 2018.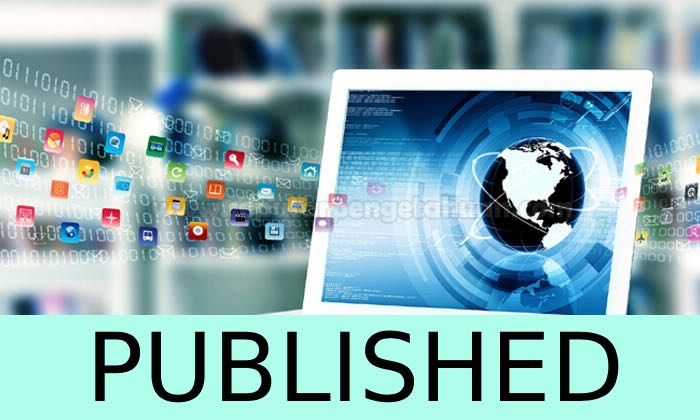 How to Cite
[1]
E. Novianto, E. Heri Ujianto, and R. Rianto, "KEAMANAN INFORMASI (INFORMATION SECURITY) PADA APLIKASI SISTEM INFORMASI MANAJEMEN SUMBER DAYA MANUSIA", rabit, vol. 8, no. 1, pp. 10-15, Jan. 2023.
This work is licensed under a Creative Commons Attribution-NonCommercial-ShareAlike 4.0 International License.
Please find the rights and licenses in RABIT : Jurnal Teknologi dan Sistem Informasi Univrab. By submitting the article/manuscript of the article, the author(s) accept this policy.
1. License
The non-commercial use of the article will be governed by the Creative Commons Attribution license as currently displayed on Creative Commons Attribution-NonCommercial-ShareAlike 4.0 International License.
2. Author's Warranties
The author warrants that the article is original, written by stated author(s), has not been published before, contains no unlawful statements, does not infringe the rights of others, is subject to copyright that is vested exclusively in the author and free of any third party rights, and that any necessary written permissions to quote from other sources have been obtained by the author(s).
3. User Rights
RABIT's spirit is to disseminate articles published are as free as possible. Under the Creative Commons license, RABIT permits users to copy, distribute, display, and perform the work for non-commercial purposes only. Users will also need to attribute authors and RABIT on distributing works in the journal.
4. Rights of Authors
Authors retain all their rights to the published works, such as (but not limited to) the following rights;
Copyright and other proprietary rights relating to the article, such as patent rights,
The right to use the substance of the article in own future works, including lectures and books,
The right to reproduce the article for own purposes,
The right to self-archive the article,
The right to enter into separate, additional contractual arrangements for the non-exclusive distribution of the article's published version (e.g., post it to an institutional repository or publish it in a book), with an acknowledgment of its initial publication in this journal (RABIT : Jurnal Teknologi dan Sistem Informasi Univrab).
5. Co-Authorship
If the article was jointly prepared by other authors, any authors submitting the manuscript warrants that he/she has been authorized by all co-authors to be agreed on this copyright and license notice (agreement) on their behalf, and agrees to inform his/her co-authors of the terms of this policy. RABIT will not be held liable for anything that may arise due to the author(s) internal dispute. RABIT will only communicate with the corresponding author.
6. Royalties
This agreement entitles the author to no royalties or other fees. To such extent as legally permissible, the author waives his or her right to collect royalties relative to the article in respect of any use of the article by RABIT.
7. Miscellaneous
RABIT will publish the article (or have it published) in the journal if the article's editorial process is successfully completed. RABIT's editors may modify the article to a style of punctuation, spelling, capitalization, referencing and usage that deems appropriate. The author acknowledges that the article may be published so that it will be publicly accessible and such access will be free of charge for the readers as mentioned in point 3.

PDF (Bahasa Indonesia)

Abstract views: 723

downloads: 421