MONITORING LOG SERVER DENGAN ELASTICSEARCH, LOGSTASH DAN KIBANA (ELK)
Aviecenna Yudhistira

Politeknik Caltex Riau

Yuli Fitrisia

Politeknik Caltex Riau
Abstract
The use of servers that have to run continuously for 24 hours and running services generates a lot of logs. This requires that the system administrator in his checks still have something to do with the server. This research intends to design a Monitoring Log Server using the ELK Stack (Elasticsearch Logstash Kibana) which can make it easier to read and analyze service logs on the server. The implementation in this research uses Ubuntu 18.04 Server, and a client server with SSH Putty service. From the results of the ELK Stack research, a solution in the form of Monitoring Log Server is obtained to make it easier for administrators to check every access log. Based on the results of the first and second scenario testing, the results obtained are successful in displaying data for each log that can be read by the administrator for a period of time based on data per day and per week. For the third scenario the administrator can see the level of accuracy of each access log. And the last scenario is the result to make it easier for administrators to audit or check every access log.
Keywords:
Elasticsearch, Kibana, Log, Logstash, Server
References
M. N. Arifin, S. Sugiartowo, and E. Susilowati, "Desain dan Implementasi Log Event Management Server Menggunakan Elasticsearch Logstash Kibana (Elk)," Semin. Nas. Sains dan Teknol., 2018, [Online]. Available: https://jurnal.umj.ac.id/index.php/semnastek/article/view/3451.
P. H. Putra, "Implementasi Log Management Server Menggunakan Elk (Elastic Search , Logstash Dan Kibana) Stack Pada Server Web Snort Di Pt . Xyz," J. Inform. Sunan Kalijaga, vol. 4, 2020.
E. P. Sartika and A. B. Cahyono, "Implementasi Elasticsearch Logstash Kibana Stack pada Sistem Portal Pengembangan dan Pembinaan Sumber Daya Manusia," 2020, [Online]. Available: https://journal.uii.ac.id/AUTOMATA/article/view/13872.
W. Sholihah, S. Pripambudi, and A. Mardiyono, "Log Event Management Server Menggunakan Elastic Search Logstash Kibana (ELK Stack)," J. Teknol. Inf. Dan Multimed., vol. Vol 2, No, 2020, [Online]. Available: https://journal.sekawan-org.id/index.php/jtim/article/view/79.
M. J. R. Putra and H. Saptono, "Penerapan Log Analyzer untuk Mengetahui Lalu Lintas Jaringan berbasis Elasticsearch, Logstash, dan Kibana," J. Inform. Terpadu, vol. Vol 8, No, 2022, [Online]. Available: https://journal.nurulfikri.ac.id/index.php/jit/article/view/388.
D. Lintang, "Monitoring Aktivitas User Pada System Dengan Menggunakan Efk ( Elasticsearch , Fluentd ," 2020.
Elastic, "What is Elasticsearch ?," 2019. https://www.elastic.co/what-is/elasticsearch (accessed Nov. 11, 2022).
M. S. S. Zakaria Husen, Membangun Server dan Jaringan Komputer dengan Linux Ubuntu. 2020.
A. Tedyyana and R. Kurniati, "Membuat Web Server Menggunakan Dinamic Domain Name System Pada IP Dinamis," J. Teknol. Inf. Komun. Digit. Zo., vol. 7, no. 1, pp. 1–10, 2016.
A. Michael, "Sistem Monitoring Server Dengan Menggunakan SNMP," Widyakala J., vol. 6, no. 2, p. 163, 2019, doi: 10.36262/widyakala.v6i2.218.
S. Pripambudi, "Log Event Management Server Menggunakan Elastic Search Logstash Kibana (ELK Stack)," JTIM J. Teknol. Inf. dan Multimed., vol. 2, no. 1, pp. 12–20, 2020, doi: 10.35746/jtim.v2i1.79.
D. K. Hakim and D. Y. Yulianto, "Pengujian Algoritma Load Balancing pada Web Server Menggunakan NGINX," JRST (Jurnal Ris. Sains dan Teknol., vol. 3, no. 2, p. 85, 2019, doi: 10.30595/jrst.v3i2.5165.
M. Rexa, "Implementasi Load Balancing Server Web Berbasis Docker Swarm Berdasarkan Penggunaan Sumber Daya Memory Host," J. Pengemb. Teknol. Inf. dan Ilmu Komput. Univ. Brawijaya, vol. 3, no. 4, pp. 3478–3487, 2019.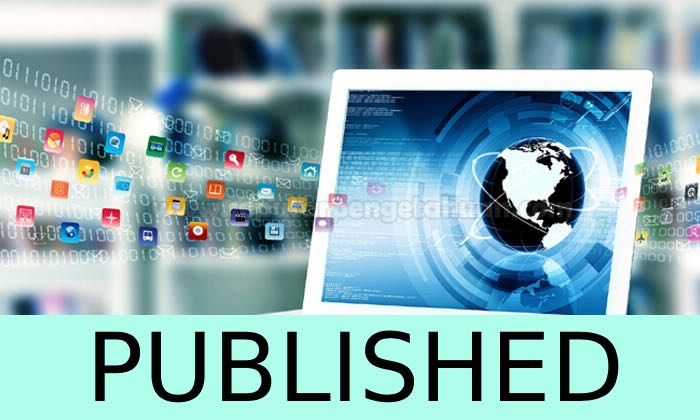 How to Cite
[1]
A. Yudhistira and Y. Fitrisia, "MONITORING LOG SERVER DENGAN ELASTICSEARCH, LOGSTASH DAN KIBANA (ELK)", rabit, vol. 8, no. 1, pp. 124-134, Apr. 2023.
Please find the rights and licenses in RABIT : Jurnal Teknologi dan Sistem Informasi Univrab. By submitting the article/manuscript of the article, the author(s) accept this policy.
1. License
The non-commercial use of the article will be governed by the Creative Commons Attribution license as currently displayed on Creative Commons Attribution-NonCommercial-ShareAlike 4.0 International License.
2. Author's Warranties
The author warrants that the article is original, written by stated author(s), has not been published before, contains no unlawful statements, does not infringe the rights of others, is subject to copyright that is vested exclusively in the author and free of any third party rights, and that any necessary written permissions to quote from other sources have been obtained by the author(s).
3. User Rights
RABIT's spirit is to disseminate articles published are as free as possible. Under the Creative Commons license, RABIT permits users to copy, distribute, display, and perform the work for non-commercial purposes only. Users will also need to attribute authors and RABIT on distributing works in the journal.
4. Rights of Authors
Authors retain all their rights to the published works, such as (but not limited to) the following rights;
Copyright and other proprietary rights relating to the article, such as patent rights,
The right to use the substance of the article in own future works, including lectures and books,
The right to reproduce the article for own purposes,
The right to self-archive the article,
The right to enter into separate, additional contractual arrangements for the non-exclusive distribution of the article's published version (e.g., post it to an institutional repository or publish it in a book), with an acknowledgment of its initial publication in this journal (RABIT : Jurnal Teknologi dan Sistem Informasi Univrab).
5. Co-Authorship
If the article was jointly prepared by other authors, any authors submitting the manuscript warrants that he/she has been authorized by all co-authors to be agreed on this copyright and license notice (agreement) on their behalf, and agrees to inform his/her co-authors of the terms of this policy. RABIT will not be held liable for anything that may arise due to the author(s) internal dispute. RABIT will only communicate with the corresponding author.
6. Royalties
This agreement entitles the author to no royalties or other fees. To such extent as legally permissible, the author waives his or her right to collect royalties relative to the article in respect of any use of the article by RABIT.
7. Miscellaneous
RABIT will publish the article (or have it published) in the journal if the article's editorial process is successfully completed. RABIT's editors may modify the article to a style of punctuation, spelling, capitalization, referencing and usage that deems appropriate. The author acknowledges that the article may be published so that it will be publicly accessible and such access will be free of charge for the readers as mentioned in point 3.

PDF (Bahasa Indonesia)

Abstract views: 59

downloads: 30