Absensi SISTEM MONITORING KEHADIRAN SISWA MENGGUNAKAN MIKROKONTROLLER BERBASIS WEB
Taufik Kurnialensya

Universitas Sains Dan Teknologi Komputer

Puput Candra Saputra

Universitas Sains Dan Teknologi Komputer
Abstract
An attendance information system, used to record a person's presence, is used as a reference for proof someone is present at an activity. Ease of information and the validity of information is a fundamental requirements in making attendance reports. The use of manual attendance has several drawbacks, including the lack of direct and fast transfer of information to other parties, and inaccurate data validity. Technology that can be applied in creating an attendance information system using a microcontroller and a website, in designing an attendance system using the Arduino UNO R3 microcontroller board as a controller, and ESP32-CAM as a camera for taking pictures. Sending data using a student card in the form of an RFID card. Overall, from the results of testing the attendance information tool and system, it can work well, namely, it can retrieve data from student cards and take pictures of students' faces and can be displayed on web pages.
Keywords:
Arduino Microcontroller, ESP32-CAM, RFID Sensor
References
A. Sudewo, U. Darusalam, and N. D. Natasia, "Perancangan sistem absensi mahasiswa universitas nasional menggunakan RFID berbasis SMS gateway dan ATMega," pp. 6–8, 2015.
A. Purnama, F. Fauziah, and N. D. Nathasia, "Smart Counter Pada Kapasitas Bus Transjakarta Menggunakan Sensor Infrared Berbasis Arduino Uno Atmega328," JIPI (Jurnal Ilm. Penelit. dan Pembelajaran Inform., vol. 7, no. 1, pp. 175– 185, 2022, doi: 10.29100/jipi.v7i1.2623.
Aldisa, R. T., Karel, F. N., & Aldinugroho, M. (2022). Sistem Peringatan Dini Kebakaran Dengan Flame Sensor dan Arduino Uno R3. Jurnal media informatika budidarma,, 453-458.
D. Kurniadi, Y. Septiana, A. Mulyani, and Ag. Hermawan, "Sistem Informasi Presensi Mahasiswa Berbasis RFID Menggunakan Metode Rapid Application Development," AITI J. Teknol. Inf., vol. 17,no. Februari, pp. 1–10, 2020.
Aldisa, R. T., Alfarisi, S. (2022). Sistem Pendeteksi Keamanan Ruangan "Smart Security" Dengan Metode Fuzzy Logic Menggunakan Sensor PIR Berbasis Internet of Things (IoT) 176-183.
W. Wildian dan E. F. Adwar, "Rancang Bangun Sistem Absensi Berbasis RFID Terkoneksi Website Menggunakan Bahasa Pemrograman PHP dan MySQL," J. Fis. Unand, vol. 9, no. 3, pp. 311–317, 2020, doi: 10.25077/jfu.9.3.311- 317.2020.
Februariyanti, Herny.2012."Rancang Bangun Sistem Perpustakaan Untuk Jurnal Elektronik".Jurnal Teknologi Informasi Dinamik, Vol. 17, No. 2, PP: 124-132.
H. Y. Fauziah, A. I. Sukowati, and I. Purwanto, "Rancang Bangun Sistem Absensi Mahasiswa SekolahTinggi Teknik Cendekia (STTC) Berbasis Radio Frequency Identification (RFID) menggunakan Arduino UNO R3," J. Ilm. Komputasi, vol. 16, no. 2, pp. 1–2, 2017, doi: 10.32409/jikstik.16.2.2288.
F. M. Dewanto, B. A. Herlambang, A. Tri, and J. Harjanta, "Pengembangan Sistem Informasi Absensi Berbasis Radio Frequency Identification ( RFID ) Terintegrasi dengan Sistem Informasi Akademik," vol. 02, no. 02, pp. 90–95, 2017.
K. P. Aji, U. Darusalam, and N. D. Nathasia, "Perancangan Sistem Presensi Untuk Pegawai Dengan RFID Berbasis IoT Menggunakan NodeMCU ESP8266," JOINTECS (Journal Inf. Technol. Comput. Sci., vol. 5, no. 1, p. 25, 2020, doi: 10.31328/jointecs.v5i1.1222.
Taufik Kurnialensya,"Sistem Pendukung Keputusan Simpan Pinjam UPK Menggunakan Metode AHP (analitycal herarchy process)." Jurnal Publikasi Teknik Informatika.Vol 1. No. (2), pp.121-135, 2022.
N. Nurwahyuddi, "Sistem Presensi Mahasiswa Berbasis RFID Menggunakan Raspberry Pi 1," J. Ilm.Tek. Elektro Komput. dan Inform., vol. 2, no. 2, p. 85, 2016, doi: 10.26555/jiteki.v2i2.4895.
R. M. Insan, R. Ruuhwan, and R. Rizal, "Penerapan Teknologi Radio Frequency Identification (RFID)Pada Data Kunjungan Perpustakaan," Informatics Digit. Expert, vol. 1, no. 1, pp. 1–6, 2019, doi: 10.36423/ide.v1i1.281.
L. S. Alfarizi, A. D. Septiadi, and K. Indartono, "Pemanfaatan Teknologi Radio Frequency Identification ( RFID ) untuk Sistem Presensi Pegawai," J. Ilmu-Ilmu Inform. dan Manaj., vol. 14, no.2, pp. 154–166, 2020.
Ryan Hidayat., F. Limpraptono., Michael Ardita. (2022). Rancang Bangun Alat Absensi Karyawan Menggunakan RFID dan ESP32 Cam Berbasis Internet of Things. Seminar Nasional 2022 SENIATI 2022 METAVERSE: Peluang Dan Tantangan Pendidikan Tinggi ISSN 2085-4218 Di Era Industri 5
S. Maulana and J. Riyanto, "Perancangan Sistem Informasi Presensi Mahasiswa Berbasis RFID Di Universitas Pamulang," Pros. Semin. Nas. Inform., vol. 3, no. 3, pp. 156–166, 2019.
Z. Arifin, S. B. Permadi, E. Budihartono, and Nurohim, "Sistem Absensi Mahasiswa Menggunakan RFID Berbasis Arduino," Tek. Eng. Sains J., 2018.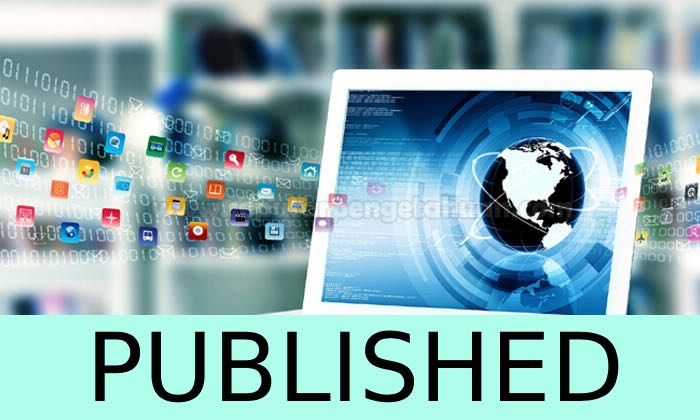 How to Cite
[1]
T. Kurnialensya and P. Saputra, "Absensi SISTEM MONITORING KEHADIRAN SISWA MENGGUNAKAN MIKROKONTROLLER BERBASIS WEB", rabit, vol. 8, no. 1, pp. 92-99, Jan. 2023.
This work is licensed under a Creative Commons Attribution-NonCommercial-ShareAlike 4.0 International License.
Please find the rights and licenses in RABIT : Jurnal Teknologi dan Sistem Informasi Univrab. By submitting the article/manuscript of the article, the author(s) accept this policy.
1. License
The non-commercial use of the article will be governed by the Creative Commons Attribution license as currently displayed on Creative Commons Attribution-NonCommercial-ShareAlike 4.0 International License.
2. Author's Warranties
The author warrants that the article is original, written by stated author(s), has not been published before, contains no unlawful statements, does not infringe the rights of others, is subject to copyright that is vested exclusively in the author and free of any third party rights, and that any necessary written permissions to quote from other sources have been obtained by the author(s).
3. User Rights
RABIT's spirit is to disseminate articles published are as free as possible. Under the Creative Commons license, RABIT permits users to copy, distribute, display, and perform the work for non-commercial purposes only. Users will also need to attribute authors and RABIT on distributing works in the journal.
4. Rights of Authors
Authors retain all their rights to the published works, such as (but not limited to) the following rights;
Copyright and other proprietary rights relating to the article, such as patent rights,
The right to use the substance of the article in own future works, including lectures and books,
The right to reproduce the article for own purposes,
The right to self-archive the article,
The right to enter into separate, additional contractual arrangements for the non-exclusive distribution of the article's published version (e.g., post it to an institutional repository or publish it in a book), with an acknowledgment of its initial publication in this journal (RABIT : Jurnal Teknologi dan Sistem Informasi Univrab).
5. Co-Authorship
If the article was jointly prepared by other authors, any authors submitting the manuscript warrants that he/she has been authorized by all co-authors to be agreed on this copyright and license notice (agreement) on their behalf, and agrees to inform his/her co-authors of the terms of this policy. RABIT will not be held liable for anything that may arise due to the author(s) internal dispute. RABIT will only communicate with the corresponding author.
6. Royalties
This agreement entitles the author to no royalties or other fees. To such extent as legally permissible, the author waives his or her right to collect royalties relative to the article in respect of any use of the article by RABIT.
7. Miscellaneous
RABIT will publish the article (or have it published) in the journal if the article's editorial process is successfully completed. RABIT's editors may modify the article to a style of punctuation, spelling, capitalization, referencing and usage that deems appropriate. The author acknowledges that the article may be published so that it will be publicly accessible and such access will be free of charge for the readers as mentioned in point 3.

PDF (Bahasa Indonesia)

Abstract views: 525

downloads: 295